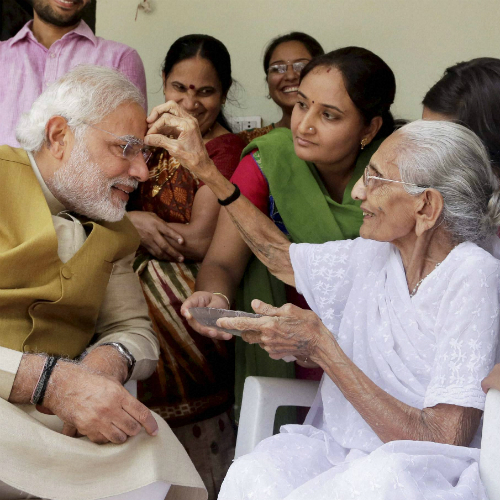 Narendra Modi has proved in letter and spirit what Napoleon Bonaparte said: "Impossible is a word to be found only in the dictionary of fools... Victory belongs to the most persevering."
The BJP's prime ministerial candidate has made history. Securing a resounding victory in the latest Indian parliamentary elections, he has proved wrong all the prophets of doom. The absolute majority for his party on its own is a first in 30 years. The larger National Democratic Alliance (NDA), in fact, has crossed the 300-seat mark.
Modi termed this historic win as a victory of people of India and the Indian democracy with an assurance to the 125 million people: "Achchhe Din Aane Wale Hain" -- or good times are ahead.
Vote Share this election... BJP secures 31.8% of the vote share. pic.twitter.com/CpJaS6DTIg

— TheNewsMinute (@thenewsminute) May 16, 2014
Most political pundits in the country, since 1996, had ruled out the possibility of a single-party majority in any future election, saying the era of coalition governments is going to stay in India for ever.
But the people were determined to give a decisive mandate to a leader who could usher in a new regime of a stable government at the Centre -- a pre-requisite for all-round growth and development for an emerging economy like India where one-third of the population is still below the poverty line.
The results are before us. Modi has emerged as a symbol of hope for the youth of this country. People have posed unwavering confidence in his leadership. He will now have to meet their expectations by taking some radical measures to ensure political stability, economic growth and transparency in governance -- the three promises he made to the people during his hectic whirlwind campaign throughout the length and breadth of the country in the last more than six months.
The moot question is: What has Modi achieved, and how has he accomplished this near-impossible task?
He swept the entire western belt by bagging some 120 out of the 130 seats in Maharashtra, Goa, Gujarat, Madhya Pradesh and Rajasthan. The people of Gujarat have given a unique gift to their son of the soil by putting all the 26 seats in his kitty -- a feat achieved for the first time by any political party since Independence.
Modi himself won by a record margin of over 500,000 votes from Vadodara. All senior BJP leaders from Gujarat, including L.K. Advani, retained their seats. So did Sushma Swaraj from Vidisha in Madhya Pradesh. Rajasthan Chief Minister Vasundhra Raje, who registered a remarkable victory in the assembly elections six months ago, also hit the bull's eye, scoring 25 out of 25 in her state.
Veteran BJP leader Jaswant Singh, who contested as an Independent after being denied the ticket, lost in Barmer.
Other chief ministers also scored well for the party: Shivraj Singh Chauhan -- 27 out of 29 in Madhya Pradesh; Manohar Parikar -- two out of two in Goa; and Raman Singh -- nine out of 11 in Chhattisgarh. They all made valuable contributions for BJP's absolute majority and make it the first non-Congress political party to cross the half-way mark since Independence.
It was predicted by many analysts that a Modi wave was sweeping across western India. But no one believed that the BJP-Shiv Sena combine would virtually decimate the Congress-NCP alliance in Maharashtra. Even stalwarts like Home Minister Sushil Kumar Shinde fell -- a rude shock to the Congress high command and Maratha strongman Sharad Pawar. The BJP-Shiv Sena-RPI alliance won 42 of the 48 seats, with all the big guns registering convincing victory, notable among them being Nitin Gadkari and Gopinath Munde.
There were conflicting assessments about the BJP in-charge for Uttar Pradesh Amit Shah's claim that the Modi wave did exist in that part of the country as well, and that the party would win more than 65 seats. Shah's social engineering and his shrewd planning and untiring ground work in the interiors of the state proved him right. Cutting across caste and religion barriers, BJP has achieved the most resounding victory in the state improving on its tally from 10 in 2009 to a whopping 71.
Modi and Amit Shah make UP tick for BJP. Mayawati's BSP wiped out. #leads #Results2014 pic.twitter.com/uXMNcoglRE

— TheNewsMinute (@thenewsminute) May 16, 2014
Top leaders like Modi himself from Varanasi, Rajnath Singh from Lucknow, Murli Manohar Joshi from Kanpur, Varun Gandhi from Sultanpur and his mother Maneka Gandhi from Pilibhit were all re-elected with comfortable margins.
The story is no different in Bihar where reports of a Lalu Yadav-led RJD's resurgence stopping the Modi-wave proved to be a myth. Bihar Chief Minister Nitish Kumar's JDU, which was in tatters after breaking its alliance with the BJP in the state, failed to make a mark. This has cast a shadow on Nitish's political future. The BJP-LJP alliance won 23 of the 40 seats in the state. Even Lok Sabha Speaker Meira Kumar of Congress lost.
In the north, Punjab was the only state where the BJP conceded ground to the Congress. Its senior leader Arun Jaitley lost to the Congress heavy-weight and former chief minister Amarinder Singh. This was more a result of serious anti-incumbency of the Akali-BJP government of Parkash Singh Badal. It is here that Aam Aadmi Party (AAP) of Arvind Kejriwal registered its presence in a big way. The BJP-Akali combine won just six seats in Punjab.
The BJP also made major gains in Delhi, with seven out of seven, Jammu and Kashmir with two seats out of six, Uttarakhand with five out of five, Himachal Pradesh with four out of four. It also secured the lone Chandigarh seat, seven in Haryana out of ten, 12 in Jharkhand of 14 and nine in Chhattisgarh out of 11 -- all of them a result of the Modi wave.
The NDA's performance in the south and the east was along expected lines. The party was expecting to open its account in Kerala but its senior leader O. Rajagopal once again failed to win Thiruvananthapuram by a narrow margin.
AIADMK supremo J. Jayalalitha's performance in Tamil Nadu is commendable. She has won 38 of the 39 seats in the state and did not allow its arch rival DMK to even open its account. The NDA alliance of BJP, PMK, MDMK and a few other smaller parties too failed to take off in Tamil Nadu.
The last minute entry of TDP into the NDA proved to be a master stroke with N. Chandrababu Naidu making a remarkable comeback in Seemandhra. The TDP-BJP combine won 17 seats in Seemandhra and Telangana regions. The YSR Congress and the TRS, too, did well -- all at the cost of the Congress party.
Coming to Odisha, which was considered a potential battle ground for the BJP, Narendra Modi's vigorous campaign did help the BJP to take its vote share to new heights, though the party could manage only two seats. But the Modi wave has prepared the ground for a rich harvest by the BJP in future.
Similarly in West Bengal -- where the BJP's vote percentage in the 2009 Lok Sabha poll was in single digit, Modi's concerted campaign has done wonders in terms of generating a Modi wave. Although the party could win only three seats, the BJP has certainly emerged as a formidable alternative to Mamata's Trinamool Congress in the state with the Left Front almost vanishing from the political scene in the state. The TMC has won more than 30 seats which is a high score by any standard.
Clean sweep for the BJP in Delhi! #Modiheadsto7RCR #Results2014 pic.twitter.com/GrL5cmiZ5I

— TheNewsMinute (@thenewsminute) May 16, 2014
Assam results have been encouraging as well, especially because the BJP refused to enter into alliance with any political party. Victory in seven parliamentary seats is a rich harvest by any reckoning. The North-East has gone along predicted lines with regional parties bagging practically all the seats.
The Congress party's performance, along with its allies, has been dismal throughout the country. Almost all the senior leaders and union cabinet ministers have lost, barring a few.
Same has been the fate of regional parties like the SP, BSP, NC, DMK, JD-U, JD(S) and others. The Left Front, too, has bitten dust in its traditional bastion of West Bengal.
There is no doubt that Narendra Modi has written a new chapter in the 65-year history of Indian parliamentary democracy. The entire world watched with keen interest this peaceful transition. The change through ballot has strengthened people's faith in democracy. India has emerged on the global map as a vibrant democracy.
Now it is time for Narendra Modi to emerge as a global leader to take India on the path of becoming a super power in every sense of the term. His testing time starts now.
Total tally in 2009 and 2014 (includes leads) pic.twitter.com/9s33UxZZow

— TheNewsMinute (@thenewsminute) May 16, 2014
*BJP star candidate Hema Malini won from Mathura defeating Jayant Chaudhary of the RLD
Supporters at Modi's rally in Vadodara pic.twitter.com/baaHZbEhmt

— ANI (@ANI_news) May 16, 2014
2 year old kids also voiced "Abki baar...". Means stage is set for the elections that will happen in the next 15-16 years: Narendra Modi

— ANI (@ANI_news) May 16, 2014
There are no enemies in a democracy. There are rivals but that is the beauty of democracy: Narendra Modi

— ANI (@ANI_news) May 16, 2014
*Modi: Even little children have been saying 'ab ki baar Modi sarkar' This means I have an army for polls 15 years later
Watch Narendra Modi talk LIVE here:
*Celebrities welcome Narendra Modi, hail new wave in Indian politics
*I did barely 1 rally here but you have given me such affection: Narendra Modi
*We have to take everyone together to run the nation: Narendra Modi
*If there was no Gaekwad there would not have been a Dr. Babasaheb Ambedkar: Narendra Modi in Vadodara
*People have given us a clear mandate and supported NDA
*We believe in Sabka Saath, Sabka Vikas: Narendra Modi
*People have given us a clear mandate and supported NDA: Narendra Modi
*I am Mazdoor Number 1. In coming 60 months I will dedicate every moment of my time to the people: Narendra Modi
*Dimple yadav, wife of UP CM Akhilesh yadav wins from Kannauj defeating Subrat Pathak of the BJP
*Maharashtra rejects Raj Thackeray's brand of politics
*This verdict is about taking the nation forward and working hard for the dreams of the people: Narendra Modi in Vadodara
*A government does not belong to any party but to the nation. It does not belong to few people but each and every Indian: Narendra Modi
*We never had the honour to die for the nation. But we have got a chance to live for Surajya: Narendra Modi in Vadodara
*Be it Congress or BJP, in this election the leaders were those who have been born in a free India: Narendra Modi in Vadodara
*Ours is a party that has fought Congress and believed in patriotism and it has been able to secure blessings of people: Narendra Modi
*In the history of India this is the 1st time a Party other than the Congress has secured a majority on its own: Narendra Modi in Vadodara
*There were 7 by-polls in Gujarat where 6 were with Congress. Today BJP has won in 4: Narendra Modi in Vadodara
*Gujarat has a record to its credit- 26 out of 26. When we used to talk about this people laughed: Narendra Modi
*In the history of elections such a margin has not happened in a General Election. I am not talking about any by-election: Narendra ModiVadodara has given me a margin of 5.70 lakh votes even after I spent only 50 minutes after filing nomination here: Modi.
*In the history of elections such a margin has not happened in a General Election. I am not talking about any by-election: Narendra Modi
*Vadodara has given me a margin of 5.70 lakh votes even after I spent only 50 minutes after filing nomination here: Modi.
*I did not have the honour to talk in Varanasi but still Modi's silence was accepted by people of Varanasi: Narendra Modi
*This was first time a candidate did not get a chance to meet voters. Varanasi voted for Modi's Maun: Narendra Modi
*Each and every voter gave me so much affection. You all worked as if you are Narendra Modi: Narendra Modi in Vadodara
*You have elected me with a record margin from here: Narendra Modi in Vadodara
*How are you all feeling? Ache Din (Crowd says Aane Wale Hain). I have come here to thank you all: Narendra Modi in Vadodara
*People of Vadodara have set a record with victory margin of 5.7 lakh in general elections.
*Narendra Modi says: Ache din aane waale hain while addressing a rally
* In these elections, two important things happened with me: 1: I had to curtail time and give only fifty minutes to Vadodara but you people made me win. I am thankful to people of Vadodara. You have given me love and the vote, each of you is Narendra Modi
*I am thankful to all of you for having fulfilled your responsibilities.
*People of Varanasi trusted my silence when EC did not give me permission. They have supported me and these two are two main important political events in modern India.
*President Pranab Mukherjee's son Abhijit Mukherjee (INC) wins from Jangipur
We have a meeting tomorrow to discuss the future prospects. And I congratulate Chandrababu Naidu: K Chandrashekar Rao pic.twitter.com/hUdpYTTfRD

— ANI (@ANI_news) May 16, 2014
Home Minister Sushilkumar Shinde loses from Solapur, Maharashtra NOTA polled more (51 lakh) votes than 27 parties in Elections 2014 Role of senior BJP leaders to be decided collectively: Rajnath Singh
An elated Rajnath Singh today gave credit to the party and persona of Narendra Modi for the spectacular performance of BJP in the elections and said role of senior party leaders including LK Advani would be decided collectively and with consensus. "I am happy and satisfied. It is people's mandate for change and it is a mandate for Modi's popularity... Time has come to re-write Indian success story,"
BJP president Singh said as the BJP-led NDA is set to come to power at the Centre after defeating Congress-led UPA. "The role of senior BJP leaders including LK Advani would be taken after meeting of the central parliamentary board," he said to repeated questions on the responsibility of leaders like Advani and Sushma Swaraj in the new government.
*Bangladesh Premier Sheikh Hasina congratulates Narendra Modi, invites him to visit
*Trinamool Congress to play greater constructive role in country: Mamata Banerjee
After putting up a brilliant performance in the Lok Sabha elections, Trinamool Congress said on Friday it would play a greater constructive role in the country. Party chief Mamata Banerjee claimed that the success came despite "malicious campaign" launched by a section of the media against which the party fought single-handedly.
"We will play a greater constructive role in the country. We thank the people and at the end of it, it is the people who has emerged as the 'Man of the Match'," Banerjee said. "We are for harmony of all castes, religions and creeds. We are in favour of economic stability, financial stability and political stability," she said.
*Pakistan Prime Minister Nawaz Sharif wishes Narendra Modi on his big win
*Azharuddin loses from tonk in Rajasthan with a 135000
*Many in India tune it to Narendra Modi, others protest
Family members were glued to the television, working class were getting regular updates from social networking sites, vendors and shopkeepers were tuned to radio, and a few were calling up their homes to know who will be India's next prime minister. India took up to different sources to stay informed, and many broke into celebrations with the news of BJP prime ministerial candidate Narendra Modi's landslide victory in the Lok Sabha elections.
As it became clear during the first few hours of voting that Bharatiya Janata Party (BJP) was poised to form the government, Mukesh Paul, 53, a resident from Dwarka, an ardent BJP supporter, broke into celebrations with his colony residents.
*I can't offer congratulations to @narendramodi. I am not an opportunist: Lalu Prasad Yadav
We have a meeting tomorrow to discuss the future prospects. And I congratulate Chandrababu Naidu: K Chandrashekar Rao pic.twitter.com/hUdpYTTfRD

— ANI (@ANI_news) May 16, 2014
I cant offer congratulations to Modi. I am not an opportunist: Lalu Prasad Yadav pic.twitter.com/oRllxXhisE

— ANI (@ANI_news) pic.twitter.com/6GoHfQEV9G

— ANI (@ANI_news) May 16, 2014

*Shatrugan Sinha wins from Bihar

*Prof. Chintamani Malviya of BJP wins in Ujjain (MP)

*BJP`s Chavan Harishcandra Deoram wins Dindori

*Shiv Sena`s Adsul Anandrao Vithoba wins Amravati

*Rahul Gandhi beats Smriti Irani by a 70,000 margin to win from Amethi

*It's a people's mandate for change: Rajnath Singh on BJP victory

The question we need to ask in Delhi is if Congress cut our votes: Yogendra Yadav, AAP pic.twitter.com/yyBHCbgsPy

— ANI (@ANI_news) May 16, 2014

*Supriya Sule wins from Baramati

*We are responsible for Congress' fall: Sonia and Rahul Gandhi

* NDA - 327

* UPA - 65

* Others - 151

*Amit Shah: India's success story will be taken forward,under leadership of Modiji country will acquire great honour/pride all over the world

*TMC's Moon Moon Sen wins in Bankura West Bengal

*Professor Chintamani Malviya of BJP wins in Ujjain (MP)

*BJP`s Chavan Harishcandra Deoram wins Dindori

*Shiv Sena`s Adsul Anandrao Vithoba wins Amravati

Shiv Sena candidate Adsul Anandrao Vithoba wins in Amravati, Maharashtra

*Home Minister Sushilkumar Shinde loses from Solapur, Maharashtra

*NOTA polled more (51 lakh) votes than 27 parties in #Elections2014

*Yeh janadesh mere khilaf hai"- Sonia Gandhi

*The people moved towards BJP since Modi was announced PM candidate- Amit Shah

*Amit ShahThe Modi wave has become a tsunami. In 7 states Congress did not win even 1 vote.

As party president, I take responsibility for the defeat of the defeat : Smt. #SoniaGandhi

— INC India (@INCIndia) May 16, 2014

With all humbleness we accept the verdict of the people:Smt.Sonia Gandhi

— INC India (@INCIndia) May 16, 2014

I hold myself responsible for this defeat : #RahulGandhi

— INC India (@INCIndia) May 16, 2014

Arvind Kejriwal : I congratulate Mr. Modi for winning from here(Varanasi). Thank all those who voted for me & also those who didn't

*Sonia Gandhi, Rahul Gandhi to address news conference today

*Arvind Kejriwal accepts defeat, but says it is a good beginning for Aam Aadmi party

*Thank all those who voted for me and also those who didn't : Arvind Kejriwal

*Ajay maken loses from New Delhi

*Dimple Yadav wins from Kannauj

*BJP and Narendra Modi storm Lok Sabha elections: What we can expect from the Modi government?

Good days are coming: Narendra Modi

As the Bharatiya Janata Party​ (BJP) marches to a certain majority in the Lok Sabha poll, the party's prime ministerial candidate Narendra Modi Friday sought his mother's blessings, and said: "Good days are coming."

In tune with the huge importance given to the online campaign by the BJP and Modi himself, a special page called "Victory Wall" was created to wish the victorious leader on his official website.

*Shashi Tharoor gracefully accepts victory

*Bangladesh PM Sheikh Hasina, opposition chief Khaleda Zia congratulate Narendra Modi

An election of many firsts!! Have a look .. #Results2014 #May16WithArnab pic.twitter.com/08PGKnoizO

— TIMES NOW (@timesnow) May 16, 2014

*BJP-led NDA all set to form the next government, Sensex closes at a new high of 24,121; Nifty ends at 7,203

*Most NOTA votes logged so far are in Puducherry (3% at 3pm) from where Congress's V Narayanasamy contested

*Sensex up 216 points to close at new closing peak of 24,121.74; Nifty rises 80 points to end at 7,203. #Verdict2014t this point it is time for me to accept complete and total responsibility says Omar Abdullah. "It is a setback"

And the mother of all #selfies. RT @narendramodi Sought blessings from my Mother pic.twitter.com/30HzZNKsES #Verdict2014

— CNN-IBN News (@ibnlive) May 16, 2014

All said it is a good start for AAP: Yogendra Yadav

Read: Elections 2014 result: BJD ahead in 20 of 21 Lok Sabha seats in Odisha

In conversation with Yogendra Yadav a prominent political mind from Aam Aadmi Party, he reveals how he isn't worried about AAP's future and how he believes that alternative politics always take time.

What is your view on election results?

There are three negative and three positive things for us. Firstly, we will get 0 seats in Delhi is not something we had not imagined even though our vote share has gone up, the margin in Amethi and Varanasi is also over one lakh … but three big things happened for us. In our first national election, our party has registered presence in every corner of the country. Secondly, trends till now indicate that we will get 1.5 – two crore votes in country.

Thirdly after Delhi we got any another breakthrough – in Punjab. AAP's five year plan was this only that we get breakthrough in 8-10 states in next five years. Delhi was first and now Punjab is second. We can now think about moving forward.

Manmohan Singh congratulates Narendra Modi, to resign on Saturday

Prime Minister Manmohan Singh Friday congratulated the BJP's prime ministerial candidate Narendra Modi for leading his party to victory in the Lok Sabha election.

With BJP headed for a big majority in the Lok Sabha, Modi is set to succeed Manmohan Singh as the country's 14th prime minister.

"Prime Minister Manmohan Singh calls Narendra Modi and congratulated him on his party's victory in the Lok Sabha elections," according to a message on the twitter handle of the Prime Minister's Office.

On Saturday, Manmohan Singh will address the nation and then will submit his resignation to President Pranab Mukherjee.

Fight for alternative politics is a long one – first election is for losing, second to defeat others and third for winning.

What about national performance of AAP?

We had no feeling that Delhi assembly kind of results will be repeated elsewhere in India. I feel it is a long fight which is difficult and we are ready for it.

What are the reasons for defeat? What next for AAP?

Today's results are an indicator of what people of country wanted. Results visible today do not show some actions here and there would have changed much for us. All said it is a good start for AAP.

What do you think about BJP's performance?

It is on BJP that who they want to credit. People were so angry with Congress that they were ready to vote for anyone. People trusted leadership of Narendra Modi. I will congratulate Narendra Modiji.

*PDP Mehbooba Mufti wins from Anantnag

Rajnath Singh, Amit Shah, Ravi Shankar Prasad address press conference at BJP headquarters. BJP president Rajnath Singh spoke about BJP's success at the recently concluded polls:

*BJP won with a clear majority. In independent India, BJP is the the only party that has managed to grow in stature as Congress.

* BJP has encompassed religion, region, race, social and geographical boundaries to achieve success

* People's mandate has won

* BJP parliamentary board made the right decision by selecting Narendra Modi as the prime ministerial candidate. He has worked very hard.

* We believe that poll results will usher a new era for India

*Sonia Gandhi wins from Rae Bareili, Naveen Jindal loses from Kurukhshetra, BJP leading in 72 out of 80 seats in Uttar Pradesh

*NCP wins lone seat of Lakshadweep

*B Sreeramulu from BJP wins over congress Hanumantanappa in Bellary

*Raj Ballabh Prasad loses to Giriraj Singh in Newada, Bihar

Watch the entire live coverage here:

*After Ram and Krishna, new krantikari in the incarnation of Modi: Ramdev

*Chandrababu Naidu wins in Seemandhra

*Manoj Tiwari wins from Northeast Delhi

*BJP's Uma Bharti wins from Jhansi

*TRS heading to form first government in Telangana

*Ram Swaroop Sharma of BJP wins from Mandi Lok Sabha seat in Himachal Pradesh

*BJP`s Krishanpal Gurjar wins from Faridabad

*BJP`s K Laxman wins Musheerabad

CPI`s C N Jayadevan wins from Thrissur in Kerala

Ghulam Nabi Azad loses to BJP's Jatindra Singh in udhampur by 60976

*Chandrababu Naidu wins in Seemandhra

*Manoj Tiwari wins from Northeast Delhi

*BJP's Uma Bharti wins from Jhansi

*TRS heading to form first government in Telangana

*Narendra Modi's role is BJP's victory 'to be assessed': LK Advani

*After Ram and Krishna, new krantikari in the incarnation of Modi: Ramdev

*Murli Manohar Joshi leads in kanpur with 88000

*Farookh Abdullah now trailing in Srinagar

*CPM's Mohd Salim defeats Cong sitting MP Deepa Das Munshi in Raiganj, WB by only 1163 votes.

*Shocker for Mayawati: BSP tally at naugh

*Changan Bhujbal loses in Nashik.

*Maneka Gandhi wins from Pilibhit

*Maharashtra CM should quit, says BJP; seeks Assembly polls

Buoyed by stellar performance of the Shiv Sena-BJP led Mahayuti alliance in Maharashtra, BJP on Friday demanded the resignation of the Congress-NCP government headed by Prithviraj Chavan.

"It is not that we want this government's dismissal just because Modi has come to power. This government should own up moral responsibility and face Assembly elections immediately," state BJP president Devendra Fadnavis said.

Fadnavis made the demand as trends indicated that Congress which contested 27 seats was leading in one seat and NCP which contested 21 seats, was leading in just four. In the outgoing Lok Sabha, Congress has 17 and NCP 8 seats of the total 48 seats in Maharashtra.

"People of the state were disappointed with the state and Central governments. They realised that Narendra Modi can provide a stable government," Fadnavis said.

Amid mounting pressure from BJP on Chavan to quit, MPCC spokesperson Sachin Sawant said, "there is a need to analyse the results."

Former bureaucrat Avinash Dharmadhikari said it is up to Chavan to decide whether to step down from his post, after the drubbing the Congress and ally NCP got in the polls.

Meanwhile, industry minister Narayan Rane, whose son Nilesh is seeking re-election from coastal Ratnagiri-Sindhudurg seat, was reported as saying that he will quit the state cabinet if his son loses the poll.

*All Congress Chief Ministers concede to resign

*Milind Deora, Gurudas Kamat and Priya Dutt lose the elections

*Soni Sori loses from Bastar (Chhattisgarh)

*Orissa state assembly elections

*BJD wins 110 of 147 seats.

*Sonia Gandhi wins from Rae Bareili

*Rahul Gandhi wins from Amethi defeating Smriti Irani and Kumar Vishwas

Read: Maharashtra CM should quit, says BJP; seeks Assembly polls

Buoyed by stellar performance of the Shiv Sena-BJP led Mahayuti alliance in Maharashtra, BJP on Friday demanded the resignation of the Congress-NCP government headed by Prithviraj Chavan.

"It is not that we want this government's dismissal just because Modi has come to power. This government should own up moral responsibility and face Assembly elections immediately," state BJP president Devendra Fadnavis said.

Fadnavis made the demand as trends indicated that Congress which contested 27 seats was leading in one seat and NCP which contested 21 seats, was leading in just four. In the outgoing Lok Sabha, Congress has 17 and NCP 8 seats of the total 48 seats in Maharashtra.

"People of the state were disappointed with the state and Central governments. They realised that Narendra Modi can provide a stable government," Fadnavis said.

Amid mounting pressure from BJP on Chavan to quit, MPCC spokesperson Sachin Sawant said, "there is a need to analyse the results."

Former bureaucrat Avinash Dharmadhikari said it is up to Chavan to decide whether to step down from his post, after the drubbing the Congress and ally NCP got in the polls.

Meanwhile, industry minister Narayan Rane, whose son Nilesh is seeking re-election from coastal Ratnagiri-Sindhudurg seat, was reported as saying that he will quit the state cabinet if his son loses the poll.

*Mulayam Singh wins from Mainpuri

*Yogendra yadav defeated by Rao Inderjit Singh in Gurgaon

*Tapas paul wins in krishnanagar Tribnamool

*Elections 2014 results: BJP set to sweep Uttar Pradesh

*The journey of Prime Minister designate Narendra Modi

*TDP Chief Chandrababu Naidu wins from Seemandhra- kuppam constituency

*Uma Bharti rom Jhansi and Paresh Rawal from Ahmedabad

I look forward to receiving your good wishes on the specially created Victory Wall http://t.co/bVzfqRKA5m #CongratsNaMo

— Narendra Modi (@narendramodi) May 16, 2014

*Major setback for BJP, Jaitley loses to Amarinder Singh in Amritsar

*This is result of the collective failure of Gandhi family: Goa CM Manohar Parrikar

The Congress rout across the country was due to the "collective failure of the Gandhi family", Goa Chief Minister Manohar Parrikar said Friday.

The Bharatiya Janata Party (BJP) leader told reporters outside a counting centre in Panaji that the party was polling more votes than expected in Goa. Asked to comment on the Congress rout in the Lok Sabha poll, Parrikar said: "This is a result of the collective failure of the Gandhi family."

He also credited BJP's Prime Ministerial candidate Narendra Modi for the party's sweep across the country.

The BJP was leading in both Lok Sabha constituencies in Goa.

*NDA-165, UPA-35, Others-53

*Supriya Sule now inching closer to the victory. Leading by 15,000 votes over BJP-Sena alliance candidate Jankar (IE)

*Paresh Rawal leads in Ahmedabad East

In counting so far, 30.05 lakh voters found to have exercised NOTA option on the EVMs

South Delhi: final result, BJP wins by a margin of 98335 votes. Bags 472686 votes. Bidhuri "I was sure about my victory"

Elections 2014 Results: Sonia Gandhi leads in Rae Bareli by 1.21 lakh votes

Sensex over 24700 points on election rally as investors eye a BJP government at the Centre

In contrast to her party's rout in Uttar Pradesh, Congress president Sonia Gandhi on Friday seemed set to retain her Rae Bareli Lok Sabha seat.

According to election officials, she led over BJP's Ajay Agarwal by 1.21 lakh votes. The only other Congress candidate leading in Uttar Pradesh was its vice president Rahul Gandhi (Amethi).

Sonia Gandhi was first elected from Rae Bareli in 2004 and again in 2009. She was earlier the Amethi MP.

*BJP spokesperson Meenakshi Lekhi wins from New Delhi

*Arun Jaitley loses from Amritsar against Amrinder Singh

*Paresh Rawal leads in Ahmedabad East

Election Results 2014 LIVE: Prime Minister Manmohan Singh to resign at 12:30 pm on Saturday while Narendra Modi's oath-taking ceremony expected to be on May 21

*Election Results 2014 LIVE: Prime Minister Manmohan Singh to resign at 12:30 pm on Saturday while Narendra Modi's oath-taking ceremony expected to be on May 21

*AAP vote share bigger than congress with AAP 33.3 % congress 14.7% and BJP 46.3%

*Sushma swaraj wins by 3.25 votes in vidisha

Narendra Modi all set to be prime minister, BJP to get majority on its own

Narendra Modi appears all set to be the next prime minister with BJP likely to get a majority on its own, wresting power from Congress which is on the path of recording its worst ever performance in the Lok Sabha polls. Recording its best ever performance in its 34-year existence, the BJP on its own was leading in 276 seats, three more than the required half-way mark in the 543-member House, while its allies were ahead in 49 seats.

This will be the first time after 30 years that a single party is securing a majority on its own after the massive number of 419 seats Rajiv Gandhi got in 1984 in the aftermath of Indira Gandhi's assassination.

Set to take over as prime minister next week, Modi tweeted "India has won, good days are coming".

The BJP under Atal Bihari Vajpayee had scored an individual tally of 182 seats, both in 1998 and 1999.

On the other hand, the ruling Congress was struggling with leads only in 52 seats while its allies NCP (5), IUML (2), Kerala Congress and RSP (one each) were leading in nine seats.

BJP's prime ministerial candidate Narendra Modi was leading in Varanasi by 83963 votes and by over 5.59 lakh votes in Vadodara.

In Amethi, Rahul Gandhi was leading with 8022 votes and Congress President Sonia Gandhi was leading by over 1.57 lakh votes in Rae Bareli.

The Modi wave threw aside a number of Congress big guns, including 10 ministers like Sushilkumar Shinde, Sachin Pilot, Veerappa Moily, Salman Khurshid, Kapil Sibal, Ajay Maken, MM Pallam Raju and

Sriprakash Jaiswal besides Speaker Meira Kuma, P Chidambaram's son Karti was trailing in Sivaganga.

*BJP's khandwa candidate Nandkumar Singh Chouhan wins

*Sachin Pilot trails by a lakh votes in ajmer

*Babul Supriyo from BJP leading in asansol

LIVE UPDATES:

* Karunanidhi accepts defeat in Tamil Nadu.

* Sachin Pilot, outgoing Minister of Corporate Affairs trailing by 1 lakh in Ajmer, Rajasthan.

* Nandan Nilekani accepts defeat in South Bangalore, loses to BJP's Anantha Kumar.

* Three Congress leaders leading in Madhya Pradesh - Jyotiraditya, Kamal Nath and Ajay Singh.

* Sushil Kumar Shinde trailing by 72000 votes in Solapur.

* Priya Dutt trailing in north west by one lakh votes.

* Congress candidate CL Ruala leading in Mizoram.

* unprecedented sweep by Shiv Sena-BJP in Maharashtra, a traditionally pro-Congress state.

* From the votes counted so far 18.89 lakh voters chose the NOTA option.

* Salman Khurshid is trailing at the fifth position in Farrukhabad, Uttar Pradesh.

*Narayan Rane s son nilesh trailing 98523 votes to sena man in Ratnagiri to sena candidate

Elections 2014 results: TMC's Bhaichung Bhutia trails in Darjeeling

Trinamool Congress candidate and former India football captain Bhaichung Bhutia trailed BJP's SS Ahluwalia in West Bengal's Darjeeling Lok Sabha seat Friday, officials said. Bhutia is trailing by 18,000 votes.

The Gorkha Janmukti Morcha (GJM), which is demanding a separate statehood for Darjeeling Hills, supports the Bharatiya Janata Party candidate. Ahluwalia has promised a separate Gorkhaland state.

*Arun Jaitley may lose from Amritsar

*Scrip of Adani companies up, as BJP leads

Narendra Modi must keep in mind minorities: Shahi Imam of Delhi

The country may face a spell of ''communalism'' with the BJP set to form the next government at the centre, the Shahi Imam of Delhi, Syed Ahmed Bukhari, said Friday.

''It is likely that we will be moving towards communalism,'' Bukahri said.

He added that the ''division of the secular vote'' contributed to the improved performance of the BJP.

''The new government has to decide whether it will will follow its own agenda or the the constitution. If it follows the former, it poses a danger to the country. In a democracy, all kinds of things are said during an election. But afterwards, it is hoped that after capturing power, the new government will consider the country and its development first and take into account all religions before making any decision. The country cannot be run by breaking hearts,'' Bukahri said.

Asked if he feared discrimination of the minorities during the BJP rule, Bukhari said that ''there are no two opinions that since the 2002 Gujarat riots, the Muslim community does not like Narendra Modi and that sentiment stays. Only time will tell what he gives or does not give to the minorities.''

*Oath-taking ceremony to take place on May 21 2014.

*Chandan Mitra of BJP loses from Hoogly, West Bengal

*From the votes counted so far 18.89 lakh voters chose the NOTA option

*Elections 2014 results: Rabri Devi and Meira Kumar trail, Shatrughan Sinha and Misa Bharti ahead in Bihar

*Apoorva: ys vijayamma ysr congress party tariling from vishakhapatnam andhra pradesh

*Elections 2014 results: BJP marches ahead in 18 constituencies in Karnataka, Congress in 8

Leading in 18 of the 28 Lok Sabha constituencies in Karnataka, the BJP today marched way ahead of the ruling Congress which headed for a setback leading in only eight seats as the counting of votes progressed.

H D Deve Gowda-led JDS was leading in two constituencies, including Hassan where the former Prime Minister had established a lead of over 18,900 votes. The party was also ahead in its stronghold of Mandya.
In the prestigeous battle in Bangalore South, Infosys co-founder and face of UPA's Aadhar programme Nandan Nilekani was trailing behind BJP's formidable rival Ananth Kumar, a five-time MP, by over 17,000 votes. BJP candidates were leading in Bangalore North and Bangalore Central also.

Former Chief Minister D V Sadananda Gowda has established an impressive lead of over one lakh votes against Congress' C Narayanaswamy in Bangalore North. In Bangalore Central, P C Mohan was leading by over 6,000 votes. BJP strongman and former Chief Minister B S Yeddyurappa has maintained an unassailable lead of over 1,82,000 votes in his stronghold of Shimoga constituency over Congress' Manjunath Bhandary.

In Dharwad, BJP Karnataka unit President Prahlad Joshi has established a lead of over 54,000 votes. Union Minister M Veerappa Moily was lagging in Chikkaballapur where his BJP opponent B N Bache Gowda was ahead of him by more than 4,800 votes.

In Gulbarga, Railway Minister Mallikarjun Kharge was leading by 22,900 votes over BJP's Revunaik Belamagi. Trends indicate that the BJP seems to have made a remarkable recovery almost across the state since it lost power in the May 2013. Assembly polls in which the Congress staged a spectacular comeback with the installation of the Siddaramaiah Government, though largely capitalising on a divided BJP after Yeddyurappa's exit then.

Arunachal Pradesh Assembly poll results: Congress leading in 6; PPA, BJP in 2 Assembly seats

Ruling Congress has established early leads in six assembly constituencies of Arunachal Pradesh, while People's Party of Arunachal (PPA) and BJP are leading in two constituencies and an Independent candidate leading in one seat as per available trends.

While state minister Kalikho Pul is leading by a margin of 107 votes in Hayuliang constituency, another minister Kumar Waii is leading at Bameng by 439 votes, while yet another minister Tapang Taloh was leading by 456 in Panging constituency.

Congress candidate Wangki Lowang is leading at Namsang constituency by 916 votes, CT Mein in Chowkham by 165 and Gum Tayeng is leading in Dambuk constituency by a margin of 456 votes, election office sources said.

PPA candidates Nikh Kamin is leading by 542 votes in Bordumsa-Diyun while first timer Tsering Sonam is leading in Kalaktang by 645 votes.

Former and longest serving chief minister Gegong Apang of BJP is leading in Tuting Yingkiong constituency by 463 votes, while first timer Mahesh Chai of BJP is leading by 68 votes from Tezu.

Independent candidate Theg Tse Rinpoche is leading at Lumla constituency by 272 votes, sources said.

Congress has already won 11 of the 60 Assembly seats uncontested in the state.

Election results 2014: TDP ahead in 7 constituencies, YSR Congress in 5 in Andhra Pradesh

India has won! भारत की विजय। अच्छे दिन आने वाले हैं।

— Narendra Modi (@narendramodi) May 16, 2014

TDP was leading in seven parliamentary constituencies and the YSRCP ahead in five seats in Seemandhra, as per initial trends.

In Srikakulam Lok Sabha, TDP candidate K Rammohan Naidu, son of late Yerran Naidu, was leading by 1,400 votes. In Araku parliamentary seat, YSRCP nominee K Geeta was leading by 1,382 votes. Union Minister V Kishore Chandra Deo is the Congress candidate here.

I have worked hard and honestly for the people of Thiruvananthapuram for 5 years. They are the best judge of what they need from their MP.

— Shashi Tharoor (@ShashiTharoor) May 16, 2014

*Narendra Modi wins from both Vadodara and Varanasi

*Sonia Gandhi is leading from Rae Bareili

*Arvind Kejriwal faces defeat from Varanasi

*Sonia Gandhi leads in Rae Bareili

*Kirron Kher from BJP leading in Chandigarh while Gul Panag and Pawan bansal trailing

*Kapil sibal, salman kurshid, jitin prasad ajay maken ambika soni top congress leading trailing

*Assam Chief Minister Tarun Gogoi to resign taking full responsibility for Congress defeat in state. Earlier, the outcome of the Parliamentary elections may cost Assam chief minister Tarun Gogoi his job. Grim exit poll projections for Congress have emboldened a group of rebel Congress MLAs to intensify their demand for his ouster.

*Congress Party Admits Defeat, but Shields Rahul Gandhi From Blame

*B S Yeddyurappa: won in shimoga

*Congress concedes defeat. 'We respect decision of people and democratic process. We could not live up to the people's expectations' Congress leader Satyavrath chaturvedi at party headquarters.

'Mr modi sold a dream to people of getting Jupiter and mars for them and people accepted it. We respect people's decision. Not only rahul but all of us are accepting the responsibility of what happened. Some political decisions including andhra Pradesh bifurcation may have gone wrong. It seems some decisions bounced back' rajiv Shukla of congress

UPA downslide worse than imagined, says Omar Abdullah

The initial downslide in the UPA fortunes appears worse than he had imagined, but hoped the trends would reverse as counting of votes in the Lok Sabha polls progresses, Jammu and Kashmir Chief Minister Omar Abdullah said Friday.

After watching the early trends from different parts of the country, Omar Abdullah said on his twitter site: "I imagined a worst case scenario but early trends are worse than that. Let's hope this trend reverses as the count progresses."

He has been one of the most vocal UPA allies who has criticised BJP's prime ministerial candidate Narendra Modi during his election campaign.

Here's a complete list of leader and trailers:

*NDA 303 seats

*UPA: 74 seats

*Others 150 seats

Leading: Narendra Modi, Rahul Gandhi, Vinod Khanna, Meenakshi Lekhi, Kirron Kher, Rajnath Singh, Sanjay Nirupam, Smriti Irani, Ghulam Nabi Azad, Rajyavardhan Singh Rathore, VK Singh, LK Advani, Uma Bharti, Sonia Gandhi, PA Sangma, Sachin Pilot, Hema Malini, Dimple Yadav, Dushyant Singh, Babul Supriyo, Ashok Chavan, Misa Bharti, Chirag Paswan, Nitin Gadkari, Dr Dharamvira Gandhi, Hukum Singh, Rakhi Birla, HD Deve Gowda, Supriya Sule, Murli Manohar Joshi, Manoj Tiwari, Rameswar Teli, Kalyan Banerjee, Jyotiraditya Scindia, Jaswant Singh, Mapanna Mallikarjun Kharge, SS Ahluwalia, Kirit Somaiya, Rajiv Pratap Rudy, Poonam Mahajan, Sumitra Mahajan, Mahesh Giri, Ramakant Yadav, Ram Vilas Paswan, Shrikant Shinde, Anbumani Ramadoss, Paresh Rawal, Badruddin Ajmal, Chhedi Paswan, Dinesh Trivedi, Jagdambika Pal, Dr Daljit Singh, V Narayanasamy, Shatrughan Sinha, Eknath Shinde, Mehbooba Mufti, Kalvakuntla Chandrashekar Rao, Kamal Nath, Bappi Lahiri, Ram Tahal Choudhary, Ashok Nete, Maneka Gandhi, Bhagwant Mann,

Trailing: Arvind Kejriwal, Mulayam Singh Yadav, Meenakshi Natarajan, Sharad Yadav, Naveen Jindal, Veerappa Moily, Nanadan Nielkani, Meira Kumar, Ajay Maken, Ashish Khaitan, Anjali Damania, Balbir Saini, Arun Jaitley, Amarinder Singh, Tushar Chaudhary, Bhaichung Bhutia, Preneet Kaur, Gul Panag, Mani Shankar Aiyar, Priya Dutt, Farooq Abdullah, Pratibha Singh, Dayanidhi Maran, Shashi Tharoor, A Raja, Praful Patel, Mukul Balkrishna Wasnik, Rabri Devi, Medha Patkar, Sandeep Dikshit, Pawan Kumar Bansal, Karia Munda, Ambika Soni, HS Phoolka, Vaiko, Chhagan Bhujbal, Shahnawaz Hussain, Mohammad Kaif, Milind Deora, Ramya, Sachin Pilot, Sushilkumar Sambhajirao Shinde, Mohammad Azharuddin,Subodh Kant Sahay, Nilesh Narayan Rane

* Congress accepts defeat. Party spokesman Satyavrat Chaturvedi says, 'Collective failure, Rahul Gandhi alone not to blame'

Rahul Gandhi's leadership is not to be blamed if the outcome of elections are not in favour of Congress is what most Congress politicians reiterated even before the Exit Poll results were being declared by various news channels and analyst organisations.

"Rahul Gandhi is not in the government. He is the number two leader in the party. Sonia Gandhi is the president. Then, naturally there is local leadership. Whatever be the result, it will be a collective (responsibility)," said Shakeel Ahmed, the general secretary of AICC during release of Exit Poll results. Read More

*Assam Chief Minister Tarun Gogoi to resign taking full responsibility for Congress defeat in state.

Investor sentiments are marginally up and the markets have been breaking records on election rally. While BSE and NSE have been crossing benchmarks and setting records, even the 'satta bazaar' has been abuzz with high stakes on Narendra Modi followed with a small margin by Priyanka Gandhi Vadra and Rahul Gandhi.

*Narendra Modi wins by 4 lakh votes from Vadodara

*Narendra Modi is leading from Varanasi against Arvind Kejriwal with 19,000 votes

RBI best tool to control inflation interest rate: Rajan

A fortnight ahead of the next bi- monthly monetary policy review, Reserve Bank Governor Raghuram Rajan today said the "best tool" available with the central bank to control price rise is interest rate.

"Our best tool to control inflation is interest rate," he said, adding that the government too has tools like increasing agricultural production and improving supply.

"Both need to work together and will work together.

Elections 2014 Results: NDA leads in Bihar

The BJP-led NDA Friday took early lead in 22 of the 40 Bihar seats as officials counted the votes polled in the Lok Sabha elections. The UPA led by the Congress-RJD combine in the state was ahead in 8 seats and ruling JD-U was leading in only two seats.

The BJP and its ally LJP and RLSP candidates forged ahead, among others, in Bhagalpur, Darbhanga, Gaya, Sheohar, Jamui, Hajipur, Araria. The RJD is leading in Patliputra, Banka, the Congress is leading in Kishanganj, and the NCP in Katihar.

In 2009, the NDA won 32 seats, including the BJP 12 and JD-U 20. Now both parties are contesting alone. The Congress won 2 seats and the RJD 4 seats. Two seats were won by Independents.

Elections 2014 results: BJP set to win in Bihar, Nitish Kumar's JDU to face huge defeat

The Trinamool Congress is leading in three seats and the BJP in two seats out of 42 Lok Sabha seats in West Bengal, according to trends available. TMC's Sugato Bose is leading by 893 votes over nearest rival Sujan Chakraborty of CPI(M). Tapas Pal of TMC is leading by 216 votes over CPI(M)'s Santanu Jha at Krishnagar. Satabdi Roy of TMC is leading by 953 votes over BJP's Joy Banerjee in Birbhum seat.

BJP is leading from Darjeeling with its candidate S S Ahluwalia leading by 2000 votes over his Trinamool Congress rival Baichung Bhutia. In Asansol, BJP's Babul Supriyo is leading by 556 votes over TMC's Dola Sen.

Dinesh Trivedi of TMC leading by 2,689 votes over CPI(M)'s Subhashini Ali in Barrackpore seat.

CPI(M)'s Ram Chandra Dom, the sitting MP, is leading by 2,638 votes over CPI(M)'s Anupam Hazra in Bolpur seat. In the Kolkata North seat, Sudip Bandopadhyay of TMC is leading by 1,062 votes over Rahul Sinha of BJP. In the Hooghly constituency, Ratna De Nag of TMC is leading by 8,471 votes over CPI(M)'s Pradip Saha.

In Bardhaman Durgapur seat, Mumtaz Sanghamita of TMC is leading by 4,774 votes over her nearest rival Sk Saidul Haque of CPI(M). In the Bardhaman East constituency, Sunil Mondal of TMC is leading by 4,406 votes over Iswar Chandra Das of CPI-M. In Alipurduar, Dasarath Tirkey of TMC is leading by 550 votes over Manohar Tirkey of RSP.

In the Barasat seat, Mortaza Hossain of Forward Bloc is leading by 1,995 votes against Kakoli Ghosh Dastidar of TMC. In the Dumdum seat, Sougata Roy of TMC is ahead of his CPI(M) rival Asim Dasgupta by 8389 votes. In the Hooghly seat, Ratna De Nag of TMC is leading by 6,131 votes against his CPI(M) rival Pradip Saha.

In the Diamond Harbour seat, TMC's Abhisek Banerjee, nephew of Trinamool Congress supremo Mamata Banerjee, is leading by 5,143 votes over CPI(M)'s Abul Hasnat. In Raiganj, CPI(M)'s Mohammad Salim is leading by 4,045 votes over Congress candidate and sitting MP Deepa Dasmunshi.

In the prestigious Kolkata South constituency, Subrata Bakshi of TMC is leading by 996 votes over Tathagata Roy of BJP. In Joynagar, TMC's Pratima Naskar is leading by 12,592 votes against Subhash Naskar of RSP.

In the Malda South seat, Congress candidate and sitting MP Abu Hasem Khan Chowdhury is leading by 1,208 votes over TMC's Mouzzen Hossen. In Ranaghat, Tapas Mondal of TMC is leading by 13,488 votes against his nearest rival Archana Biswas of CPI(M).

Idris Ali of TMC is leading by 5,218 votes over Nurul Huda of CPI(M) in the Basirhat seat.

In the Baharampur seat, Adhir Chowdhury, who is the West Bengal unit president of Congress, is leading by 5,091 votes over TMC's Indranil Sen.
In Balurghat, Arpita Ghosh of TMC is leading by 1,357 votes over Bimal Sarkar of RSP. Khagen Murmu of CPI(M) is leading by 567 votes against Congress' sitting MP Mausam Noor in Maldah North seat.

Sandhya Roy of TMC is leading by 571 votes in Medinipur seat against Prabodh Panda of CPI. Nine-time MP Basudeb Acharia of CPI(M) is leading by 515 votes over TMC's Moonmoon Sen in the Bankura seat. In Howrah, Prasun Banerjee of TMC is leading over CPI(M)'s Sridip Bhattcharjee by 9,087 votes.

In Uluberia, TMC's Sultan Ahmed is leading by 1,156 votes over Sabiruddin Mollah of CPI(M). In the Arambagh seat, TMC's Aparupa Poddar (Afrin Ali) is leading by 12,199 votes against CPI(M)'s Santimohan Malik.

In the Murshidababd seat, Abdul Mannan Hossain of Congress is leading by 1,569 votes over CPI(M)'s Badrudzza Khan. In the Srirampur seat, sitting TMC MP Kalyan Banerjee is leading by 5,461 over CPI(M)'s Tirthankar Roy.

@dna @calamur @kunalmajumder Narendra Modi leading Arvind Kejriwal by 12121 votes in Varanasi-in Vadodara NaMo up by over 4,03 lakh votes

— Mayank Aggarwal (@journomayank) May 16, 2014

Election 2014 Updates for Pune

Fourth Round: Baramati

Supriya Sule leading with meagre 9961

Approximately 2 lakh votes have been counted till now.

Third Round 10 a.m.

Anil Shirole BJP leading by 37737 after end of third round

Maval: Narvekar found indise the counting table with his Tab on. He has been warned about it.

Second Round 10 a.m: Anil Shirole 23631

Vishwajeet Kadam 10495: Maval

Shirang Barne 33303

Laxman Jagtap 33087

Rahul Narvekar 17213

First Round and Second Round, 9:15 a.m.

Anil Shirole is leading in Pune with 23837 votes in the first round and 23631 votes in the second round while Kadam fares second with 11847 votes in the first round and 10495 votes in the second round. In individual constituencies too, Anil Shirole is taking the lead. In Parvati, Shirole has 3052 votes while Kadam comes second with 1756. In Wadgaon Sheri, Shirole leads with 5407 votes and Kadam gets 1801 votes. Meanwhile in Kothrud, Shirole fares well with 5066 votes while Kadam gets 1380 votes. Lastly, in Shivaji Nagar, 3218 votes got to Shirole and Kadam gets 2477.

*Lok Sabha Elections 2014: Farooq Abdullah trailing, Ghulam Nabi Azad leading Srinagar

*Amita Singh from Congress loses against BJP's Varun Gandhi

LIVE webcast from BJP HQ has started. Watch LIVE at http://t.co/Hbi4GfY4eG #CongratesNaMo pic.twitter.com/ZMnbgp7SWY

— Yuva TV (@YuvaiTV) May 16, 2014

*Varun Gandhi wins from Sultanpur on BJP seat

Read: Lok Sabha Elections 2014: Farooq Abdullah trailing, Ghulam Nabi Azad leading Srinagar

National Conference President Farooq Abdullah was trailing in Srinagar Lok Sabha seat, while Congress leader Ghulam Nabi Azad was ahead in Udhampur.

Union Minister Abdullah was trailing behind his nearest PDP rival Tariq Hamid Karra by 1,540 votes while Azad improved his margin over his nearest BJP rival Jitendra Singh by over 9,788 votes.
Abdullah has polled 14,625 votes, where as his rival Karra was ahead by 16,165 votes.

In Udhampur, Azad, another Union Minister, has polled 1,04,860 votes where as Singh has got 96,172 votes.

Panthers Party chief Bhim Singh has polled over 5200 votes there.

In Baramulla Parliamentary seat, Muzzafar Hussain Baig of PDP was ahead of his National Conference candidate Shariq-ud-din Shariq.
Baig has polled 8,810 where as Shariq has got 4,892 votes.

In Jammu seat, Jugal Kishore (BJP) gained a lead of over 20,000 votes over his Congress rival and sitting MP Madan Lal Sharma. In Ladkah Lok Sabha seat, Independent candidate Ghulam Raza was leading at the completion of first round of counting. Congress and BJP were in third and fourth position.

Sitting MP and National Conference President Farooq Abdullah was trailing in Srinagar seat by a margin of less than 500 votes over his PDP rival Hamid Karra.

At the completion of first round of voting, Abdullah had polled 1175 votes whereas his PDP rival polled 1592 votes.

*UP trend: BJP leads in 57 seats, SP 9, BSP 4, INC 1, Apna Dal 1

*Congress Candidate from Mumbai North West Gurudas Kamat leading

*Poonam Mahajan leading in Mumbai North West

*Congress Candidate from Mumbai North West Gurudas Kamat leading

LK Advani and Pratibha Advani watching elections results on TV at his residence #Elections2014 pic.twitter.com/5xAEQxuwtX

— ANI (@ANI_news) May 16, 2014

Finally on the counting day, Sensex crossed 25,000 points thereby setting records on the back of confidence that a Narendra Modi led government will come to power at the Centre.

Read: Election results: AIADMK leading in Tamil Nadu

The AIADMK on Friday established early leads in 11 Lok Sabha constituencies in Tamil Nadu, based on the counting of postal ballots.

In Kanyakumari, the Bharatiya Janata Party has established an early lead. There are 39 Lok Sabha seats in Tamil Nadu.

Watch the news videos below:

Tally till 10 am:

NDA 271 seats

*UPA: 81 seats

*Others 133 seats

*As per initial trends, Rio of NPF has polled 83,502 votes while K V Pusa of Congress has obtained 31,944

* BJP leading in Gujarat one seat, in UP two seats

*BJP is leading with 273/487

*BJP crosses 272+ seats

*Rajyavardhan singh rathore leading from Rajasthan

Telangana TRS leads by 55 seats

*BJP leading BY 36 in Maharashtra

*BSP leading in Uttar Pradesh

*BJP leads, Tharoor trails in Thiruvananthapuram

*AAP's Shazia Ilmi leads in Ghaziabad

In Amritsar, Congress's Amarinder Singh is leading over BJP's Arun Jaitley

*Maneka Gandhi leading in pilibhit

*Hatkanangale- SS Raju Shettirajyavardhan singh rathore leading in bjp

*RLD chief Ajit Singh loses from Baghpat

It's never Rahul Gandhi's fault say Congress leaders over Lok Sabha election outcome

*Former BJP leader Jaswant Singh who had a tiff with BJP is leading from Barmer

*AIADMK leading in 11 seats in Tamil Nadu, Congress in 1

*BJP leads in 6 seats in Punjab, Congress in 2, AAP in 4

*Gujarat BJP leads by 9 seats:d news

*TMC leads by 16 in west bengal

*AIADMK leads in tamil nadu

*Harshvardhan leading in DELHI

*BJP leads by 11 seats in Karnataka

Read: BJP Lok Sabha elections 2014 results tracker LIVE: Former BJP leader Jaswant Singh leading in Baramer; In Maharashtra, BJP leads 7, Shiv Sena 9

*In Punjab, AAP is leading in 3 seats; actress Kirron Kher, BJP candidate, leading AAP's Gul Panag in Chandigarh

* Aam Admi Party's Rakhi Birla ahead in Delhi

*Lok Sabha Elections 2014: CPI-M leads in Tripura

The ruling CPI-M Friday took early lead over the Congress in the two Lok Sabha seats in Left-ruled Tripura, officials said here. Forest and Rural Development Minister Jitendra Choudhury was leading by 1,500 votes over Sachitra Debbarma of Congress in East Tripura seat.

In the Tripura West, trade union leader Sankar Prasad Datta was ahead by 1,450 votes over the Congress. In all 25 candidates contested the two Lok Sabha election in Tripura.

BJP workers celebrating outside party headquarters in Ahmedabad #Results2014 pic.twitter.com/mo6Tdpd2Mj

— TIMES NOW (@timesnow) May 16, 2014

*SAD leading by 7 in Punjab

*Only state Congress leading is Kerala

*Samajwadi Party leading in Hardoi and Jhansi

*NDA is leading by 80 seats while UPA has 37 seats while other parties have 37 seats. Rahul Gandhi is leading in Amethi and BJP's Smriti Irani is trailing behind

*Jammu and Kashmir trend: Tariq Hameed Karra of J&K PDF ahead of Farooq Abdullah of National Conference in Srinagar seat in early trends

*Manipur trend: Naga Peoples Front ahead of INC in Outer Manipur seat by 11238 votes

*BJP is leading in 22 constituencies in UP

bjp leads by 2 seats in uttarakhand

*Congress 5, BJP 9, Samajwadi- 3 in Uttar Pradesh

*Arvind Kejriwal trails in varanasi

*NCP's Supriya Sule is trailing in Baramati

*Punjab trends: AAP leads from Sangrur, Patiala, Fatehgarh Sahib and Faridkot

*B Sreeramalu leading in Bellary, Karnataka

*BJP's Sushma Swaraj leading in Vidisha

*B S Yeddyurappa leading in Shimoga, Karnataka

*Lok Sabha election counting: Chirag Paswan leading in Jamau in Bihar, Misa Bharti in Pataliputra

*Anant kumar leading in bangalore

*Shiv Sena candidate from Sindhudurg Maharashtra Vinayak Raut leading.

*AAP's Medha Patkar alleges EVM tampering

*Kamal nath trailing in Madhya pradesh

*Close contest in Amritsar , Congress's Capt. Amarinder Singh leads by 1846 votes over BJP's Arun Jaitley

*Hema malini (bjp) leads in mathura

*Babul Supriyo leads in Asansol

*Mohammed kaif leading in Phulpur

#IndiaDecides2014: Latest All India Leads (312/543) BJP+ 171(+80), Congress 64 (-83), Others 77 (+3) #Results2014 pic.twitter.com/6AYwx8nXuq

— NDTV (@ndtv) May 16, 2014

*In Kanpur, BJP's Murli Manohar Joshi is leading over Congress's Sriprakash Jaiswa

*BJP leads on ten seats in Gujarat, Modi extends lead by 43495 votes on Vadodara seat

North India: BJP is leading in 45/72

West- 81/100 BJP

South- BJP leading in 25 out of 85

*Congress leading in key constituencies Amethi Rae Bareli pilibhit

*Raj Babbar trails while shaziailmi leads in Ghaziabad

*Sharad Yadav trailing in Madhepura

*Maneka gandhi trailing in Pilibhit, congress leading there

*Jyotiraditya Scindia of Congress is leading in Guna

*Maharashtra ncp leads by 2 cong 1 others 1:DD news

*Meghalaya trends: INC leads in Shillong by 205 votes

*BJP 169/304 nationally

Yedurappa leading in ShimogaDr. Harsh Vardhan from BJP leading in Chandni Chowk

*BJP's Smriti Irani is leading in Amethi

Rahul Gandhi in Amethi, Shashi in Trivandrum, Modi in both Varanasi & Vadodara BJP+ 79 Congress+ 35 Others 19

— India Today (@IndiaToday) May 16, 2014

*Narendra Modi leads in Vadodara, Varanasi

*BJP leading by 23/35 in Uttar Pradesh, Congress at 6

*TRS leading in Andhra Pradesh by 16 seats

*Uttar Pradesh: BJP leads by 14 seats

*TMC leading by 13 in West Bengal, Left at 7 seats

*AAP and SAD leading by 1 in Punjab

*Party wise leads: Congress 22, BJP 46, AAP 1

*BJP leading by 5 in Rajasthan

*Andhra Pradesh- TDP leading by 3

*YSRC leading by 3 in Andhra Pradesh

*Karnataka BJP leads by 13

*AIADMK leading in 6 seats

Read: India's general election vote count begins amidst tight security

Counting of votes begins in Tamil Nadu

Counting of votes polled in the Lok Sabha election began in 42 centres in Tamil Nadu on Friday morning. According to officials, the postal ballots were taken up first and will be followed by votes registered in the electronic voting machines (EVM).

A total of 845 candidates were in the fray for the 39 Lok Sabha seats in the state. The polling percentage in Tamil Nadu was around 73%.

*BJP leading by 5 in Rajasthan

Party wise leads: Congress 22, BJP 46, AAP 1

Uttar Pradesh: BJP leads by 14

TMC leading by 13 in West Bengal

For election results break-down check out the links here:

Punjab- AAP and SAD leading by 1 in Punjab Uttar Pradesh, BJP is leading in 13 seats, a gain of 7. Leads for 18/80

*BJP's Ananth Kumar leading in Bangalore

*AAP leads with one seat in Punjab

*Mulayam Singh leads in Mainpuri

*Uma Bharti leads in Jhansi

*TDP gets its first seat in Andhra Pradesh

*Hema Malini leading from Mathura

*According to Zee news, initial reports show a 19+ win for BJP while Congress has a 6+ win.

*BJP leading by all 7 seats in Gujarat

*Rahul Gandhi is leading in Amethi, Sonia Gandhi is leading in Rae Bareili and Narendra Modi is leading in Varanasi

*BJP leading by 68 seats nationally

General Elections numbers are coming in.

General Elections numbers are coming in. Follow @ZeeNews for the updated Loksabha Election Results #VerdictOnZee pic.twitter.com/7gDOdiydgC

— Zee News (@ZeeNews) May 16, 2014

In Uttar Pradesh, BJP leads by 7, Congress 1

*Maharashtra- Congress leading by 1

The biggest event of India's democracy—Lok Sabha elections have taken place in nine phases between April 7 to May 12. These six phases saw slugfests, tussle of ideologies between BJP and Congress and insurgence of third front. Indian democracy has a total of 543 constituencies and majority of them witnessed an average of 54% voting on polling days and violence was witnessed in some parts too. From maoist attacks to naxal insurgence, polling process was hampered on various counts.

*BJP leading by 16 in Karnataka

*In Kerala, UDF is leading by 5

*Madhya Pradesh-BJP leading by five

*BJP's Gen VK Singh leads in Ghaziabad. Latest Leads (14/543) BJP+ 7(+2), Congress 4(-3), Others 4 (+1)

*BJP leading in Gujarat one seat, in UP two seats

Read: Arvind Kejriwal's hopes for winning Kashi

Counting begins in Bihar:

2014 elections saw a major twist in Bihar because of split of JDU from the BJP-led NDA after their alliance of 17 years. The NDA, however, got a timely LJP boost before the election began and on the other side.

Out of the total 40 seats in Bihar, the BJP is expected to cross the half-way mark. The saffron party had won 12 seats in 2009 election.

Major candidates:

Prakash Jha - JDU - Pashchim Champaran

Rabri Devi - RJD - Saran

Rajiv Pratap Rudy - BJP - Saran

Ram Vilas Paswan- LJP- Hajipur

Misa Bharti - RJD - Pataliputra

Raghuvansh Prasad Singh - RJD - Vaishali

Assembly election numbers are coming in. #Verdict2014 pic.twitter.com/pwIw0M51bx

— CNN-IBN News (@ibnlive) May 16, 2014

Vadodara : Strong room opens, EVMs being taken for counting #Elections2014 pic.twitter.com/ghzk3Ht6uU

— ANI (@ANI_news) May 16, 2014

*Counting for the 29 Lok Sabha seats in Madhya Pradesh will begin at 8 am on Friday.

The top leaders in the fray are Sushma Swaraj, Lakshman Singh, Jyotiraditya Scindia, Kamal Nath and Narendra singh Tomar, Narendra Modi and Rahul Gandhi.

Out of the 29 seats, 13 are held by the BJP, whole Congress won 11 seats in the 2009 elections.

Read: Narendra Modi's Twitter fans eager to see him come Prime Minister

Poll counting updates:

*Sonia and Rahul Gandhi to address a press conference at 12 pm today

Read: BJP plans grand welcome for Narendra Modi this Saturday in Delhi

Add to it the Exit polls predicting a clear win for BJP led NDA government and a fall for Congress and the counting frenzy is on to find out India's next Prime Minister.

The Exit poll results for Lok Sabha elections have thrown up interesting permutations and combinations. Riding high on Congress' anti-incumbency factor, Bharatiya Janata Party will win maximum seats according to various polls including the CVoters poll, Times Now and CNN-IBN surveys.

Read: Parliament sets up help desks for new members

The parliament secretariat is setting up Help Desks for new members and their assisstance.

Here the members will have to fill up forms, and along with specimen signatures. P Sreedharan, Secretary General of the Lok Sabha has also stated those who need a an email id as an MP will bne given one instantly.

Read: Cabinet: Can Narendra Modi resist party?

The day following, the members are to handed a briefcase containing a handbook of rules and parliamentary procedures.

This preceeds the election of the new Lok Sabha that will hopefuly prove to be an upgrade from the one seen last which people have critiqued as being one of the least productive ever.

While states such as Uttar Pradesh, Bihar, West Bengal have always been non-BJP strong-hold, the newly crafted BJP campaign to present Narendra Modi as the Prime Ministerial candidate has worked wonders for the party. BJP has managed to make a dent into the Mayawati-Samajwadi-Akhilesh Yadav bastion according to exit poll surveys.

Track updates for BJP: LIVE BJP tracker: LK Advani and Sushma Swaraj continue to give Narendra Modi a headache. Advani possibly next Speaker of Lok Sabha

Track Congress updates here: Congress remains determined to fight the Modi wave

Read: Google marks Lok Sabha Elections 2014 counting day with a powerful doodle

What you need to know about the Lok Sabha Elections

North belt:

South belt:

East belt:

West Belt: Results of India's election are due on Friday, after a record number of voters cast their ballot in the five-week-long marathon. Although India's elections are notoriously difficult to predict, exit polls project a win for a coalition led by Hindu nationalist Narendra Modi.

Here are the highlights:

- There are 543 seats in the lower house of parliament known as the Lok Sabha. In addition, two Anglo-Indian members may be nominated by the president if he feels that the community is not adequately represented in the house.

- For a political party to secure a parliamentary majority, and form the government, it needs to win 272 seats in the elections. The Hindu nationalist Bharatiya Janata Party (BJP) have called their campaign "Mission 272+" for this reason.

- Winning an outright majority has grown more difficult over the years for the two main national parties - Congress, which has governed India as part of a coalition for the last decade, and the opposition BJP.

- That's because power has increasingly radiated toward regional parties, whose support has been crucial to form a government.

- Some of these regional players have also banded together to form a loose "third front", a possible alternative to the Congress-led United Progressive Alliance (UPA) and the BJP-led National Democratic Alliance (NDA).

- Outside support from regional parties can be fickle. The UPA government that came to power in 2004 was propped up by communist parties. However, they withdrew support after the government struck a civilian nuclear deal with the United States in 2008.

- The second UPA government that was elected in 2009 received support from the Mamata Banerjee's Trinamool Congress Party. The mercurial leader of West Bengal pulled the plug in 2012 after the government decided to raise diesel prices and allow foreign big-box stores in India.

- Banerjee is not the only female regional party leader capable of shaping the new government. Two more parties are led by female firebrands - Jayalalithaa Jayaram in the southern state of Tamil Nadu and Kumari Mayawati in the northern heartland of Uttar Pradesh.

Read: Shooting of film on Narendra Modi put on hold, pending election results

- There's a lot at stake for India these elections - the country faces its longest slowdown since the 1980s at less than 5 percent economic growth. India is targeting 8 percent growth to help create jobs for 10 million youngsters joining the workforce every year.

- India saw a record 66 percent turnout this general election as a young electorate and women engaged with politics more than ever before. Some 537 million people voted.

- The votes for 543 seats will be counted at 989 designated centres across the country, with each centre heavily guarded by local police and paramilitary forces.

- Contesting candidates are allowed inside counting centres if they agree to keep their armed guards at bay. Only candidates with special protection can be accompanied by personnel in plain clothes with a concealed weapon.

Read: Congress wants secular parties to unite, Mamata Banerjee as prime minister

Backdrop of polls and how Election Commission is prepared to handle the counting:

"We are fully prepared and geared up for the counting day tomorrow... There is absolutely no problem," Election Commissioner HS Brahma had told IANS on Thursday about counting. He had said all data accruing from the nationwide counting process would be updated on the poll panel's web site after every five minutes.

Around 66% of the 814 million electorate voted between April 7 and May 12 across the country to pick a new 543-member Lok Sabha.Exit polls at the end of the staggered election have predicted a win for the Bharatiya Janata Party (BJP) and its allies in the National Democratic Alliance (NDA). Counting at 989 centres across the country will begin at 8 a.m. Friday, an official statement said. A total of 8,251 candidates, including 668 women and five transgenders, contested the Lok Sabha battle. The contestants included 3,234 independents.

Read: Maharashtra Shiv Sena, BJP leaders eye cabinet berths in new government

Friday's results will determine the political fortunes of India's virtual who is who, including BJP's prime ministerial candidate Narendra Modi (Vadodara, Varanasi), Congress leaders including Sonia Gandhi (Rae Bareli), Rahul Gandhi (Amethi), SP leader Mulayam Singh (Mainpuri, Azamgarh), JD-U leader Sharad Yadav (Madhepura), BJP leaders Arun Jaitley (Amritsar), Rajnath Singh (Lucknow), and AAP leader Arvind Kejriwal (Varanasi).

Although the vote count would start at 8, about one million officials drawn from the central and state governments would assemble at the counting centres much before that."All those involved in the counting have been told to report by 5 in the morning tomorrow (Friday)," another Election Commission official said."They will have to come without their mobile phones, and none of them will be allowed to leave until the entire process gets over," the official told IANS. Initial trends will be available rapidly. The final tally in the Lok Sabha will be more or less clear by midday. But most results will be known only by evening, one official said.

As polling ended in various constituencies spread over 10 rounds, the 1.72 million electronic voting machines (EVMs) were put in strongrooms across the country and placed under heavy security. Tens of thousands of police and paramilitary personnel are to oversee the counting process Friday. Brahma expressed appreciation over the huge voter turnout in what is the world's largest electoral exercise. "We are grateful and thankful to the voters for turning up in such large numbers," Brahma told IANS. "We are extremely happy that such a high voter turnout was registered this time," he said.


How SEBI has started vigil mechanism to prevent possible market manipulations on 'Counting day':

To ring fence the capital market from possible manipulations against the backdrop of election results on Friday, May 16, the Securities and Exchange Board of India (Sebi) as well as bourses and other market entities have prepared an elaborate vigil mechanism.

While market authorities have been already monitoring stock movements very closely since last few days - which saw markets surging to record highs on the back of exit poll and other predictions - they are now mainly focusing on tackling any possible shocks on Friday and Monday, May 19.

The counting of votes for 543 Lok Sabha constituencies will begin on Friday at 8 am, while clear trends are likely to emerge by afternoon and final results may keep coming out till late evening.

Read: Arvind Kejriwal to be in Varanasi for counting of votes

The markets would open as per their normal time at 9 am and close at 3.30 pm, leaving scope for impact of the results on Monday as well after weekly trading holidays on Saturday and Sunday.

A special team at capital market watchdog Sebi is keeping a close tab on the stock market movements, while another team would also be monitoring the election results as they get announced to understand whether price movements are linked to outcomes in various constituencies, sources said.

According to sources, the stock movement of companies related to Gujarat and many others are being closely watched as they have witnessed huge rallies in recent weeks.

Besides Indian market movements, the trends in overseas markets and factors affecting foreign institutional investors are also being monitored almost on a 24/7 basis.

Besides, stock exchanges have put in place various circuit filters to stave off excessive volatility in stocks as well as derivatives segments.

Brokerages and other market entities are also advising investors to ensure that there are no sudden spurts or falls in the market, while investors are being discouraged from excessive margin exposure.

The aim is to ring fence the interest of investors and ensure smooth functioning of the market tomorrow by preventing manipulative activities, sources said.

The preparations are being done while keeping in mind the experience of previous times during the day of Lok Sabha poll results.

Apart from Friday, market authorities would be keeping a special watch on May 19 (Monday) also to ensure there are no disruptions of any kind.

Brokerages have sent out advisories to their clients, while trading exposure based on margins - the multiples of the cash position that investors are allowed to trade in - is also being curtailed for intra-day trades.

Leading bourses Bombay Stock Exchange (BSE) and National Stock Exchange (NSE) relaxed the dynamic price bands for stocks that trade in the derivatives segment with effect from May 13.

Stock exchanges have a mechanism of dynamic price bands, commonly known as dummy filters or operating range, which prevents acceptance of orders for execution that are placed beyond price limits set by the bourses.

"In the event of a market trend in either direction, the dynamic price bands may be relaxed during the day in coordination with the other exchange," o similarly worded circulars from BSE and NSE said.

The BJP-led National Democratic Alliance (NDA) is projected to form the government at the Centre with exit polls tonight giving between 249 and 290 seats to the Narendra Modi-led grouping, which is close to the half-way mark in the 543-member Lok Sabha.

The preparations by market authorities have also taken into account their experience during the result day of last Lok Sabha elections.

On May 18, 2009 - the day when results of last Lok Sabha polls were announced - markets gained so much that trading had to be halted.

That date is still known as 'Magic Monday' in stock market as the benchmark index Sensex posted its biggest ever gain of over 2,100 points in just one-minute trade after investors were enthused by a decisive verdict in the then concluded general elections.

The experience was another extreme on May 17, 2004, soon after the announcement of 2004 Lok Sabha elections, the markets witnessed the worst-ever bloodbath on concerns of uncertainty over the economic reforms as the then NDA government was voted out of power.

Some trends for Lok Sabha elections 2014:

*The grand old party and its defeat: Congress has been attacking Narendra Modi and BJP but its campaign has been weak. While BJP's strategy to nationalise the entire elections and seek votes for Modi has worked wonders for the party, Congress' leader Rahul Gandhi seeking votes hasn't really made an impact. what the party could do is accept its defeat with a minimal number of seats and form a strong opposition.

Even Congress' allies such as National Conference and NCP did not support the party's last resort to attack Narendra Modi over the 'Snoopgate scandal' when everything else failed.

*Does Narendra Modi's wave really exist: Though some may disagree, these elections have marked Narendra Modi's meteoric rise from state-level politics to national level politics. Eveything from striking a balance on grounds of development and removal of anti-incumbency factors to subtle speeches with Hindu nationalist agenda's have been used extensively. While Congress tried to copy the same method, it failed miserably. The pattern noticed on ground is that people want to get rid of anti-incumbent governance. Though Aam Aadmi Party's rise was meteoric in the assembly elections and AAP leader Arvind Kejriwal went onto defeat Congress' Sheila Dixit and become the Chief Minister, his party fortunes fell quickly after he resigned from the post.

*Who forms the government at the Centre?: Narendra Modi had set the poll pitch with his rally in Rewari, Haryana about how the next government will be. BJP is targetting a whooping 300+ seats and the party campaign is to win 272+ seats and form the government. If this well-crafted strategy succeeds and the party wins, Modi will be at the helm of affairs and deciding the future of the nation. Thisd government will be highly individualistic with concentrated powers and will try to set a balance for development and growth. What Narendra Modi will do to appease Muslim and other community voters is yet to be seen but the entire world is watching the show in the largest democracy.

*Rise of people-centric parties and their fall: The Aam Aadmi Party which was formed on the agenda of 'pro-people politics', and corruption-free governance held promises and rattled the incumbent governance. But, after a failed performance, AAP was not able to make an impact nationally. With Arvind Kejriwal pitting himself against BJP's Prime Ministerial candidate Narendra Modi, all eyes are set to see this duel. Earlier, Kejriwal had used the same strategy against Delhi Ex-CM Sheila Dixit. Read: Here's Narendra Modi's 'Bollywood cabinet'

*Local leaders making an impact nationally: Time is ripe for state-based parties to exert their signifance in these polls as big players are tying up with local leaders and parties. While BJP and its affiliation rSS has strong cadres who can take the message forward and help the saffron party come into power, the party has tied up with Apna Dal to secure votes.

While Jayalalithaa has kept her options open to join BJP, Mamata Banerjee has attacked the party and called its leader as 'Donkey'. Experts suggest that this is a ploy by TMC and BJP to polarise votes and a future alliance between the two possible.

Here are some tweets:

Wherever suspicion that things could go wrong, a micro observer will be positioned: CEC VS Sampath on #Elections2014

— ANI (@ANI_news) May 16, 2014

Print outs of the copy of results from each EVM at each round will be given: CEC VS Sampath on #Elections2014 pic.twitter.com/NKu0DUHHU0

— ANI (@ANI_news) May 16, 2014

Counting is a critical activity, utmost transparency ensured in counting hall: CEC VS Sampath on #Elections2014

— ANI (@ANI_news) May 16, 2014

Gul Panag at a counting center in Chandigarh #Elections2014 pic.twitter.com/1KM7FzXubO

— ANI (@ANI_news) May 16, 2014