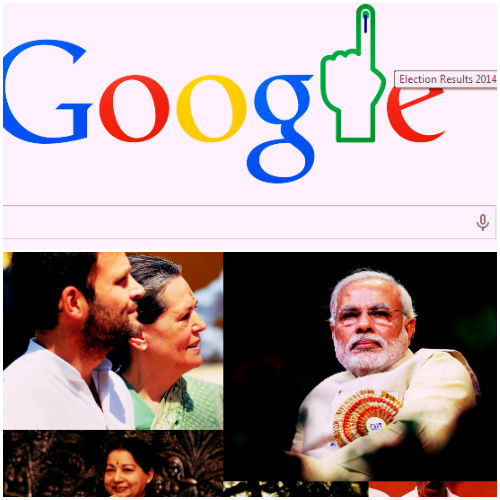 The World's largest democracy-India has witnessed one of the most exciting elections in recent times with a stiff face off between Bharatiya Janata Party, Third-front parties and the Congress. There are 543 constituencies and 9.3 lakh polling stations that were set up across the country for these elections. To commemorate the elections and the tally process on May 16, Google has put out a simple and prolific doodle on its India homepage.
This doodle shows the 'Google' text but the alphabet 'L' has been modified into a voters fist and a finger has been shown. This is an inked finger which shows the constitutional rights of every individual in the country. The right that is bestowed as a fundamental one and is representational of individuals civil rights.
Simple, stoic and powerful are the words that sum up the doodle. Once you click on the doodle, it takes you directly to a basic homepage where news and updates from various leading media sources are available for people to check counting process throughout the day.
Prior to this, Google had come out with comprehensive candidate profiles and other features for Lok Sabha elections with a view to help voters make informed choices. The web is changing and customising itself to individuals needs which is a wonderful progress.
For LIVE updates of Lok Sabha elections counting, visit here: