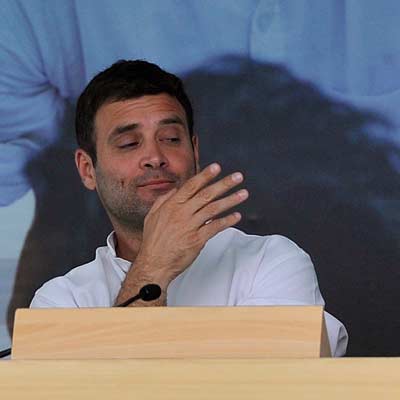 'Rahul Gandhi's leadership is not to be blamed if the outcome of elections are not in favour of Congress is what most Congress politicians reiterated even before the Exit Poll results were being declared by various news channels and analyst organisations.
"Rahul Gandhi is not in the government. He is the number two leader in the party. Sonia Gandhi is the president. Then, naturally there is local leadership. Whatever be the result, it will be a collective (responsibility)," said Shakeel Ahmed, the general secretary of AICC during release of Exit Poll results.
The party spokespersons have also stepped forward time and again to defend Rahul Gandhi saying that, it is a collective responsibility and Rahul alone cannot be blamed for the party's failure.
When Rahul entered politics in March 2004 contesting from the Amethi seat in the Lok Sabha elections, speculations were rife that the presence of a young member of India's most popular political family would re-design the party's political fortune especially among the Indian youth.
But, all hopes of him changing the party's fortunes fell flat when public response to his initiatives were rather bleak. He has maintained to retain his family seat but experts do not give him much credence for that. His success is usually attributed to Rahul Gandhi's family lineage and Amethi's identity politics with the 'Gandhi family'.
But veiling Rahul—the poster boy for all Congress campaigns and who holds the second-most powerful position in the party only second to his mother Sonia Gandhi is a defense mechanism that Congress members should refrain from resorting to. Shielding the young leader in the party would rather showcase Rahul as a person who refrains from taking responsibility and cannot be trusted with key positions in India's politics.
Union minister Kamal Nath also backed the young vice president of the party on Tuesday and said, "Election results are a reflection on what people's perception of the government functioning was… To dismiss them (good work) and say we did nothing in 10 years is wrong. Rahul Gandhi was never part of the government."
Meanwhile as the Congress continues to shield their Rahul 'baba', the NDA is hopefully awaiting for May 16 for the official announcement of their win as Exit Polls have already raised their hopes. Majority of Exit Polls including the Chanakya polls, Times Now and CVoters have given BJP a clear win with 250+ seats.
In finality, we just hope that the party lets this young leader learn from his mistakes rather than shield him from the grim side of politics where colloquial terms such as 'Khooni punja', 'Maut ka Saudagar