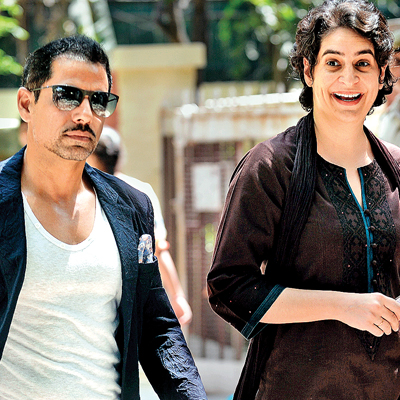 As the poll fever grips the nation, leaders are seen attacking each other with feverish comments. While BJP took potshots at Robert Vadra calling his land grabbing acts, Congress retorted back with Priyanka Gandhi taking a jibe on Narendra Modi's 56-inch chest comment.
21:39 IST Monday, 28 April 2014: Congress promises 100-day agenda for Telangana
21:19 IST Monday, 28 April 2014: LIVE #ModionZee: Congress has already accepted defeat
20:28 IST Monday, 28 April 2014: Priyanka Gandhi's attacks have unnerved Narendra Modi: Congress leaders
19:42 IST Monday, 28 April 2014: Narendra Modi vs Omar Abdullah: Who is right about the exodus of Kashmiri Pandits?
16:40 IST Monday, 28 April 2014: Now, Congress accuses Narendra Modi of having links with Hawala traders
16:40 IST Monday, 28 April 2014:Omar Abdullah targets Narendra Modi over 'secularism' certificate; says Modi distorts facts for votes
15:40 IST Monday, 28 April 2014: Congress hits out at Modi, says he has links with Hawala trader Afroz Patta
15:06 IST Monday, 28 April 2014: Narendra Modi is manipulative, I'm contesting from Vadodara to help expose him: Congress' Madhusudan Mistry
15:05 IST Monday, 28 April 2014: Twitter questions Farooq Abdullah's Kashmir 'Secession' politics to target Narendra Modi
14:30 IST Monday, 28 April 2014: Did Paresh Rawal just call Narendra Modi a dictator?
14:29 IST Monday, 28 April 2014: Farooq Abdullah and his family has communalised the atmosphere in Kashmir and removed Kashmiri Pandits from the valley: Narendra Modi
14:22 IST Monday, 28 April 2014: Bihar minister Shyam Razak slaps Baba Ramdev with case
A Bihar minister Monday filed a case against yoga guru Baba Ramdev for his remarks on Congress vice president Rahul Gandhi.
"I have filed a case in the court against Ramdev for insulting and humiliating Dalits," Shyam Razak, food and civil supply minister, told reporters here.
12:34 IST Monday, 28 April 2014: Kind of language he has used does not bring any credence to his stature-Nirmala Sitharaman,BJP on Farooq Abdullah
12:34 IST Monday, 28 April 2014: TMC is so shaken by Modi ji that it is speaking a language which is demeaning Gujarat-Nirmala Sitharaman,BJP
12:34 IST Monday, 28 April 2014: If there is nothing to worry then why was the whistle-blower harassed and moved out?-Nirmala Sitharaman,BJP on Vadra.
12:34 IST Monday, 28 April 2014Rahul Gandhi: Punjab gave a PM who ran govt. For 10 yrs. Soniaji, he & I talk with tameez. But his language, just hear him, cannot describe
12:30 IST Monday, 28 April 2014: "The Supreme Court should investigate the land deals of Mr Vadra and monitor the probe," BJP spokesperson Nirmala Sitharaman
12:30 IST Monday, 28 April 2014: Supreme Court suspends death sentence of Red Fort shootout convict
On Sunday, Farooq Abdullah lashed out at BJP's Prime Ministerial candidate Narendra Modi at his rally in Srinagar. He said, "People who vote for Narendra Modi should drown themselves in sea." This created a furore against the National Conference party helmed by Omar Abdullah as BJP has made its stand clear on article 370 for the troubled state of Jammu and Kashmir.
Reacting to the statement, BJP leader Arun Jaitley said, "Dr. Farooq Abdullah's statement that those voting for Narendra Modi would drown themselves into sea deserves to be condemned by all. This demonstrates Dr.Abdullah's contempt for the majority opinion."
He further added, "Farooq Sahib believes and rightly so that India is secular and will not accept communal politics."
Amid Gandhi family's attacks on Narendra Modi over the Gujarat model, BJP on Sunday hit back by bringing out a video and a booklet on alleged land deals of Congress president Sonia Gandhi's son-in-law by terming it as 'Robert Vadra model of development'.
Alleging that the 'model' became successful due to the patronage provided by the Gandhi family to Robert Vadra, BJP leader Ravi Shankar Prasad said, "There was gross violation of laws relating to land and environment. The influence of the family helped make Vadra big earnings in the deals." The six-page booklet titled 'Damad (son-in-law) Shree' refers to the alleged deals of Vadra in Rajasthan and Haryana.
10:19 IST Monday, 28 April 2014: Six years later, Singur remains a key poll issue
Fear is the key where lies the ghost of Tata Motor's Nano plant off NH2. Not a soul could be seen anywhere near whatever remains of a promise to transform the rich agri-fields into an automobile hub. The dream died in 2008 but it still stinks at the graveyard.
"Don't tell anybody you are from the Press. You could be in trouble," advised a portly built man who runs an eatery on the opposite side of the expressway.
On Friday, Dalit leader Mayawati surprised many with her statement that Narendra Modi should have tried out his political might in Amethi "since he is a prime ministerial candidate like Rahul Gandhi".
The next day, BSP watchers were even more intrigued as she slammed Baba Ramdev for his particularly offensive remarks against Rahul Gandhi.