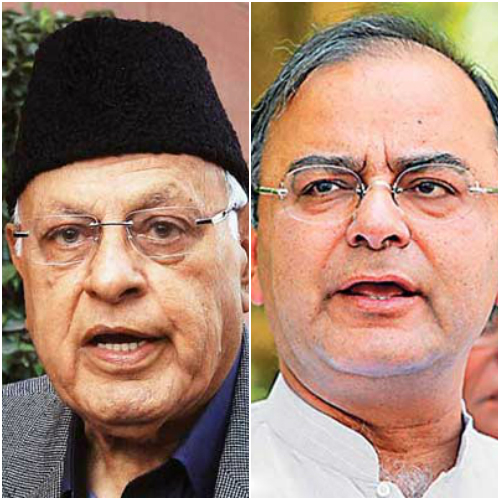 On Sunday, Farooq Abdullah lashed out at BJP's Prime Ministerial candidate Narendra Modi at his rally in Srinagar. He said, "People who vote for Narendra Modi should drown themselves in sea." This created a furore against the National Conference party helmed by Omar Abdullah as BJP has made its stand clear on article 370 for the troubled state of Jammu and Kashmir.
Reacting to the statement, BJP leader Arun Jaitley said, "Dr. Farooq Abdullah's statement that those voting for Narendra Modi would drown themselves into sea deserves to be condemned by all. This demonstrates Dr.Abdullah's contempt for the majority opinion."
He further added, "Farooq Sahib believes and rightly so that India is secular and will not accept communal politics."
Read: Abrogation of Article 370 necessary for Kashmir's development: Nitin Gadkari
Jaitley targetted Farooq Abdullah again and said, "Where is it that secularism in India has seen the single greatest failure? We had aberrations and unfortunate incidents in various parts of the country. However, Indian society has demonstrated resilience and managed to get out of the crisis quickly and normalize itself."
Read: Article 370 used as shield to stop legislations from reaching Jammu & Kashmir: BJP
Prior to this, BJP had taken a stand on article 370. "This debate on Article 370 subsequent to Modi raising it in the Jammu rally revealed what people of Jammu and Kashmir are missing out on. This Article has been used as a shield to stop many of those great legislations which have been passed in the country from reaching J&K," BJP spokesperson Nirmala Sitharaman had said.
Elaborating on the issue, she said no elections to local bodies have been held in the state in four years, and sought to know why the 73rd and 74th Amendments (for urban and rural local bodies) have not been implemented in Jammu and Kashmir.
Read: How Arun Jaitley planned the entry of PM Manmohan Singh's brother entry into BJP
Below are some points Jaitley said in his blog:
*BJP has been The single greatest failure of secularism in India is within Farooq Sahib's own state of Kashmir.
*If India has witnessed an ethnic cleansing by having one community of the State, namely, the Kashmiri Pundits ejected out of the State, it has only happened in Kashmir.
*India will never accept communal politics. I am glad when Farooq Sahib says that Kashmir will not accept communal politics. But will Kashmir offer the red carpet back for the resettlement of the Kashmiri Pundits.
*India will vote Narendra Modi as the Prime Minister. Nobody needs to jump into the sea because of that. But if Farooq Sahib and his party are silent spectators, when the Kashmiri Pundits cannot go back home he should, as a gesture of repentance, at least take a dip in the Dal lake.
Read: Article 370 is the unifying factor in Jammu-Kashmir': Saifuddin Soz