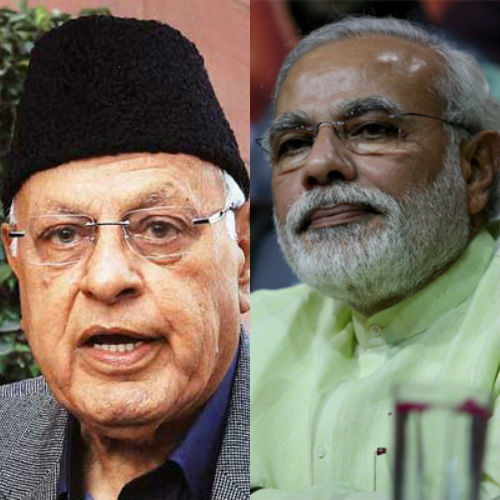 National Conference (NC) patron and Srinagar Lok Sabha candidate Farooq Abdullah said on Sunday that Jammu & Kashmir would not remain a part of India if the country becomes communal, while asking those who vote for Narendra Modi to "drown themselves".
Lashing out at Modi, the Bharatiya Janata Party's prime ministerial candidate, Abdullah told a party election rally in old city's Khanyar area that: "Those who say that people opposing Modi should go to Pakistan must remember that if India becomes a communal country, Kashmir would not remain its part. "Those who vote for Modi should drown themselves in a river," he added.
Read: Farooq Abdullah and his family has communalised the atmosphere in Kashmir and removed Kashmiri Pandits from the valley: Narendra Modi
In a direct attack on National Conference chief Farooq Abdullah, Bharatiya Janata Party prime ministerial candidate Narendra Modi has accused Abdullah and his family for communalising the political atmosphere in Kashmir. Modi also asked Abdullah not to give lessons to people on secularism. "If we want to talk about secularism then I want to say - we are secular not because the word was added in the Constitution. We have believed in Sarva Pantha Sambhav. We believe 'the truth is one, there are ways to reach it", he said.
Below are some reactions from Twitter:
Don't fret about Farooq Abdullah's statements. He will join NDA if BJP gets the numbers. He'll then ask Cong voters to jump in to the sea.

— Ram Prasad (@ramprasad_c) April 27, 2014
Spoken like a true democrat. "The ones who vote for Modi should drown themselves in the sea : Farooq Abdullah".

— rupa subramanya (@rupasubramanya) April 27, 2014
Farooq Abdullah says if India becomes communal,Kashmir won't stay with it. Somebody tell him J&K constitution doesn't include word 'secular'

— Sunanda Vashisht (@sunandavashisht) April 27, 2014
Those who were so much pained by Giriraj's statement are now hiding in rat holes to avoid response on farooq abdullah's statement..!

— अबकी बार मोदी सरकार (@vismayshah) April 28, 2014
What Farooq abdullah & his son @abdullah_omar did for reinstatement of Kashmiri Pandits, J & K be aware of these fake Secularist #DamaadGate

— Aniket M kulkarni (@aniketmkul) April 28, 2014
Ironically Farooq Abdullah puts both Modi and Achariya Arun Jaitley at unease in the middle of their campaign schedules. |#Kashmir

— Sameer Bhat (@sameerft) April 28, 2014
Farooq Abdullah, whose state ethnically cleansed 3 lakh Kashmiri Pandits, should drown himself in penance

— Minhaz Merchant (@minhazmerchant) April 28, 2014