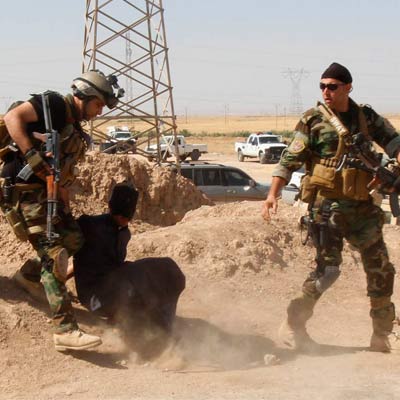 Media reports have been dwelling on the possibility of fuel costs going up because of the Iraq conflict with rebels. That, they say, could mean higher prices of almost everything, thus stoking inflation further.
But talk to those in the oil industry, and they shake their heads perplexedly. That's because an increase in oil bills for India is not very certain at this stage.
First, because the fighting between Iraqi forces and armed rebels is taking place in the North and Northwest. Most of Iraq's oil wells and the export hubs are in the South and South East.
Second, it is not yet certain whether India has long term oil contracts with Iraq, or whether it has opted to purchase on a spot basis. If it has long term contracts, any increase in oil prices could spare India. If they are on a spot basis – well, India could be in a bit of a spot. Read more
Fighting moves closer to Baghdad as Iraq's biggest oil refinery shuts down
According to recent reports, a U.N. commission on Syrian war crimes is sounding the alarm that the entire region is on the verge of a major war.
In its latest report on Tuesday to the U.N. Human Rights Council, the commission said "a regional war in the Middle East draws ever closer" as Sunni insurgents advance across Iraq to control areas bridging the Iraq-Syria frontier drawing in Washington and Tehran.
Indian perspective:
Indian nurses stranded in Iraq's violence-hit Tikrit town safe, says Kerala minister
Amid anxiety over the fate of around 44 Indian nurses stranded in Iraq's violence-hit town of Tikrit, minister for non-resident Keralalite affairs KC Joseph said on Tuesday the Kerala government had information that they were safe.
As the issue figured in the Kerala state Assembly, the state government added it was doing all that it could for their safe return.
According to the Indian Embassy in Iraq, the nurses and Indian students could be evacuated only when the road from their hospital to the nearest airport became risk-free as heavy bombing was going on in the area. The nurses were safe, according to a group of officials of International Red Crescent who met them on Monday night, Joseph said.
Stating that the situation in Iraq was serious, he said many places were under the control of ISIL militants. A 24x7 Helpline has been set up under the state NRK agency Norka to provide updated information on the situation.
Kerala Chief Minister Oommen Chandy had already written to External Affairs Minister Sushma Swaraj, seeking urgent steps for the safe evacuation of the Keralites from the violence-hit areas of Iraq. Out of these stranded nurses, 36 of them were keen to return home immediately, he said. The state Government had received representations from the parents of students seeking immediate intervention to bring their wards from Iraq.
Meanwhile, father of one of the nurses working in Tikrit said his daughter, Merina Jose, called him this morning and said she was safe but anxious about the future. "My daughter called me this morning. She said she and others working in the same hospital are safe but are anxious about what will happen to them," PA Jose from Kottayam told PTI. Jose said he and parents of others were praying for the safe return of their children and expected that the Centre would intervene for their evacuation without delay.
Meanwhile, the Kerala Nurses Association said low wages and lack of job security in private hospitals in Kerala are forcing nurses from the state to seek jobs abroad, often in unsafe conditions. "Because of their dedication and quality of service, nurses from Kerala are in great demand from all over the world. Though in many advanced countries, they get good wages and working conditions, there are also a large number of cases where job seekers are compelled to go to unsafe places," Association leader Somasekharan Nair told PTI.
While seeking effective measures by the state and the Centre to bring home those stranded in Iraq, Nair said the state government should also ensure that they got a decent job in Kerala on their return.
PC Chacko requests Narendra Modi to rescue Indian nurses held-up in Iraq
Noted political commentator Ian Bremmer said on Twitter, "Democracy in the Middle East: be careful what you wish for". Over the past one week, Iraq has been back in the news as it struggles to ward off an all-out offensive by the Sunni terror group the Islamic State in Iraq and the Levant (ISIL) (also known as the Islamic State in Iraq and al-Sham, ISIS).
Over the past three days the ISIL juggernaut has taken crucial Iraqi cities such as Mosul and Tikrit in a movement against Prime Minister Nouri al-Maliki's government, which seems to be at a loss of words on how to address the situation. According to reports, an under-armed and under-trained Iraqi Army is deserting its uniform as a number of ISIL convoys take over towns and cities (reminiscent of Saddam Hussein's guards abandoning him). Pictures have surfaced of the group committing mass executions of Shia Muslims of Iraq and applying methods of violence which even, if reports are to be believed, have been labelled 'too extreme' by Al Qaeda affiliates.
The question many are asking is, who is the ISIL, and how did they spring up overnight with such panache? The answer is simple: they did not. ISIL has been around since 2004, when America's invasion of Iraq was at its peak. ISIL took part in low-level terror strikes during much of its early years. According to data available, between 2004 and 2007 the group was linked to about 150 terror strikes in Iraq, which included the 2006 bombings of the most revered Shiite shrines. However, between 2012 and 2013, as the Syrian crises deepened and ISIL was able to make safe havens in the country's north, the attacks increased to over 1,300 in 730 days, averaging more than one attack per day for over two years.
A recent report in The Guardian has highlighted the finances which may now be available to the ISIL to undertake terror strikes as it moves towards the capital city of Baghdad, with an ultimate goal to displace al-Maliki, a Shia's government known to be in close quarters with Iran. The report quotes an official saying the ISIL may have access to a whopping $1.5 billion for its operations, much of which have come from selling oil on the black market from oilfields the organisation has seized in Syria.
If the source of this funding is true, in April 2013, India lost its oil field which it had jointly invested in along with other partners such as China. The field was overrun by a fringe group loyal to ISIL, which forced the offices of the consortium to shift out of Damascus to Dubai.
Analysis by Kabir Taneja: Why Prime Minister Narendra Modi should be worried about the Iraq crisis
Casualties: Scores killed during battle for Iraq provincial capital
That, plus the fourth year of civil war in Syria, threatens to topple the region, according to the four-member commission. The panel is investigating war crimes and other abuses in Syria, where President Bashar Assad was reelected to another seven-year term in a highly contentious vote held amid fighting that has killed more than 160,000 people.
"The conflict in Syria has reached a tipping point, threatening the entire region," said the head of the U.N. Commission of Inquiry, Brazilian diplomat and scholar Paulo Sergio Pinheiro, in a speech to the 47-nation rights council in Geneva.
Violence has reached unprecedented levels, people commit crimes with no fear of being punished and "impunity has made its home" in the warring country, Mr. Pinheiro said.
"Syrians live in a world where decisions about where to go to the mosque for prayers, to the market for food and to send their children to school have become decisions about life and death," he said.
In its report, the commission said Iraq's turmoil also will have "violent repercussions" in Syria, most dangerously the rise of sectarian violence as "a direct consequence of the dominance of extremist groups".
Noting that children are constantly in harm's way, the commission found "a marked increase in the number of attacks on functioning schools resulting in the killing and maiming of children." Mr. Pinheiro said that trend could be linked to attempts to control families and fighters on one side or another of the conflict.
The blame game continues: Iraq blames Saudi Arabia for financing terror groups
Saudi Arabia should be held responsible for militant financing and crimes committed by insurgent groups in Iraq, the Baghdad government charged on Tuesday.
Comments from Riyadh indicates it is "siding with terrorism", the cabinet said in a statement issued by Prime Minister Nuri al-Maliki's office. "We strongly condemn this stance," the statement read.
"We hold it (Saudi Arabia) responsible for what these groups are receiving in terms of financial and moral support." It continued: "The Saudi government should be held responsible for the dangerous crimes committed by these terrorist groups."
The statement came just days after Saudi Arabia and Qatar blamed "sectarian" policies by Iraq's Shiite-led government against the Sunni Arab minority for the unrest that has swept the country.
The unrest "could not have taken place if it was not for the sectarian and exclusionary policies implemented in Iraq over the past years that threatened its stability and sovereignty", the Saudi government said in a statement.
In March, Maliki accused both Saudi Arabia and Qatar of supporting terrorism in Iraq.
Baghdad to fall? ISIL militants within 60km of Iraqi capital
Militants pushed a week-long offensive that has overrun swathes of Iraq to within 60 kilometres (37 miles) of Baghdad on Tuesday, as the United Nations (UN) warned the country's very existence was under threat.
Washington meanwhile deployed extra troops to protect its embassy in Baghdad and was mulling air strikes against militants whose swift assault has seen them capture Mosul, a city of two million people, and subsequently a vast amount of territory north of Baghdad.
Iraqi officials have insisted they are making progress in repelling the fighters, who are led by the powerful Islamic State of Iraq and the Levant (ISIL) jihadist group, but have continued to lose ground. The crisis has displaced hundreds of thousands of people and sparked fears that the violence could impact the country's vast oil production, along with concerns that security forces won't be able to halt the insurgents' march on the capital.
Officials said Tuesday that the fighters briefly held areas of Baquba, a short drive from Baghdad, and took control of most of Tal Afar, a strategic Shiite-majority town in north Iraq that lies along a crucial corridor to Syria. The overnight attack on Baquba, which was pushed back by security forces, marked the closest that fighting has come to the capital as part of a lightning offensive in which jihadists have said they intend to march on Baghdad and the southern Shiite holy city of Karbala.
Tal Afar gains
In Tal Afar, militants were controlling most of the town but pockets of resistance remained, and soldiers, policemen and armed residents held on to parts of its airport, according to Nineveh provincial council deputy chief Nureddin Qabalan.
The swift advance of the militants has sparked international alarm, with UN envoy to Baghdad Nickolay Mladenov warning that Iraq's sovereignty is at stake. "Right now, it's life-threatening for Iraq but it poses a serious danger to the region," Mladenov told AFP. "Iraq faces the biggest threat to its sovereignty and territorial integrity in years," he added.
Another sombre warning came from the prime minister of Iraq's autonomous Kurdistan region, who told the BBC it would be "almost impossible" for the country to return to how it was before the offensive was launched on June 9.
Nechirvan Barzani said it would be difficult to find a resolution with Iraqi Prime Minister Nuri al-Maliki in power and recommended an autonomous region for Sunnis as a potential solution.
"Now we have to sit down and find a solution, find how to live together... but if we expect, if we think that Iraq will go back like before Mosul, I don't think so, it's almost impossible."
Alarmed by the militant advance against an Iraqi army that has largely wilted in the face of the onslaught, foreign governments have begun evacuating their nationals and pulling out diplomatic staff.
US President Barack Obama announced that about 275 military personnel were being deployed to Iraq to help protect the embassy in Baghdad and assist US nationals there, noting that they were "equipped for combat".
Washington has already deployed an aircraft carrier to the Gulf, but Obama has ruled out a return to combat in Iraq for US soldiers, who left the country at the end of 2011 after a bloody and costly intervention launched in 2003.
Drone strikes
As the US weighed its next move, Secretary of State John Kerry said on Monday that drone strikes could be used, and while Washington has ruled out cooperating militarily with Tehran, the two nations – which have been bitter foes for more than 30 years – held "brief discussions" on the crisis in Vienna.
Doubts are growing that the Iraqi security forces can hold back the militant tide, despite military commanders trumpeting a counter-offensive. Soldiers and police retreated en masse as the insurgents, which included ISIL but also a litany of other groups including supporters of executed dictator Saddam Hussein, swept into Iraq's second city of Mosul a week ago, leaving vehicles and even uniforms in their wake.
Their retreat, despite their vast numerical advantage, is the result of what experts say are myriad problems, ranging from lacklustre training and low morale, to corruption and an atmosphere of simmering sectarianism. "This army is not a mature force," said Anthony Cordesman of the Centre for Strategic and International Studies.
Zaid al-Ali, author of the recent book, The Struggle for Iraq's Future, added that the army "does not have the capacity nor... the will to engage in close combat with ISIL or the other armed groups."
The jihadists are said to have killed scores of Iraqi soldiers as they pushed their advance, including in a "horrifying" massacre in Salaheddin province that has drawn international condemnation.
Analysis: How the Iraq crisis threatens to destabilise world peace and the Indian economy
Is the flare up of oil prices caused by the Iraq crisis justified?