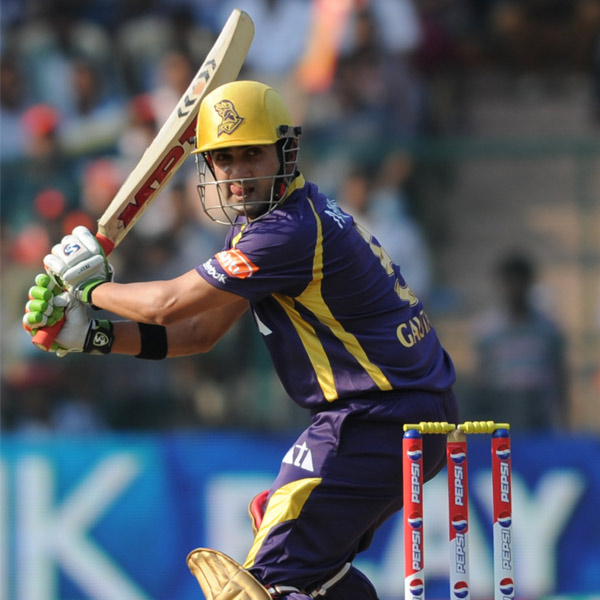 Wednesday- 20:00 hours
Barabati Stadium, Cuttack
This was supposed to be a home game for Kolkata Knight Riders but security constraints have forced the relocation from Kolkata to Cuttack.
Both the teams are coming off with an impressive wins, KKR defeating the table toppers Kings XI Punjab while Mumbai Indians defeated Sunrisers Hyderabad. Both teams are in the same situation where they have to win every game to stay in the hunt for top 4.
After some slip ups, KKR hava manged to find a winning spree, the situation is same with their skipper Gautam Gambhir who had bad starts in the IPL is now refusing to give up scoring plenty of runs for his team, 3 half-centuries in succession for him. Middle order replacements might come in with either Shakib al Hasan or Ryan Doeschate getting a game. Yusuf Pathan needs to start performing, he is having a really bad season, KKR would defintely want him to start firing.
Mumbai after having few troubles with their starts, looks to have found a good openenr in form of Lendl Simmons, and with incoming of in-form Rohit Sharma they have done well. But they would want their explosive batsmen Pollard and Corey Anderson to provide acceleration late in the innings. With Simmons in form- Mr. Cricket, Michael Hussey might not be played again.
MI and KKR spin options will be at test, both Narine and Harbahajan have been ecnomical and have done well in containing the batsmen.
The last time these two teams met, KKR won the match comprehensively but Mumbai clearly hold an upper hand when it comes to head to head.
Head to Head
Played 13
KKR 3-10 MI
Last 5 games for both the teams
KKR- WWLLL
MI- WLWWL
Where they stand- KKR 4th- MI 7th
Welcome to the Live Coverage of the game between KKR and MI from Barabati Stadium in Cuttack
The news from the centre is that KKR have won the toss and they have elected to bowl first
KKR bring in Shakib for Kallis, Mumbai is unchaged
Teams:
KKR- R. Uthappa (wk), G. Gambhir (c), M. Pandey, R. Doeschate, M. Pandey, S. Hasan, Y. Pathan, S. Yadav, P. Chawla, M. Morkel, U. Yadav, S. Narine
MI- L. Simmons, C. Gautma (wk), A. Rayudu, R. Sharma (c), K. Pollard, C. Anderson, A. Tare, H. Singh, L. Malinga, J. Bumrah, P. Ojha
KKR going with Shakib instead of Kallis, opting for a spin all-rounder, seems like pitch might assist spinners here
#KKRvsMI.. Pollard v Narine could decide which way this game goes. #PepsiIPL

— Utkarsh Shenvi (@imutkarsh48) May 14, 2014
Simmons and Gautam are in the middle, Morne Morkel will start the proceedings
Its PLAY !
Mumbai batting first win percentage is 55%, chasing win percentage is 61%
No run first ball back off length, defended by Simmons
Swings away, Morkel lands on good length, and it moves away to beat Gautam
Good first over, just 3 runs from it
Umesh Yadav to share the new ball
Good stuff from him again, shapes away as Gautam looks to drive, beats him
FOUR, drifting down the leg side, Gautam flicks it towards the fine leg boundary, ball races to beat the fielder
Bowled on middle, Gautam doesn't times it well towards deep midwicket, as it doesn't reach the fence, they pick 3 runs
MI 12/0 (2) Gautam 8*- Simmons 1*
Morkel .....
OUT, Gautma trying to make the room to play on the off-side, but hits it straight to Suryakumar Yadav at the cover, first wicket gone, Gautam departs at 8
Rayudu is the new batsman
No ball Morkel oversteps
Free Hit coming up
Short, way too short from Morkel, leg umpire calls it a WIDE, Morkel is unhappy so is his captain
Still Free Hit, Good yorker from Morkel, all they get is a single
SIX, full from Morkel, Rayudu picks it up over mid-on boundary, the ball just crosses the rope
Spin being introduced now, Shakib al Hasan
Ambati Rayudu's average in this IPL , while batting first: 24.07 and while batting second: 31.17
FOUR, WELCOME ! Full from Shakib and Simmons sweeps it away to the leg side boudary, as it beats the short fine leg
FOUR, same ball, same shot, same outcome
MI 32/1 (4) Simmons 11*- Rayudu 7* Run-rate: 8:00
Mystery Spinner, Narine comes in early
DROPPED, Rayudu goes for the slog sweep, gets a top edge, Shakib covers a mile, dives but couldn't get to it, though a good try, they take two runs
Shakib continues
OUT, BOWLED ! Simmons looks to go haywire, dances down the track, as the ball keeps it very low and hits the base of the leg stump, he goes for a dozen, well that was a blindfold shot from Simmons
In comes skipper Rohit Sharma at no.4
Don't spoil his birthday fellas !
come on kkr!! its my b'day today!!.. Give me my gift........ #KKR #PepsiIpl #KKRvsMI

— Sankalp Puri (@sanks014) May 14, 2014
MI 37/2 (6) Rayudu 10*- Sharma 1* Run rate: 6.16
Fielding restrictions over
Umesh Yadav comes back into the attack
FOUR, fullish and Rayudu gives himself some room and drives it over mid-off for a boundary
1 run, slower delivery and Sharma nudges it towards the deep sqaure leg
Another spinner, Piyush Chawla inserted into the attack
No run flatter from the bowler, Sharma defends
Piyush Chawla has taken 16 wickets against Mumbai Indians, the most for him against any IPL team
MI 46/2 (8) Rayud 16*- Sharma 4*
Yusuf Pathan is the next change, KKR opting for slow bowlers here, Pathan playing his 100th IPL match today
FOUR, short outside off, Rayudu cuts and finds the gap between point and short third man, that 50 for Mumbai
Time Out
This has been a problem for Mumbai, they have struggled with their opening pairs and today also they lost two quick wickets early on, KKR applying pressure by using four spinners inside 10 overs
FOUR, short outside off, Rayudu cuts and finds the gap between point and short third man, that 50 for Mumbai
KKR continuing with spinners, Chawla and Shakib operating from both ends, run-rate have slowed down
MI 64/2 (11) Rayudu 28*- Sharma 10* Run-rate: 5.81
FOUR, Chawla drags it back, Rayudu camps back and steers it towards point boundary
OUT, INNINGS CUT SHORT ! The pressure and the slow run-rate have got better off Rayudu, he comes down and looks to smash it over the long on, doesn't get his timing correct, and is caught, he is out for 33
Anderson is the next man
Morkel comes back
DROPPED ! Yusuf Pathan drops a sitter at wide long-on, Sharma has a huge go and hits a skier, Pathan at long on boundary doesn't get hold off it, this is 100th game for Pathan, not going his way for sure
FOUR, Shorter from Morkel, Sharma goes for hook, couldn't control and it takes the top edge and goes to the fine leg fence
Time Out
MI 76/3 (13) Sharma 16*- Anderson 1*
KKR fans are fuming
Cant bat, cant even take a catch!!! Why the hell is Yusuf Pathan in d team??? #Disgusting @KKRiders @iamsrk @iam_juhi #kkrvsmi #mivskkr @IPL

— Manisha Gupta (@manisha__gupta) May 14, 2014
To add more to this, Yusuf Pathan has just take 1 wicket in his last 25 IPL games
Chawla into his last over
SIX, SMOKED ! Full and on middle, Anderson muscles away over the sight-screen
FOUR, Quicker from Chawla, Anderson rocks back and belts it away to the cover boundary
FOUR, short again, this time Sharma creams it towards the point tegion for four, Chawla giving away gifts in his last over, 17 runs from it
Piyush Chawla has conceded 95 sixes and has taken 93 wickets in IPL
Rohit Sharma's strike rate against KKR is 146.47 , best in the IPL against any team (since 2011)
MI 99/3 (15) Anderson 18*- Sharma 22* Run rate:6.60
Morkel comes in
SIX, TIMING ! length delivery and Sharma clobbers it over the long-off for a maximum
SIX, SMASHED ! another length ball and Sharma easily smahes it towards the cover boundary
OUT, PARTNERSHIP BROKEN ! Length ball on leg stump, Anderson hits this one straight to the filder at mid-wicket, soft dismissal, he goes for 18
Four overs to go, dangerman Pollard comes in
KKR's economy rate in last 5 overs in IP is 8.06, best for any team
FOUR, beautiful shot from Rohit Sharma, he is looking dangerous now, that was belter of a shot towards the covers
Shakib finishes his spell
MI 123/4 (17) Sharma 42*- Pollard 3*
Some positive stuff for KKR
Shakib is surely an asset to the team. @kkriders @kkrofficial #KKRvsMI #PepsiIPL

— Bushra Hussain (@bubblybushy) May 14, 2014
Narine into his third over
Though he hasn't picked any wicket but like usual has been very economical
MI 128/4 (18)
Umesh Yadav now
only singles ahve come till now, Yadav doing well to keep off the boundaries
FOUR, commentator curse, full toss on the off-side, Sharma punches that one hard at extra cover for four, that's his half-century
9 runs from the over
Narine to bowl the last over, what can Pollard do, he's been very quiet
OUT, crazy from captain, Sharma shuffles and looks to play the lap shot, balls beats the bat and hits on top of the off-stump, Sharma is down on the ground, no reaction from Narine, a well played innings of 51 comes to an end
Tare now
What an excellent last over from Narine, just 4 singles off it, Pollard playing 11 deliveries and no boundary for him
Narine completes the innings with his amazing spell 4-0-18-1
MI 141/5 in 20 overs
Well its difficult to say whether this total is sufficient for Mumbai or not, But all thanks to Rohit Sharma for guiding them till here after getting off to a slow start, though the pitch is definitely assisting the bowlers and espcecially the spinners, but Mumbai will have to bowl really well to defend this total. The ball is staying low, sticking on wicket so it might be difficult for Kolkata batsmen to score runs, Harbhajan and Ojha will hold the key.
Looks like an easy target for most of all but I bet you this is not as easy as looking. Ball Ruk Kur Aa Raha Hai @IPL #KKRvsMI #IPL

— Deepak Sharma (@deepakbhlscr) May 14, 2014
Chase begins, as both KKR openers are out in middle, Gambhir and Uthappa. Malinga has the new ball
4 number of times KKR have failed to chase a score between 140-150 in six attempts
Malinga playing his last IPL game, before joining the Sri Lankan sqaud for their tour of England
Can't wait 2 watch #Malinga bowl his last match at the #PepsiIPL tonight #kkrvsmi Come on crack few wickets and leave in style :)

— Anupam Raj Mathur (@AnupamRajMathur) May 14, 2014
FOUR, Uthappa was waiting,superb timing, full on middle and Uthappa carves it towards the midwicket
Malinga's strike rate against right handers: 18.12 and against left handers: 11.71 (sicne 2011 IPL) so he prefers bowling to left handed batsmen
Jasprit Bumrah to bowl the second over
FOUR, you can't bowl on pads at Gambhir, that's his strong zone, he just ickels that one to the fine leg boundary
KKR 13/0 (2) Gambhir 5*- Uthappa 6* Required rate 7.16
Harbhajan Singh being introduced very early, he'l be the key figure for Mumbai tonight
FOUR, Uthappa comes down the track and checks his shot at the last moment, he just manages to chip it over the leaping Malinga at mid-off
Bumrah continues
FOUR, CRACKED ! full delivery, Uthappa uses his feet and stamps it straight past the bowler
FOUR, just back off a length and Uthappa chips it over the bowler, he loves going it straight
KKR 31/0 (4) Uthappa 21*- Gambhir 8* Req.rate 6.93
Ojha now, can he do the magic for Mumbai?
Ojha has dismissed Gambhir 5 times in 6 IPL innings, he is Gauti's nemesis
SIX, fuller length and Uthappa loves playing in that region, goes over the bowler once again, he is taking it now
Mumbai haven't been able to pick up early wickets and Kolkata is having no problems in facing both pacers and spin bowlers, and Uthappa is making this chase do in a hurry
Malinga comes back
No run, back off a length deliver, Gambhir defends
Outswinger, Uthappa gets beaten, lovely delivery from Malinga, shapes away, Uthappa is clueless as it pasts his bat
FOUR, OUTSIDE EDGE, cricket can be cruel, Malinga beating Uthappa once again, he gets an edge but no slips in position, ball races towards the third man boundary, poor captaincy from Sharma, if Malinga was getting all that swing, he should have placed a slip there
KKR 45/0 (6) Uthappa 32*- Gambhir 10*
KKR require 97 runs from 84 balls
Amazing partenship between @GautamGambhir and @robbieuthappa Jeet bo.. #kkr #PepsiIPL2014 #PepsiIPL #kkrvsmi

— Zack Obaid (@Zackobaid) May 14, 2014
Ojha's bowling average was 26.70 in 2011 IPL and in this year's edition it is 199.00
Bhajji is back
OUT, MUCH NEEDED BREAKTHROUGH FOR MUMBAI ! Short and wide, Gambhir looks to cut that one away, ball doesn't spin, he chops one that to the stumps, inform Gambhir gone for 14
Manish Pandey walks in at no. 3
KKR 53/1 (8) Uthappa 34*- Pandey 1*
89 required from 12 overs
Only KKR who looks like sailing to a comfortable victory now can lose a match. There is pessimism even in optimism in case of Kkr #KkrvsMi

— Seonaidh Meems (@FiTeyaAL) May 14, 2014
Ojha continues
FOUR, short and Uthappa cuts it towards the point boundary
Harbhajan now
Mumbai need wickets, that is what they need to win this game, otherwise it won't be easy for them to defend this one
FOUR, Uthappa sweeps and it just went close to Bumrah, who doesn't get his body behind the ball
KKR 68/1 (10) Uthappa 45*- Pandey 5*
74 required from 60 balls
Simmon comes in to bowl
FOUR, Ahhh, that almost gone in through, stays very low, Uthappa just brings his bat down at the last moment, gets a thick edge and lucky for him, the ball runs away for four, there's his half-century
Pollard has been given the ball, Mumbai fans still optimistic
Come on MI get uthappa out! #KKRvsMI #KKRvMI #MI #PepsiIPL #IPL2014

— Manisha (@ManishaSisodia) May 14, 2014
KKR sailing now, Uthappa is leading a strong chase here, they doesn't need to do any crazy here
What Mumbai Indians can do from here, they have changed the bowlers, but Rohit Sharma can't find that striker
This partnership is slowly growing and adding more frustration to the Mumbai Indians camp, they need wickets, where is slinger Malinga?
KKR 88/1 (13) Uthappa 58*- Pandey 12*
54 required from 42 balls
Bumrah comes back
FOUR, whacked, full toss wide outside the wicket, Uthappa slices that one past point, that went like tracer bullet
8 runs from this over, KKR 96/1 after 14 overs
Harbhajan into the attack
OUT, GONE !!! That kept really low, outside off, Pandey looking to cut that one, he chops that one back onto his stumps, casteled ! gone for 14
What ?? Yusuf Pathan comes in, palying his 100th match, he has already dropped a catch, can he make amends with the bat?
In comes the biggest hope for the Mumbai Indians...Yusuf Pathan #KKRvsMI

— The Hidden Tooth (@hiddentooth) May 14, 2014
KKR 100/2 (15) Uthappa 67*- Pathan 1*
KKR require 42 runs from 30 balls
Simmons continues
SIX, BANGED ! Uthappa knows only one way, he is playing his own innings, slwoer delivery and he punches that one over the long-off boundary
SIX, FLAMBOYANT ! As easy as you like, full outisde off off, look at that timing from Uthappa, just picks it over the covers boundary and it sails over the rope, teriffic timing
Uthappa into the 80s now, can he score a century tonight?
Well, that's what you called a commentators curse, Uthappa being too ambitious, straight bowl from Simmons, Utahhpa looking to carve that one on the off-side, misses that one, and gone...Out for 80, a well played knock comes to an end
KKR 116/3
26 required from 24 balls, this should be a cake walk for KKR from here on
Time Out
Malinga comes back
FOUR, slower one from the bolwer down the leg side, Pathan tickels it fine
FOUR, short outside off, Shakib cuts that one uppishly over backward point for four
KKR closing on towards the victory
KKR 128/3 (17) Pathan 10*- Shakib 5*
14 runs required from 18 balls
FOUR, On the leg side, Pathan picks up in the gap towards the long leg, the diving fielder couldn;t stop that one
6 runs required from 12 balls
OUT, length delivery from Malinga, Shakib looking to hit that one staright over the bowlers head, gets the elevations but not the timing, easy catch at mid-on, gone for 9
Ryan Ten is the new batsman
FOUR- Winning runs from coming from the bat of Yusuf Pathan, short and Pathan pulls it towards the midwicket boundary for four
KKR win by 6 wickets, 142/4 in 18.4 overs
Yusuf Pathan finishes off with a boundary.. @KKRiders win.. They stays in the 4th position with 10 points from 10 games. #kkrvsmi #PepsiIPL

— Prayas Chatterjee (@butun24) May 14, 2014
I can't believe my eyes.... #YusufPathan is not out on 20... #KKRvsMI

— Tanmoy TK Karmakar (@Tanmoy_TK) May 14, 2014
VICTORY!! And a crucial one. @KKRiders well on course for the play-off spot now. The two matches against #SRH will decide it. #KKRvsMI

— Shuvra Bhaumik (@Shuvra_SRKian) May 14, 2014
That's end, KKR break away from cluster of teams and rise to 4th position in the table, not a convincing chase though, but in the end on a slow and low track, Kolkata managed to win this won, courtesy some excellent batting performance from Robin Uthappa led the chase strong,he anchored the innings really well. Mumbai bowlers lacked that sting to take wickets, Harbahajan was the pick of the bowlers, getting two wickets but others fail to capitalize on it.
Earlier, put on to bat, Mumbai made 141, probably they were 20-25 runs short, Rohit Sharma for them scored a half century but others couldn't do really well and they kept losing the sheen, KKR bowlers were very economical in keeping the things tight.
Robin Uthappa is the Man of the Match
Final Score: Kolkata Knight Riders (142/4 in 18.4 overs Uthappa 80- Harbhajan 2/22) beat Mumbai Indians (141/5 in 20 overs Sharma 51-Morkel 2/35) by six wickets
Thanks for joining, this is Uzair Hasan Rizvi, signing off, have a good night !