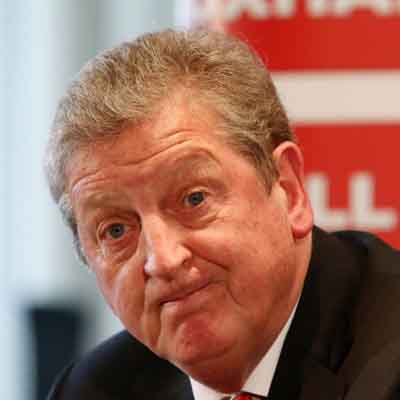 England's head coach Roy Hodgson announced his squad for the 2014 FIFA World Cup in Brazil. England look forward to their 2nd World Cup trophy, the first one came way back in 1966. The squad announced for this year's World Cup is a young squad with a few experienced players.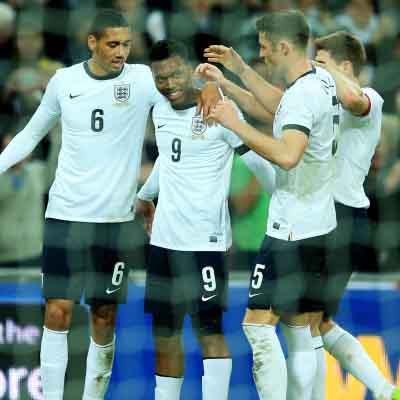 England have appeared in 13 World Cup editions, their first appearance came in the 1950 World Cup and won it for the first time 16 years later in 1966. That was the only time England won a World Cup. During the 2010 FIFA World Cup, England lost 4-1 Germany, getting knocked out of the tournament in the Round-of-16. That match was controversial, as Frank Lampard's goal was disallowed. England, at that stage were 2-1 down and were struggling against the Germans. Lampard's goal would have equalized the score, but was denied and with that controversial decision, England crashed out of the World Cup.
But this time, things seem to be different. Roy Hodgson has shown confidence in his team. This is what he had to say on his team, according to Daily Mirror:
"Yes I believe the squad can win the World Cup, otherwise what's the point? I'm sure Scolari is saying Brazil can win it. If we're going to win it, we'll have to prepare and play very well, and this talented group of players have to show their talent. Otherwise all the words in the world count for nothing. We're right to have some degree of optimism and to work on the basis there is a mood of optimism in the country. We'll feed off that, get our energy from that, and we'll make sure we do nothing to make sure we don't let our country down."
On the goal, Manchester City's goalkeeper Joe Hart will be the first choice for England. Apart from Hart, West Brom's goalkeeper Ben Foster and Celtic's Fraser Froster are the 2nd and 3rd choice keepers for the English side. In the defense, Chelsea's Gary Cahill, Everton's Phil Jagielka and Manchester United's Chris Smalling will fill in the center-defense of the team. Manchester United's central defender Phil Jones is still a doubt for the World Cup, but is included in the 23-man squad. Liverpool's Glen Johnson, Everton's Leighton Baines and Southampton's 18-year Luke Shaw are pulled in for the wing-back position. Hodgson's decision to include teenager Luke Shaw instead of experienced Chelsea full-back Ashley Cole, has surprised many. Cole has been capped 107 for the 'Three Lions'. The 33-year old Cole has spent most of the 2013/14 season on the bench, making only 17 appearances, whereas teenager Luke Shaw made 35 appearances. Cole's exclusion from the World Cup squad has saddened him, resulting in his retirement from international football. Though many have criticized Hodgson's decision to include Shaw instead of Cole, he has defended him self. This is what he had to say on his decision, according to Daily Mirror:
"It was an unbelievably difficult decision. It was a hard job to ring Ashley and I'm grateful for the incredibly dignified way he took the call. Circumstances will prove whether taking the younger man will be right. I've decided on Luke Shaw and I can only praise Ashley for the way he took the news."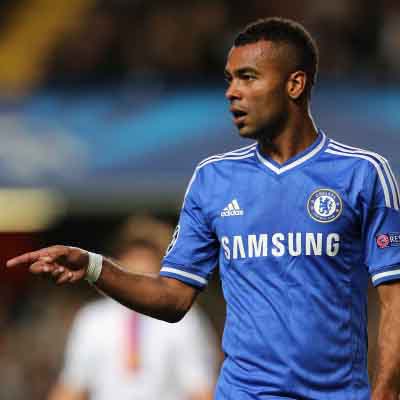 The midfield of the team is a mixture of young talent along with experience. Frank Lampard and Steven Gerrard are the senior most players in the midfield department of the team. Frank Lampard is the oldest player in the England squad. He seems to have Hodgson's confidence. Roy Hodgson on Frank Lampard, according to The Independent:
"He is a very important part of our set-up still. You can't compare players in terms of age but in terms of position and what they bring to the team. Frank has been the captain of the team during my two years and vice captain to Steven Gerrard. He still plays a very important role in his club side and his leadership qualities and ability as a player means he fully justifies his position."
The younger aspect of the midfield includes 20-year old Ross Barkley, 19-year old Raheem Sterling, 20-year old Alex Oxlade Chamberlain, 23-year old Jordan Henderson and 22-year old Jack Wilshere. Hodgson has also included Southampton's captain Adam Lallana and Manchester City's James Milner. However, Manchester United's Michael Carrick has also missed out on the World Cup squad, but has made it to the standby list.
England's attack will be led by Wayne Rooney. The Manchester United striker, who has scored 38 goals in 89 appearances for England, will be the main man for Roy Hodgson to lead the team from the front. Rooney will be supported by Liverpool's Daniel Sturridge. Sturridge has scored 21 goals off just 29 appearances in the Premier League, forming a deadly attacking duo for Liverpool with the help of Luis Suarez. Southampton's Rickie Lambert had a decent 2013/14 season, scoring 13 goals and made 10 assists in 37 Premier League appearances. The fourth player to be included in the attack is Wayne Rooney's Manchester United teammate, Danny Welbeck. Welbeck scored 9 goals in 25 appearances for the Red Devils. Andy Carroll and Jermain Defoe are the others to have missed out on the World Cup squad.
England begin their World Cup campaign against Italy on June 14 at the Arena Amazonia, in Manaus. Roy Hodgson's men will looking forward to end England's 48 year wait for their 2nd World Cup.
England's squad for the 2014 FIFA World Cup:
Goalkeepers: Fraser Forster (Celtic), Ben Foster (West Brom), Joe Hart (Manchester City)
Defenders: Leighton Baines (Everton), Gary Cahill (Chelsea), Phil Jagielka (Everton), Glen Johnson (Liverpool), Phil Jones (Manchester United), Luke Shaw (Southampton), Chris Smalling (Manchester United)
Midfielders: Ross Barkley (Everton), Steven Gerrard (Liverpool), Jordan Henderson (Liverpool), Adam Lallana (Southampton), Frank Lampard (Chelsea), James Milner (Manchester City), Alex Oxlade-Chamberlain (Arsenal), Raheem Sterling (Liverpool), Jack Wilshere (Arsenal)
Forwards: Rickie Lambert (Southampton), Wayne Rooney (Manchester United), Daniel Sturridge (Liverpool), Danny Welbeck (Manchester United)
On standby: Michael Carrick (Manchester United), Andy Carroll (West Ham), Tom Cleverley (Manchester United), Jermain Defoe (Toronto FC), Jon Flanagan (Liverpool), John Ruddy (Norwich City), John Stones (Everton)
Read More: 2014 FIFA World Cup: Brazil 23-man squad announced​
Read More: FIFA World Cup 2014: Germany's provisional squad announced, Mario Gomez left out​