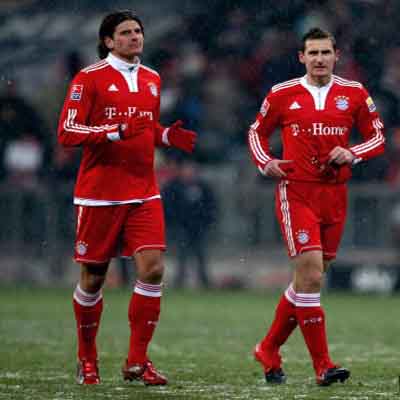 Germany's head coach Joachim Low has announced Germany's provisional 30-man squad for the 2014 FIFA World Cup. Low's selection of the World Cup squad was surprising for football fans as the 28-year old Fiorentina striker Mario Gomez is left out of the squad, who is replaced by 35-year old Lazio striker Miroslav Klose.
Mario Gomez has been capped 59 times for the German National team, scoring on 25 occasions. Joining Fiorentina in the summer of 2013, Gomez has managed only 9 Seria A appearences, scoring only 3 goals. A knee injury Gomez sustained in a 1-1 draw against Calgliari kept him out till Fiorentina's match against Internazionale, on 15th Febuary 2014. Unfortunately, Gomez damaged the ligaments of his left knee on 23rd March in a match against S.S.C. Napoli, keeping him out until the end of the season. This knee injury became the reason for Gomez missing the Italian Championship and Coppa Italia final, along with 2014 FIFA World Cup.
Mario Gomez's message after he was left out of the 2014 FIFA World Cup squad, as reported by Bleacher Report:
"So ... now the World Cup. After the [Italian] championship and the [Coppa Italia] final, I even miss the World Cup.
It was a call from the coach that hurt. Until recently, I believed I'd be fit in time. But, unfortunately, the injuries have set me back again and, in the end, the ugliest season of my career ends with a further setback.
Almost seven months of knee injuries were just too much. That annoys me infinitely!
I shall come back again, as [I've] often done in my career.
This also means that I won't be able to beat the goals record of Ronaldo and Miro [Klose] at the World Cup. I wish [Klose] luck that he manages to get [this] record! Do it, Miro!
But even more important is the fact that this, unfortunately, means that I won't be there when the boys will lift the trophy! I'll keep my fingers crossed and I hope with all my heart that we manage to win the title!
Now I will try to recover well and to be back to full fitness to attack next season and help my team to achieve our goals and, above all, to get back playing football again.
I'd really like to give thanks to my girlfriend, to my family, to my friends, all my athletic trainers, physical therapists and specialists who have always given everything to me during this difficult season.
And finally, of course, our fans! It's amazing and impressive how much they, despite the disappointment that I could not play most of the year, have always supported and pushed me on. You are amazing!"
Miroslav Klose, who will be playing his last World Cup, currently has 14 goals in the World Cup, one goal less than Ronaldo (Brazilian) who has 15. One goal will see Klose equal Ronaldo's record, and if he manages to score another, he will become the all time top goal scorer in the World Cup. Sami Khedira, who had been injured for a long time has also been included in the provisional squad for the World Cup. Khedira missed most of the season due to cruciate ligament injury sustained in Germany's friendly with Italy back in November last year. However, Low played a gamble by including Khedira. It's a strange decision be Low as he included Khedira in the squad and not Mario Gomez as they both have had long term injuries this season, but sadly Gomez missed out a place in the squad.
The German trio of Mesut Ozil, Lukas Podolski and Per Mertesacker have been included in the provisional squad. A total of seven players from Germain giants Bayern Munich are included in the squad along with six players from Borussia Dortmund.
It is a young German squad for this years World Cup. Joachim Low's 2010 World Cup squad was similarly young, which was also the the youngest German squad in 76 years and finished on the third position in that edition of the FIFA World Cup.
Here is Germany's provisional squad for the 2014 FIFA World Cup:
Goalkeepers: Manuel Neuer (Bayern Munich), Roman Weidenfeller (Borussia Dortmund), Ron-Robert Zieler (Hannover).
Defenders: Jerome Boateng (Bayern Munich), Erik Durm, Kevin Grosskreutz (both Borussia Dortmund), Benedikt Höwedes (Schalke), Mats Hummels (Borussia Dortmund), Marcell Jansen (Hamburg), Philipp Lahm (Bayern Munich), Per Mertesacker (Arsenal) Shkodran Mustafi (Sampdoria), Marcel Schmelzer (Borussia Dortmund)
Midfielders: Lars Bender (Bayer Leverkusen), Julian Draxler (Schalke), Mario Götze (Bayern Munich), Leon Goretzka (Schalke), Andre Hahn (Augsburg), Sami Khedira (Real Madrid), Toni Kroos (Bayern Munich), Max Meyer (Schalke), Thomas Muller (Bayern Munich), Mesut Özil (Arsenal), Marco Reus (Borussia Dortmund), André Schürrle (Chelsea), Bastian Schweinsteiger (Bayern Munich), Kevin Volland (Hoffenheim), Matthias Ginter (Freiburg).
Forwards: Lukas Podolski (Arsenal), Miroslav Klose (Lazio)
Germany coach Joachim Low now has time until June 2nd to submit the final 23-man roster to FIFA. Low will be aiming at a 4th World Cup trophy for Germany. They have been drawn in Group G for next month's World Cup in Brazil along with Ghana, Portugal and United States.