Many bike enthusiasts have tried to customise their own bikes in a way that's special to them alone. One such bike buff is Siddharth D'Souza, who has taken his love for bikes very seriously. His company, Nomad Motorcycles remodels bikes that can be used for driving in the city, and which can also withstand some heavy-duty action when on the road if required. And everything is built according to the client's taste!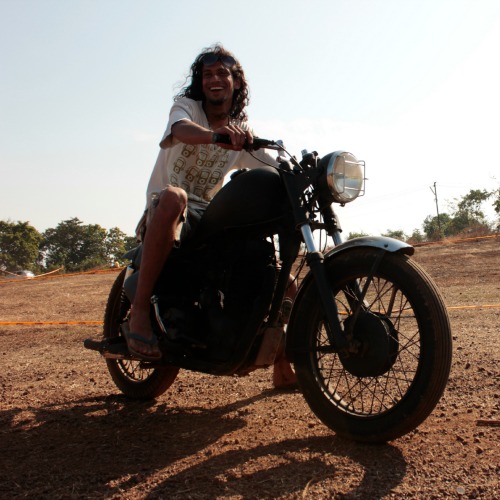 First love
Siddharth began this concept with his brother who bought a Machismo 500 when he was young. He said, "The chrome on it and the classic British styling won me over instantly. After high school, I managed to pick up a Lightning 535 and began discovering our country on two wheels." He says the sense of freedom that comes with a motorcycle inspired is what inspired him to travel across the country. "I picked up most of my skills like rafting and guiding motorcycle tours in the Himalayas and soon realised I'd like to work more intimately with the bikes. But I think the main inspiration that got me more into the mechanism of how bikes works was my first bike — the Lightning 535."
The beginning
Siddharth began his company by building bikes in his garage at home. But now he has a workshop in Fatima Nagar on the Pune-Solapur highway. "We are a team of five with a basic setup which helps keep costs as less as possible. So far, we've undertaken restoration projects, overhauling every fault in the engine before building the rest of the bike from ground up," said Siddharth.
Bikes for all
Siddharth feels the rapid growth of the workshop isn't very surprising. The motorcycle market in India is better than before with new companies entering market every year. "Big names that were on posters of small mechanic shops and boys' rooms around India are now available in the Indian market," he said. India is the second biggest bike market in the world.
According to Siddharth, the custom-made bike market in India has some big names that are doing some amazing work. "But everyone has their own style, that's why they're called custom bikes," he added.

The furture is bright
There seems to be a lot of promise for Nomad Motorcycles. In the future there may be a setup in Kerala that one of the team members has taken on. When asked about his company's future plans, Siddharth said, "We plan to build motorcycles and organise motorcycle tours. We don't intend to limit our direction, as long as it involves motorcycles, you will see us there."