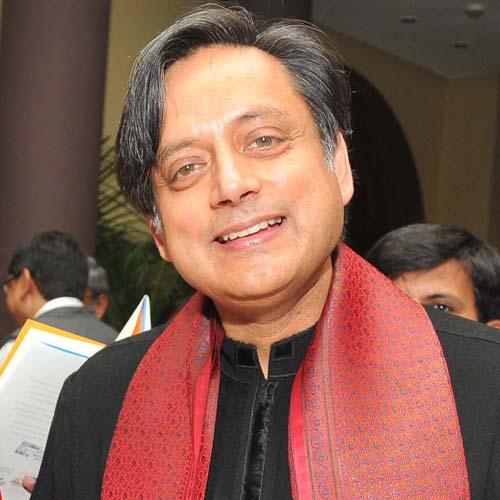 Dr Sudhir Gupta of AIIMS has alleged that former Union Minister Shashi Tharoor influenced the probe by "informing" one Dr Mishra on possible reasons for death of his wife Sunanda Pushkar.
Gupta furnished a copy of an email that some private doctors which claimed that Sunanda Pushkar's death was caused by her history of illness combined with wrong medication.
It might be recalled that the search and seizure memorandum of the Delhi police, which is a part of the autopsy report, mentioned finding of mix of two drugs - Alprazolam and Excedrin. Excedrin is a combination of acetaminophen, aspirin, and caffeine while Alprazolam is an anxiolytic.
Gupta has alleged in the letter to new Health Minister Harsh Vardhan that an independent doctor, who had examined Sunanda Pushkar on December 12 of last year, had told Shashi Tharoor in an email that Pushkar's alprax medication, along with coconut water, could have slowed down her heart rate.
The email says, "Coconut water, which has a very high content of potassium, could have elevated her serum potassium levels and possibly slowed her heart rate. In addition, if she took alprax, it could have contributed to the slowing down of her heart rate and made it possibly difficult for her to call for help."
According to Gupta, Tharoor replied by stating that he would talk to a certain "Dr Mishra" which he feels is the current AIIMS Director MC Misra. Tharoor also mentioned in the email that "I'm drawing this to the attention of Dr Mishra of AIIMS through our mutual friend… I recall your fear that without regular hydration and salt intake, she could suffer from recurring episodes of dangerously low blood pressure. Clearly, this must have occurred since she was not eating or drinking properly for two or three days." This is claimed by Gupta as evidence that Shashi Tharoor influenced the AIIMS director on the autopsy report.
Furthermore, Gupta quoted a 'specialist from Dubai', who (according to Gupta) had taken initiative in offering his opinion on the matter, after being 'distressed' by media speculation of Sunanda's death. The specialist claims to have some knowledge of Sunanda's medical issues.
In the email, the specialist mentions that Pushkar told him she had an auto-immune disorder called lupus, and had "repeated episodes" of "plummeting blood pressure in Dubai". He says "she used to bruise easily and we have discussed this several times in passing. A mere injection for blood test or bumping into a piece of furniture could result in visible bruising. I am concerned as bruising on her body is being discussed as inflicted in the media".
This is interesting because in the post-mortem report in the Pushkar case, Gupta had said, "To the best of my knowledge and belief, the cause of death in this case is from poisoning… and the circumstantial evidence is suggestive of alprazolam poisoning". He said that the 15 injuries, including bruises and abrasions "are caused by blunt force, simple in nature and not contributing to death." But if Sunanda Pushkar had Lupus, simple blunt force and bruises on her body cannot be dismissed as being irrelevant to her death.
Gupta was silent about the issue until the BJP government came to power, merely filing an affidavit to the Central Administrative Tribunal (CAT) and then-Health Minister Ghulam Nabi Azad about a colleague's promotion.
But in a letter to the Central Vigilance Commission (CVC) on May 27, a day after the BJP-led government was sworn in, Gupta alleged an "illegal, politically motivated agenda to oust me from the post of HoD since I have taken an honest and ethical stand in the post-mortem in the Sunanda Pushkar and Nido Tania cases." In his letter sent to new Health Minister and AIIMS president Dr Harsh Vardhan also, Gupta mentioned the two cases. He then filed a rejoinder to CAT on June 26, alleging that AIIMS was acting at the behest of Ghulam Nabi Azad to punish him for refusing to act unprofessionally in the Sunanda Pushkar autopsy case.