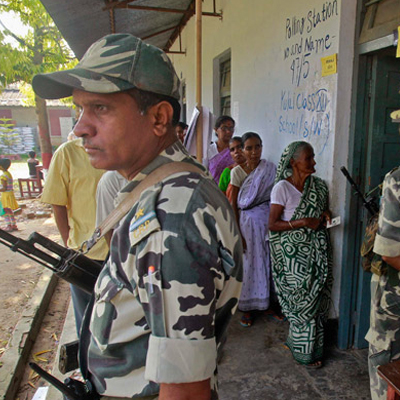 Sixty-four Lok Sabha constituencies spread over seven states and 175 assembly constituencies in the Seemandhra region went to polls early on Wednesday morning amid tight security.
May 7, Wednesday, is the eighth and penultimate phase of the Lok Sabha elections. The Lok Sabha constituencies going to polls are 25 in Andhra Pradesh, 15 in Uttar Pradesh, seven in Bihar, six in West Bengal, five in Uttarakhand, four in Himachal Pradesh and two in Jammu and Kashmir.
Prominent candidates in the fray are Congress Party vice president Rahul Gandhi, Union Steel Minister Beni Prasad Verma, Union HRD Minister MM Pallam Raju, ex-Indian cricketer Mohammad Kaif and television actress Smriti Irani.
Varun Gandhi, Rajiv Pratap Rudy, Anurag Thakur, Ram Vilas Paswan, Rabri Devi and Kumar Vishwas are the other prominent leaders whose political future will be decided on Wednesday.
LIVE UPDATES:
* Over 56% voting in seven Lok Sabha seats of Bihar
* Over 76% turnout, clashes mark polling in Seemandhra
* Almost 66% vote in Himachal Pradesh, polling held peacefully
* West Bengal registered record-breaking polling of 80.51% turnout at 5 pm, improving on its 2009 Lok Sabha elections polling percentage.
* 56% polling in Uttarakhand till 5 pm, 69% in Haridwar, 61% in Nainital, 47% in Champawat, 50% in Pithoragarh, 45% in Tehri
* 78.47% polling in West Bengal, 87.88% in Jhargram, 81.45% in Medinipur, 78.75% in Purulia 78.75, 80.55% in Bankura, 85.21% in Bishnupur, 75.47% in Asansol.
* YSR Congress-TDP workers clashes mar polling in Seemandhra
* The last leg of the five-phased Lok Sabha polls in Jammu and Kashmir today saw enthusiasm prevailing over separatist-sponsored boycott calls and militant threats, as youth and first-time voters turned out in good numbers to exercise their franchise. Read More
* More violence as Kashmiris boycott India polls
* One person killed in police firing outside booth in Bihar
* 63% polling in Seemandhra till 3pm; Maoists burn EVM, vehicle
* Brisk voting on in Uttar Pradesh's 15 seats till 3pm
* 48% polling recorded in Uttarakhand till 3pm
* 47% voting in seven Lok Sabha seats in Bihar till 3pm
* West Bengal at 67.13%, Andhra Pradesh at 52%, Baramulla at 16.69%, Kupwara at 45.76%, Bandipora at 23.03%, Leh at 41%, Kargil at 54% till 2pm
* Voting picks up in Baramulla, brisk in Ladakh
* Left supporters allege booth rigging Asansol, West Bengal
* 36.15% polling recorded in Uttar Pradesh till 1pm
* Nearly 62% polling recorded till in West Bengal 1pm
* Priyanka Gandhi's secretary, Preeti Sahay, is not a local, but she still has been vocal in opposing my presence at the booth says Smriti Irani. Read More
* Average voter turnout in states till 1 pm: Andhra Pradesh at 41.56%; Bihar at 36.18%; Himachal Pradesh at 37.03%; Jammu & Kashmir at 23.61%; Uttar Pradesh at 32.08%; West Bengal at 48.03%; Uttarakhand at 31.97%
Read Also: Tarun Gogoi visits violence hit districts, 5 more bodies recovered
* Smriti Irani, at the Polling station, got into an tussle with Priyanaka Gandhi's PA Preeti Sahay, questioning her presence there.
Smt Vadra's secretary Priti Sahay at Thouri not a local still vocal in opposing my presence at the booth. pic.twitter.com/Uo8uHBbyYm

— Smriti Z Irani (@smritiirani) May 7, 2014
* Moderate polling in Uttar Pradesh, 46% polling in Amethi
* District Magistrate orders Priyanka Gandhi's PA to leave Amethi
* AAP claims Amethi is under emergency-like situation
* 26% voting in Saran, Bihar till 12pm. Rabri Devi makes her Lok Sabha debut from there
* West Bengal records 45% polling till 11am and Bihar 15% till 10am
* 15% voting in seven Lok Sabha seats in Bihar till 10am
* 27% polling recorded in Uttarakhand till 11am
* Voting begins to pick up in Jammu and Kashmir by 11am
* Voters come out in large numbers during eight phase of Lok Sabha poll
* High turnout in Seemandhra; rival party workers clash
* 33% voting in Seemandhra by 11am. Turnout was highest in Kurnool at 41%
* 20 injured in clashes during Andhra Pradesh polls
* Voter turnout recorded at 22.36% across the seven Bihar constituencies till 11am.
* 27% voter turnout in Amethi till 11 am, higher than the overall average for the rest of Uttar Pradesh, which was 25%.
* Baramulla at 9%, Kupwara at 20%, Badipora at 14%, Leh at 14%, Kargil records a highest turnout at 26% till 11am
* Sitting MP Prabodh Panda's vehicle sticker removed in West Medinipur
* Rahul Gandhi objects to lotus drawing in Amethi polling booth
* Voting begins on sluggish note in Jammu and Kashmir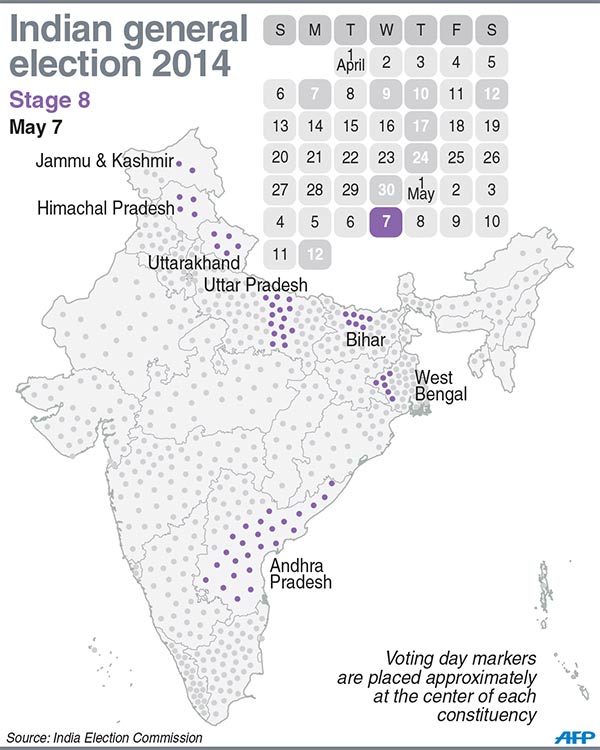 * Brisk and smooth polling in Uttarakhand
* Long queues at Bihar polling booths despite heat
* AAP candidate Kumar Vishwas accuses Congress men of indulging in booth capturing in Amethi
* 15% turnout in Seemandhra in initial hours of voting, amid sporadic clashes
Five more bodies recovered from troubled Assam districts
* 16.5% in Saharan till 10am
* 24% total voting in West Bengal. 22% in Medinipur, 26% in Bankura, 24% in Vishnupur, 22% in Asansol, 24% in Purulia till 9am
Read Also: However, villagers of West Bengal's Purulia boycott polls over poor development
* Uttar Pradesh sees average voter turnout of 11% till 9 am
* 13% in Sultanpur, Uttar Pradesh till 9am
* 10.4% voting in Amethi till 9am
Read Also: Rahul Gandhi visits Amethi on polling day for first time in a decade
Read Also: Students protest in Assam, call for an end to ethnic massacre
* First voter of independent India, SS Negi casts his vote in polling station, Kinnaur
HP : First voter of independent India, SS Negi with his wife at Kalpa polling station,Kinnaur #Elections2014 pic.twitter.com/adznrZvpl3

— ANI (@ANI_news) May 7, 2014
* TMC workers stop CPI candidate Prabodh Panda's car in West Midnapore.
Read Also: A remote outpost, this village is not cut-off from politics
* Mohammad Kaif and his wife Pooja cast their vote
Allahabad : Mohammad Kaif and his wife Pooja cast their vote #Elections2014 pic.twitter.com/aYDj1IjAVk

— ANI (@ANI_news) May 7, 2014
* Two CRPF jawan injured in grenade attack on polling booth in Jammu & Kashmir's Baramulla. Read More
Read More: Rahul Gandhi, Ramvilas Paswan and Rabri Devi to contest among heavyweights in 8th poll phase
* Baba Ramdev and Acharya Balkrishna cast their vote
Haridwar : Baba Ramdev and Acharya Balkrishna after casting their vote #Elections2014 pic.twitter.com/L202NkmuhP

— ANI (@ANI_news) May 7, 2014
Read Also: Lok Sabha Elections 2014: Rashtriya Janata Dal's Rabri Devi in fray from Saran constituency of Bihar
* Uttarakhand votes for all five Lok Sabha seats. Read More
* Voting in Bihar for seven Lok Sabha seats
Read Also: Lok Sabha Elections 2014: Neither good nor bad, its ugly this time!
* Polling in Himachal Pradesh for its 4 Lok Sabha seats & by-poll for one assembly seat begins. Read More
* Balloting in Andhra Pradesh for 25 Lok Sabha seats and 175 assembly seats in Seemandhra region began Wednesday, officials said. Read More
Read Also: Amethi 2014: Rahul Gandhi's toughest battle ever
* Balloting begins in West Bengal. As many as 72 candidates are in the fray for the parliamentary seats. Four candidates are fighting in the by-poll for the Kotulpur assembly seat.
Also Read: Top 10 candidates to look out for in the 8th phase of Lok Sabha elections
* Polling begins in 15 Uttar Pradesh Lok Sabha seats. Polling for 15 seats in the crucial fifth phase of Lok Sabha polls in Uttar Pradesh, to decide the fate of 243 candidates, including two scions of Nehru-Gandhi family, Congress Vice-President Rahul Gandhi and BJP National Secretary Varun Gandhi started peacefully this morning. Read More
* Baramulla parliamentary constituency of north Kashmir turns into a fortress for polls today. Security forces are bracing for a major challenge to ensure violence-free polling on Wednesday in the sensitive Baramulla Parliamentary constituency of north Kashmir. Read more
Check: State-wise map of Election dates for Lok Sabha polls 2014
The litmus test for Congress and Rahul Gandhi:
Having won in 2009 nearly half of the 64 seats going to polls in the penultimate round tomorrow, Congress appears to face a difficult task when people in the whole of Seemandhra, Himachal Pradesh and Uttarakhand cast their vote in the Lok Sabha elections tomorrow.
Conversely its main rival BJP, which currently has only five seats in tomorrow's round, may have everything to gain if it improves its performance in parts of heartland UP and Bihar that go to polls along with some constituencies in Jammu and Kashmir.
Of the 64 seats in seven states, including West Bengal, Congress had won 31 in 2009 while BJP had five.
In all, voters in seven states will pick their candidates in the eighth of the nine-phased elections. Already elections have been completed in 438 of the 543 constituencies. 41 seats will go to polls in the last round on May 12.
Faced with complaints of large scale rigging in some places, the Election Commission today said that it has increased videography of polling stations to ensure free and fair poll. 62.52% voter turnout recorded in Uttar Pradesh in 2009 elections.
Read: The controversy around #144inAmethi on Twitter
The fate of 1,737 candidates, including Rahul Gandhi (Amethi), his cousin Varun (Sultanpur), Union minister Beni Prasad Verma (Gonda), cricketer-turned-politician Md Kaif (Phulpur-all in UP), Ram Vilas Paswan (Hajipur), Rabri Devi and Rajiv Pratap Rudy (Saran-all in Bihar) is in the hands of 18.47 crore voters who are eligible to cast their franchise.
Elections will also be held tomorrow in Mandi in Himachal Pradesh where Pratibha, wife of Chief Minister Virbhadra Singh, is contesting while Anurag Thakur, sitting MP and son of former CM Prem Kumar Dhumal, is the candidate in Hamirpur.
Seemandhra, comprising the areas of Rayalaseema and coastal Andhra, accounting for 25 parliamentary seats, will vote tomorrow for both Lok Sabha and Assembly. In the last two Parliamentary elections, Congress had done exceedingly well and had contributed overwhelmingly to the making of the UPA governments at the Centre.
In 2009, the Congress had won 19 of the 25 seats in the region. It had also formed the government in Andhra Pradesh on both the occasions.
The demise of strongman YS Rajashekhar Reddy shortly after the 2009 polls and the split in the party effected by his son YS Jaganmohan Reddy coupled with politics over division of the state have combined to pose big hurdles for the party in the current elections.
Besides, Andhra Pradesh, elections will be held in seven Lok Sabha constituencies in Bihar, 15 in UP, six in West Bengal, five in Uttarakhand, four in Himachal Pradesh and two in Jammu and Kashmir.
Also check out video updates here