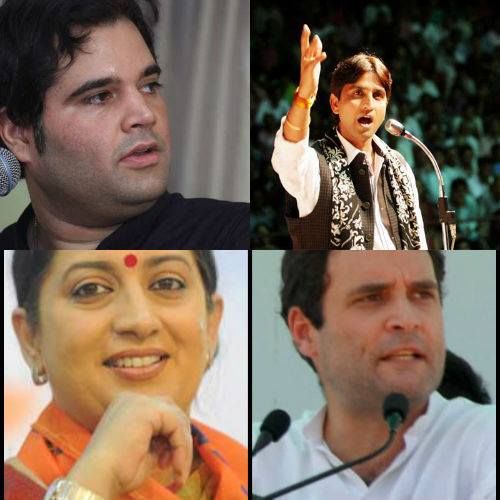 Rahul Gandhi
Vice President of the Congress, Rahul Gandhi is contesting this election from Amethi and has won it since 2004. Amethi has been the Congress bastion since 1967 and it has lost this seat only twice in the past. Rahul Gandhi is contesting against BJP's Smriti Irani and AAP's Kumar Vishwas.
Ram Vilas Paswan
President of the Lok Janshakti Party and former minister of railways, Ram Vilas Paswan is contesting this election from Hajipur, Bihar. He is pitted against Congress' Sanjeev Prasad Tony and sitting JDU MP Ram Sunder Das.
Moon Moon Sen
Indian film actress, Trinamool Congress candidate Moon Moon Sen is contesting this election from Bankura, West Bengal. She is contesting against five time winning and sitting CPM MP Acharia Basudeb and Congress' Nilmadhab Gupta.
Rabri Devi
Wife of RJD chief Lalu Prasad Yadav, she is contesting this election from Saran, Bihar. Lalu Prasad Yadav won this seat in 2009 and beat BJP's Rajiv Pratap Rudy. This year Rabri Devi is pitted against JDU's Saleem Parvez, BJP's Rajiv Pratap Rudy and AAP's Parmatma Singh.
Smriti Irani
BJP's strong contender in Amethi and Rajya Sabha MP from Gujarat, Smriti Irani is contesting her second LS election from here. She is contesting against Congress' Rahul Gandhi and AAP's Kumar Vishwas. Her chances to win from the Gandhi bastion seem stronger after Narendra Modi's recent rally in Amethi.
Varun Gandhi
BJP candidate from Pilibhit, Varun Gandhi will be contesting this election from Sultanpur. Other candidates in the fray are, Congress' Amita Singh(wife of sitting MP Sanjay Singh), AAP's Sanjay Pratap Singh and Samajwadi Party's Shakeel Ahmed.
BC Khanduri
Two time Chief Minister of Uttarakhand and cabinet minister at Ministry of Transport, BC Khanduri is fighting from Garhwal constituency. He is pitted against Congress' Harak Singh Rawat and AAP's Rakesh Singh.
Kumar Vishwas
Hindi poet and comedian Vishwas is contesting the LS elections for the first time from Congress stronghold Amethi. He has been campaigning vigorously and even moved his home to Amethi two months back. He is contesting against Congress Vice president Rahul Gandhi and BJP's Smriti Irani.
Renuka Rawat
She is the wife of current Chief Minister of Uttarakhand, Harish Rawat. She is fighting from Haridwar, this seat was won by Harish Rawat in 2009. This year she is pitted against former chief minister of Uttarakhand and BJP candidate Ramesh Pokhriyal Nishank and AAP's Kanchan Choudhary.
Kishore Chandra Deo
The Congress candidate from Araku constituency in Andhra Pradesh, KC Deo is the Union cabinet minister for Tribal Affairs and Panchayati Raj. Araku constituency is reserved for the scheduled tribe candidates. He is pitted against Midiyam Baburao of the CPM whom he beat in 2009 and TDP's Gummidi Sandhyarani.