Outgoing NBA commissioner David Stern tells Derek Abraham that basketball in India will only grow.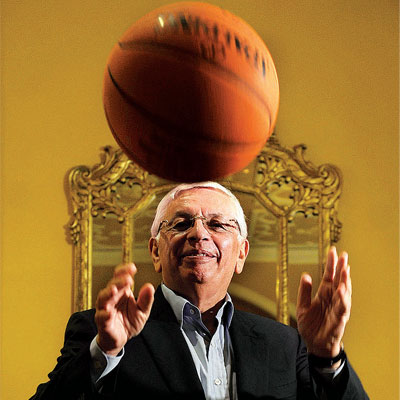 When you spoke to dna in 2009, you said you were analysing the huge success of the IPL. And we hear you are going to catch the action at the Wankhede Stadium on Tuesday (Mumbai Indians vs Delhi Daredevils)...
I love the energy in the IPL. I just want to be part of it. It's fun to watch. We love to learn from every sporting event.

Have you watched a game of cricket?
Yes, I have. And like most Americans, I ended up scratching by head. 'How many years is this match going to last' (laughs)?

And what are these men doing in pyjamas?
Exactly! Why are they running back and forth in white clothing. Cricket does not seem quite as inclusive as it actually is. It's interesting to watch. It just shows how different the world is. In some countries, it's basketball, it's soccer somewhere else. Cricket, badminton... There's something to learn from every sport.

There are quite a few similarities between NBA and IPL. The cheerleaders, music...
I get it. When we first played an NBA game in Europe in 1988, we brought the cheerleaders and a character called the Phoenix Gorilla. To our friends from the various international federations, it was like a scandal. What are you doing with these scantily-clad women, they asked. But the next time we went there in 1989, they said, 'Please bring those cheerleaders and the Gorilla'. We are very familiar with the entire concept. An arena has to have restaurants, suites, music, cheerleaders, fans on camera. And there's also some basketball going along the way (laughs).
The IPL is imaginative. What I like about the IPL is that it has changed the (face of) the game. We know things are changing. People are changing.
So is this your first visit to India?
Yes, it is.
You took over as commissioner in 1984. And you are due to retire next year. Why did you come to India so late?
We are late. I went Russia in 1988 and China in 1991. But we were basically responding to a built-up infrastructural system. India, we were watching. This market is growing at such a rapid pace and we know we have an opportunity (to grow) here. We decided we need to be here. We only go (to a country) if we are committed. We have offices in India now.
We have a huge social media presence. We deal with Sony Six, the broadcasters of IPL. We have NBA merchandise available at leading stores. We have sponsor relationships. We are very much involved with the Basketball Federation of India. We are in schools, recreation areas. Our sport continues to grow. We are late, but we are committed.
Are you looking at the mofussil areas? That's where the talent is...
It's so hard because the country is so hard. That cricket is the No 1 sport doesn't bother us. It means our market share is very small. One guy plays the game and if it becomes two, then it's double! The technology market in India was not as robust as it was in China or Korea. What we see now is enormous growth in TV, focus on sport, internet connectivity, 4G and an openness and an understanding by the private sector as well as the government. We need to get kids moving.
Lack of fitness is related to healthcare. It's a problem in America and it will a problem all over the world. And when you have a sport that's easy to access and understand and available to both boys and girls, you have a winning combination.

So what is it that you want to achieve in India?
Four things. The right scale of adoption of the sport at school levels, successful TV coverage — one at the bottom, one at the top. Three, we want to increase our presence on digital and social platforms. I'll give you an example. NBA.com has rich videos. But I understand that our videos are too rich for India. So we have got to replace a few videos with text matter for India.
But down the road, the broadband penetration will get better and better. Four, we want to run a collegiate league. That's how we will grow. Look at Europe, Korea, Japan, China. They have professional leagues. India is utterly unique. We are starting at the bottom. And I must tell you we could not be more confident.

In other words, there's just one way for the NBA — up!
Indeed.

What prompted you to announce your retirement?
The job of a CEO is to provide and plan for succession. I know Adam Silver (commissioner-elect) for more than 20 years now. At the same time, I want to keep myself available to the system internationally.

Is there an unfulfilled dream that you expect Adam Silver to help you realise?
I think we have been working so closely for so long. I guess he has his own ideas and I understand that. Thirty years is a significant run as CEO. And if you look at my time in the NBA before I took over as commissioner, it's about 48 years. The job of the CEO is never done. We have offices in Mumbai, Rio (de Janeiro), Johannesburg and they are all waiting to explode on their own confidence.

Do you think the NBA will continue to produce superstars?
Of course! We had (Bill) Russell and (Wilt) Chamberlain, Dr J (Julius Erving), Kareem (Abdul-Jabbar), Magic (Johnson) and Michael (Jordan). I can tell you we will have superstars after LeBron (James) as well. What I can't tell you is where they'll be from — Germany or Argentina, France or Brazil, Nigeria or Sudan.
How realistic is it for us to expect an Indian playing in the NBA, say, five or 10 years from now?
There is a serious rise in the number of people taking to basketball in India. But that doesn't mean he or she is going to make it. It's all about talent. Yesterday, I met Amritpal Singh (of Punjab). He is 6'11", pretty good player. But he's been playing basketball for the last three-and-a-half years. Just imagine what he would have been had he started, say, 10 years back. I was also at the Nagpada Mastan YMCA on Monday. And I saw kids play there. For me, that's the place the next NBA player is going to come from.
@DAbrahamm