Hours before team's departure to The Hague for FIH Hockey World Cup, head coach Terry Walsh tells Rutvick Mehta that the biggest strength of this Indian squad is its unpredictability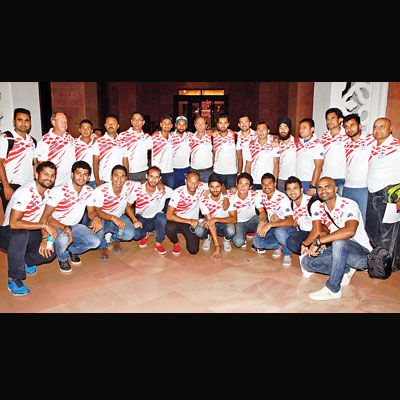 It's been a little over six months since you took over. This must be the toughest assignment yet, isn't it?
Yeah. Clearly, this is probably the toughest assignment that there is on the calender, apart from the Olympics. It's a nice way to challenge ourselves at this point.
You've brought in a variety of new techniques into the training sessions. How has the team responded to it so far?
For me, it's been six months of changing a few things, but trying to bring back a few things. Yes, we've made some critical changes in certain areas and we've now got, I think, a team that can potentially make themselves very proud on the international scene. The level that we'll be able to achieve, I don't know, I really don't. I think we've got the ability to bother the best teams in the world, quite honestly. But we also have the ability to capitulate quickly from a historical point of view. But I doubt it's going to happen. I think that our guys have got a much better handle on how to cope with difficult circumstances and turn those around a little. So I can't imagine that we'll be taken off the pitch with a large score margin difference. I think most of the games that we'll play will be very close.
You guys recently had a preparatory tour to Holland, but you also said New Delhi was not an ideal city to hold the camp. Looking back at the last few months, how would you rate your preparation overall?
Well, it was really good to have gone to Europe. I and Hockey India (HI) have been productive from the point of view of giving ourselves an opportunity to play. And when you look at teams around, you see them getting involved in these competitions. If you look at a team like Belgium, for example, they've been touring around and playing all over the place. They just played in Germany last week and they're going to play again this weekend. It's the same with England. These sides will bring with them an enormous amount of international competition in play. Whereas we basically have to train. So there is a difference, no question about that, from the point of view of preparation. But we know that, it's something that's part of the delivery system and so we deal with that in the best way we can.
Do you think this is the best team to represent India in the World Cup (WC)?
Yeah, we think so. You're always going to have questions about a selection or two. Everybody has a view. But I think that realistically we've gotten very, very close to what most people would consider to be our strongest line-up. I don't think there are many significant omissions from the team that anyone would choose. I think everyone would say that we've got our major players right, and then it comes down to the balance and the way the coaching staff want to use their players in their view. Usually, the contentious selections boundaries when you're selecting 18 (players) is somewhere around 16, 17, 18, 19, 20,21... those guys. That's life, and we understand that. But in the end someone has to make a decision.
You've maintained that defence is the core to win matches. But India's defence, including goalkeeping, has been the problem area for long, isn't it? How have you worked on it?
Well, we've done a lot in the defensive mentality and understanding what we are really required to do, and terminology like counter-control, and the ability to look after the counter-attack circumstances, positioning and so on that's required to cope with that. It's been a significant part of what we've been doing. It's not just involving the defenders, the involvement of every player on the pitch is important. We've managed to do that in a large part effectively. We don't do it as well as we would like to do it all the time but again we've been working on those things for the good part of six months. It's work in progress in a large way, and we've done a reasonable amount of work in the goalkeeping area. I think Sree (PR Sreejesh) has improved significantly. Confidence is important for everybody, but more so for a goalkeeper, and he had Harjot (Singh) have developed really well. I think Sree has legitimately been the No. 1 goalkeeper and he's done a good job. I believe he's improved in a very see-able manner.
What do you think are the team's biggest strengths and weaknesses going into the WC?
Well, the unpredictability is always the key strength in Indian hockey, the quick wristy movements and the agility of the players. So the unpredictable nature, which sounds very easy to talk about, but is very difficult to actually put down, that's the real strength that this team has. But like in most things, your greatest strength can often become your greatest weakness and I would say that it is also our weakness. There is also an element of the game that requires to be well organised and manipulate, play and retain the possession cleanly... It's just hold the ball and knock it around without too much flair. It's not something that is in the DNA of Indian hockey players (laughs). But you have to. If you don't do that, you don't win games.
This team has a lot of youngsters, a lot of whom will be playing their first WC. Do you fear they will get overawed by the pressures of such a big tournament?
Look, I don't really know the answer to that (laughs). Quite honestly, until you see that situation occur, you can't really be clear about it. I would be shocked if there wasn't some degree of stage fright. There is bound to be. The question is how long that lasts, and whether it's detrimental to the performance, or indeed it turns around to be the real key in proving a much greater impact on the game. And that's obviously what we're trying to have the guys do, use their youthful exuberance to their advantage. Again, I can't really answer that question until it actually occurs, but I'm relatively confident that our guys will get through that fairly quick.
You spoke about a big psychological change in the players after the preparatory tour to Europe. Could you elaborate on that? Was it just about confidence and positivity?
I think self-belief is really a big piece of what this whole program is trying to bring and develop. I mean these guys have not experienced success for a long time. If you go back, you're talking 30 years, really. And that's a long time! So you've got eras of players who haven't really been successful by taking home big medals at big events. Winning is something that people learn how to do, and then they gather a momentum of a winning mentality from all of that. And the mentality, of course, is the psychological key. Self-belief is primary in all of that, and it wasn't a strange thing that we requested Sachin Tendulkar to get involved. That was quite a deliberate thing from the point of view of talking about the things that we know he's very, very keen about like controlling the mind and accepting the fact that no one's perfect and just get on and do the best with what you have. He was excellent with the discussions and just chatting with the guys informally about where things are. This is all part of the psychological piece. I personally think people get confused when they hear the world psychology and don't know what it actually means from the point of view of sport. It's a great term to use without really knowing what it is. Really, it's being able to control where you are from a mentality point of you. And if you can inject a large degree of self-confidence into that and have self belief in that, you don't have to be at any age for that, you don't have to be experienced, you don't have to be a particular number of games, you don't have to have anything. It's just a mentality, and if you can bring a quantity of that into the game, it develops and grows. It can develop quickly in a short period of time, and it can also diminish quickly in a short period of time, as we've seen in a variety of sports.
We play Belgium first, and then take on England, Spain, Malaysia and Australia. The key has always been to start well, isn't it?
India culture tells you that. It's not essential you do that. I can give you a variety of examples which show if you don't win the first game, it doesn't necessarily mean you're out of the tournament. The difficulty is to maintain the balance, no matter what the outcome. If you win the first game, it doesn't mean you're in the final. If you lose the first game it doesn't mean you're out of the final. It shouldn't affect your mentality very much, but historically it has. You look at the history of Indian sport, and Indian hockey particularly, you'll see that. It's a very clear indicator. It's one of the things about being mentally better prepared and understanding that sometimes you'll fall at hurdles – you can fall at the first hurdle, second or third. The ability to be able to put that away and just move on is pretty important. Not for one second am I suggesting that the first game isn't important, because it is. But in the end, it is no more important than the others.
There's a feeling that you are laying more emphasis on the Asian Games, which can ensure a direct qualification for the 2016 Olympics, and not the WC...
Not in my view. I think the WC is a critical event. The Asian Games is a secondary event, quite frankly. I guess given the nature of the Asian Games in the overall structure of world hockey – and this is my personal opinion, not the opinion of HI. HI's opinion quite clearly is that the Asian Games are critical. My personal view is that the Asian Games is an important tournament but a very good performance at the WC surpasses a very good performance at the Asian Games, because you've got a much better quality of opposition. So a very good WC performance means that's you're pushed into the Olympics environment. And the only way you can be guaranteed an Olympics slot is to win the Asian Games. I'd be very, very surprised if this team wasn't in the Olympics piece. But when you've been in other programs and seen what's happened, there's a very strong argument which says that you don't want to qualify automatically. Because when teams do that, quite often it takes the sting out of the preparation. And you can lose a bit of that impact. There's a surety and certainty if you qualify, but – I'm not saying there's complacency in it – there's the potential of saying 'OK, we're already at the Olympic Games, so we don't need to do this, we don't need to tour or we don't need to play these number of games. And that's absolutely deadly. That's a very, very bad outcome.
You have said a top-eight finish at the WC is a realistic target. Many believe that by saying that, you've already given up hope of a podium finish and created negativity. What do you have to say to that?
I would say that that would be a typical Indian reaction.
A lot of Indian coaches feel that, and so it was only fair to ask you...
Well, as it was fair to ask me, it is fair for my response to be there. And if you think about it, it matches perfectly with the history of the behaviour. So psychologically it doesn't surprise me that that's the reaction. But it's the reality, and that's the difference. Look, this team could finish in the top six, and if everything fell absolutely perfectly and if everyone played very, very well, anything can happen. The dream is to finish in the finals, we all aspire to that dream. But you have to be real, because if you look at the history and you look at the record and you look at what the team has done, I mean there's no magic potion to this. There's nothing magic about it. You've got to do the work, and you've got to do it over a concerted period of time. And Indian coaches, with every respect to them, can say what they like. But the reality is that they've taught very little over the last 30 years.