India captain Sunil Chhetri tells Rutvick Mehta that while Brazil and Spain are clear favourites, it would be foolhardy to write off Messi-led Argentina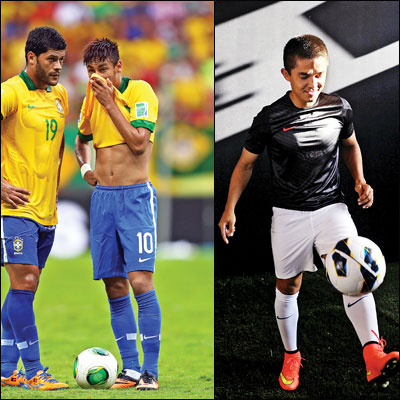 The buzz around the FIFA World Cup has reached its peak. Who, according to you, are the favourites? Also, who will you root for?
Brazil and Spain will be the clear favourites. Obviously, Brazil have a slight edge because they are playing at home. Also, their stunning 3-0 win over Spain in the final of the FIFA Confederations Cup will hold them in good stead. It will give them confidence to perform in pressure situations. Everyone knows now that Spain can be beaten. However, all great sides work in cycles and maybe you could say after a World Cup and two European Championships, that this might be the end of that cycle. Having said that, I admire (Spain coach) Vicente del Bosque as a manager. The biggest positive with this team is that they have refreshed their squad with young and quality players who are hungry for success. I have always followed Spain closely and admire their philosophy. So yes, I'll be rooting for La Furia Roja!
How far will Brazil go?
Like I said, they have the advantage of playing at home. Imagine the millions backing them. The weather conditions will play a huge part. I guess Brazil should not find it difficult to book a semifinal berth. Thereon, it's anybody's game. In Neymar and Hulk, the hosts have two of the biggest game-changers in world football. Their squad has got a good balance of skill, speed and power.
Who would you say are the dark horses of the tournament?
I think Belgium, definitely. Have a look at their team. Almost all their players have been in superb form all season. All their attackers — (Eden) Hazard, (Kevin) Mirallas, (Romelu) Lukaku and (Christian) Benteke — have had a good season. Japan are also an effective unit with Shinji Kagawa and (Keisuke) Honda. And given that there is doubt over (Radamel) Falcao's fitness, they might just have the advantage over Colombia in Group C.
Do you think Lionel Messi will emulate Diego Maradona by guiding Argentina to glory?
I think so, yes! All the pressure will be on Brazil and this might help their neighbours to quietly go about their business. Messi did exceptionally well in the qualifiers, scoring some 10 goals and although he's had injury problems in the last few months, I'm sure he will be ready. For Argentina, whilst their attack is top-class with Messi running the show alongside (Angel) di Maria and (Sergio) Aguero, they will need the lesser-known names to step up.
Who is your favourite modern-day player and why?
Andres Iniesta! Why? Great vision, amazing technical skills and always trying to create something on the pitch. It's a delight to watch him play.
What is your favourite World Cup moment?
Iniesta's goal against The Netherlands in the 2010 final. Also other moments such as Ronaldinho's free-kick in 2002 against England, (Esteban) Cambiasso's team goal in 2006, Zizou's (Zindenine Zidane) penalty against Gianlugi Buffon in the 2006 final. Unbelievable!
Have you watched any World Cup matches live? If so, please share with us your experience...
No, mate.