Former heavyweight boxing champion David Hayes tells Taus Rizvi that he eats, breathes and sleeps boxing and loves to be in the limelight.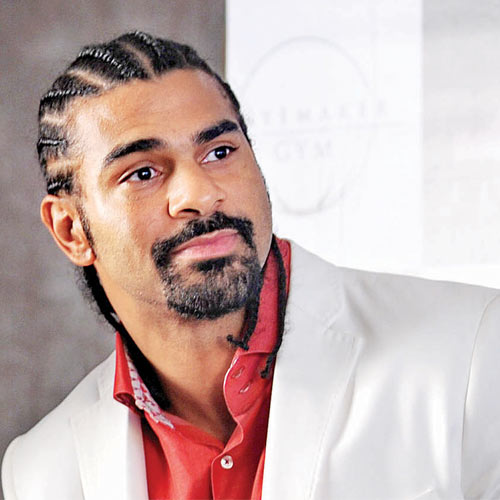 So David, how would you describe yourself?
I am someone who is a value for money, charmer, a great entertainer. Some body who brings drama to the ring, some type of entertainment and controversy.
Something that causes headlines. I am happy with what I am as I never wanted to be someone under the radar about whom no one really cared. They get excitement and entertainment because at the end of the day boxing is an entertainment business. It is the same how John (Abraham) markets himself to sells tickets for his movies in the same manner I have to market myself to sell tickets for my fights. I do a couple of fights a year.
How did you get into pro boxing?
I started at 10. I did martial arts — Karate at three with my father who was an instructor. I always enacted him. I loved Bruce Lee and would love to see Jackie Chan. These guys were my childhood idols, When I was 10, I got into boxing, something that I always wanted to do but was not allowed before. I used to watch Rocky movies that inspired me. I got inspired watching them and I wanted to be a heavyweight champ. Somehow I made my life time ambition a real one.
How tough is the life of a professional boxer?
Its really tough to be a pro boxer. It is gruelling, challenging, tiring but its all worthwhile. After the fight you realise about what you think for I am very pleased I have chosen boxing as a way to achieve my goals. I wanted to be the heavyweight champion after I became one, then I wanted to be the cruise weight champion than I became that. I am now looking to regain the championship for the third time.

You said you like entertaining people. Was the brawl in the press conference last year with your compatriot Dereck Chisora was part of entertainement?
It was an instant thing. Although boxers are a lot of self controlled but some times people push you at the wrong side. I have never fought in press conferences, but if someone has a history of slapping, spitting into peoples face and biting and if those people get to your face than you react sometimes. My reaction was a bit bold but later we did it properly in the boxing ring. I won the fight in five rounds even though the current champion couldn't knock him down but I was pleased with my performance.
You are a gentleman by nature but how do you transform yourself in the ring?
Its instinctive. My people around me, my friends and my family don't recognise me. My eyes change, turning into a destroyer and that of type of mentality.
When I am in the ring, I turn into a different person. You need to do that, you have to have a certain mindset. Once in the ring I switch to a different mode than I win the match.
What do you do after a bad fight?
It's a horrible experience. Hate the feeling of losing and whatever represents the failure. But you need to dust yourself and comeback stronger. Definitely you learn sometimes more from failures.
You retired at the age of 31 in 2011 before coming back?
I had set retirement at 31. I had won all the titles but prior to my retirement I lost my heavyweight title. I want to win back the heavyweight title and retire.

Is there a hatred for Klitschko brothers — Wladimir and Vitali?
I don't hate them. I won't send them Christmas cards. They have something that I want — titles, my obsession are titles.

What is next for you?
Hopefully a fight in September. We are talking to Tyson Fury at the moment.
Do you think is it a great idea to introduce professional boxing in Olympics?
It is a bad idea. I don't think so that should be done. It would be unfair to the amateur players who will be fighting professionals who have been there for decades.

Coming to the Boxing Gym concept. Whose idea it was?
John (Abraham) told me that he was planning to start a gym. I already had a Boxing Gym in Dubai so we thought why don't we start the same in Mumbai which will be different from other Gyms. A collaboration of JA Fitness and Haymaker super gym would be great.
Know Haye
Real name: David Haye
Nickname: The Hayemaker
Rated at: Heavyweight, Cruiserweight
Height: 6 ft 3 in
Nationality: British
Born: 13 October, 1980, London

Boxing record
Total fights: 28
Wins: 26

Wins by KO: 24
Losses: 2