16:28 IST Friday, 23 May 2014
Welcome to the live coverage of the Mumbai v/s Delhi match at Mumbai
Mumbai are 29/0 after 3.2 overs
Michael Hussey seems to be in good form for once
Mumbai won the toss and chose to bat
Four. Swivel pulled to the square leg boundary
Mumbai 36/0 after 4 overs
Siddharth Kaul starts with a wide
Four leg byes, Simmons missed the pull and there was a huge appeal, but it was four.
This time its flicked away for four through square leg for another boundary
Four more. It's Hussey this time, he cover drives beautifully for four
50 up in 4.5 overs
Four more, 54/0 after 5 overs
SIX! This is six, Hussey is down the track and lifts the bowler over long on for six.
Two off the next two balls
Mumbai 65/0 after 6 overs
Mumbai Indians have rocked the powerplay
Yesterday Dave was the man for #CSK and today Mike is trying to be the same for #MI. #mivsdd

— Shamanth Gowda (@shamant18) May 23, 2014
Biffed away to deep midwicket, he gets two
JP Duminy is the new bowler
Mumbai 71/0 after 7 overs
Imran Tahir, pitched it too short and was pulled away for four
Four more
Four, third boundary of the over
OUT! Simmons is out now, he went for another big shot, huge swing of the arms to a ball wide outside off, but sweeper cover took the catch.
Mumbai 87/1 after 8 overs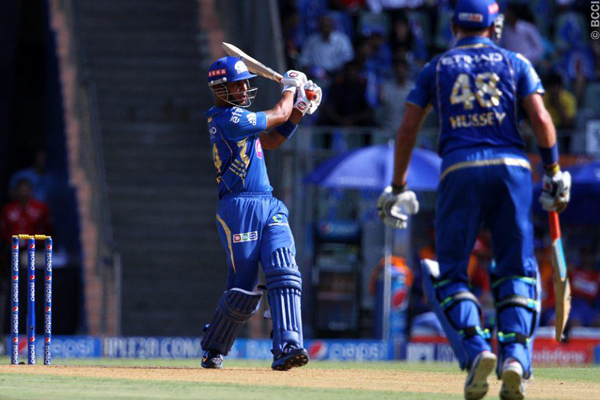 Rohit Sharma promotes himself up the order
3 runs off 5 balls, very sedate over so far
Only 3 runs off the over, Mumbai 90/1 after 9 overs
SIX! After three singles Hussey goes after Imran Tahir, and its six
Single off the last ball, MI 100/1 after 10 overs
You know he is a class player back in form when he hits a leg spinner for a six to the covers! #hussey #MIvsDD @PepsiIPL2014

— Akshay Naravane (@SeedheSaadhe) May 23, 2014
Four. Flat and wide outside off stump, and Rohit Sharma steers it away for four
Short and wide, slammed behind point for four
Mumbai 112/1 after 11 overs
Shahbaz Nadeem comes back, 1 run
Down the track, Sharma doesn't get to the pitch, but gets it over the cover fielder for four
Driven to wide long off for one
OUT! Hussey is out, that was very sharp second run and Hussey just failed to make it
Mumbai 120/2 after 12 overs
SIX! Kieron Pollard is not going to wait for long. One foot forward, mighty swing of the bat and six down the ground
This time he misses and they have to be content without a run
Single to end the over, this signals danger for the bowler coming in next! MI 130/2 after 13 overs
Nadeem to bowl his third over, this is really a weak Delhi attack
Just 6 off the over, MI 136/2 after 14 overs
#Pollard continues from where he left off. #Boom! #PepsiIPL #MI #MIvsDD

— Nolan Lucano D'souza (@nolandsouza) May 23, 2014
Jaidev Unadkat is back
Four. Banged in short and Rohit pulls that over midwicket for four with finesse
OUT! Gone. Backs away outside leg, looks to cut, the ball crashes into leg stump
Bowled! OUT! Pollard is out now, and Mumbai are experiencing a mini-collapse. Caught by the keeper.
Unadkat has got two big fish in one over
Four. Cover drive for four, what a start from Aditya Tare
Four. Last ball cover driven for four again
Mumbai 149/4 after 15 overs
OUT! Rayudu is out now and Mumbai have collapsed! Lofted to Murli Vijay at long off
Terrific over, just 4 off it, Mumbai 153/5 after 16 overs
Four. Too short, cut away for four
OUT! Tare goes now, he tries to slog-sweep, only holes out at deep midwicket
What a turnaround. But Mumbai's continuing callous approach is baffling.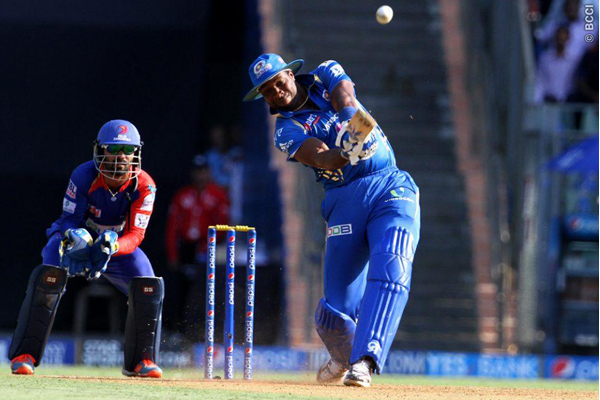 Mumbai 160/6 after 17 overs
OUT! Harbhajan lofts a length ball straight to long off
All of a sudden Mumbai have lost 4 wickets and are spoiling the brilliant job done by top 3 #MIvsDD #PepsiIPL

— Ankit Shukla (@Im_darklord) May 23, 2014
Four. Now a boundary, the routine continues. Shreyas Gopal cuts it away for four
Mumbai 167/7 after 18 overs
Imran Tahir to bowl his last over, he has been hammered as well as taken wickets - the story of the match!
OUT! Merchant de Lange is out, caught behind. That was a very poor shot, he tried to reverse sweep, the ball took the edge and the keeper caught it.
Dropped. Another one almost went down, the catch was dropped.
OUT! They could be all out after being 87/0 in 7.5 overs. Pragyan Ojha is run out for 2
Mumbai 171/9 after 19 overs
Jasprit Bumrah comes in, one run off 3 balls
OUT! Wide ball for height, but Gopal calls Bumrah for a single, and is run out
What a shambles for Mumbai...they just didn't seem to care too much.
Mumbai 173 all out, about 35 less than they would have expected after being 100 in 10 overs
Delhi have made a good start, 33/0 after 4 overs
Kevin Pietersen is on fire
Four. Edged and flies past slip for four
Delhi 43/0 after 5 overs
OUT! Murali Vijay is out, he's been stumped
Delhi 47/1 after 6 overs
Harbhajan Singh into the attack
Four. KP lofts Harbhajan over the off side for four
Delhi 54/1 after 7 overs
Dinesh Karthik sweeps hard and misses
Just 3 runs from the over, Delhi 57/1 after 8 overs
OUT! Pietersen is out, once again he gets a start and then falls, went for another reverse sweep, missed and was bowled.
Delhi 59/2 after 9 overs
Slapped away to deep midwicket for one
Marchant de Lange comes back. Delhi are beginning to struggle
OUT! Bowled. Karthik is out now, Delhi continue to sink. He moved across his stumps and was bowled.
So unnecessary from KP! Why why why!!!!!!!! #IPL7 #PepsiIPL #MIvsDD

— Inshal Ali (@Inshal07) May 23, 2014
JP Duminy is in.
Delhi 62/3 after 10 overs
The asking rate has climbed to 11.20 runs per over
Four, paddled past the keeper off the last ball of the over
DD 69/3 after 11 overs
Shreyas Gopal to bowl
Four
SIX! What a shot from Duminy, he slams that way over long on for six
Delhi 82/3 after 12 overs
Four. Full toss on the pads, flicked away for four through the square leg boundary
Three singles of the next 3 balls
Delhi 91/3 after 13 overs
Ojha to Tiwary, SIX! Tiwary is down the track, leaps out and smashes that for six over long off
WIDE ball
Decent over for Delhi, 10 runs off it, 101/3 after 14 overs
They need 72 off 36 balls
Kieron Pollard comes in to bowl....at the wrong time
Ojha has sleepless night whenever he fails to offer sixes in his four overs. #MIvsDD

— Abhishek Rajput (@Abhishek_Rt) May 23, 2014
Pollard has a record of conceding runs this IPL, when Mumbai need it the least
But he's bowled a very good over so far, 3 from it
Just 4 off the over, increases the pressure on Daredevils. 105/3 after 15 overs
SIX! Down on one knee and JP Duminy blasts it over cow corner for six
Delhi 116/3 after 16 overs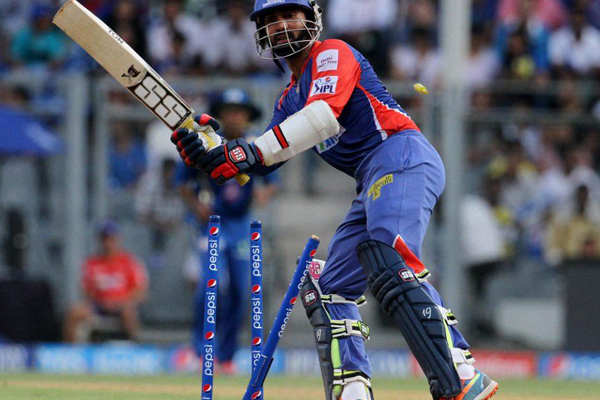 Four. Tiwary hits Harbhajan Singh for four. This over is very crucial for the double Ds.
Pulled to deep square leg for one
SIX! Six off the last ball from JP Duminy, relieves the pressure immensely.
Delhi 130/3 after 17 overs
44 needed off 18 balls
Duminy is a kind of player who can change the game in an over. #DilseMI #MivsDD

— Abhishek Rajput (@Abhishek_Rt) May 23, 2014
Jasprit Bumrah to bowl, Tiwary slogs and cannot connect
1 run
SIX! Duminy goes for a slog again and gets six again
Low full toss, biffed down to long on for one
Can Delhi break their jinx here?
Four. This time its Tiwary
DD 142/3 after 18 overs
32 needed off 2 overs
OUT...Bt its a NO BALL. Very, very high full toss, Duminy slams it hard straight into the hands of deep midwicket
Short ball from Marchant de Lange, Tiwary pulls it to deep midwicket for one
OUT! Tiwary is out now, this is a really crucial over. Good length ball, Tiwary gives room but plays a nothing shot. Gets it high on the bat and the fielder at cover takes it
Delhi 149/4 after 19 overs, 25 needed off the final over
Just a single, Duminy can't get more
Yorker length ball, all Kedar Jadhav can do is dig it out to long on, 23 off 4
4 sixes needed now, if there is no no-ball
Another low full toss, biffed hard by Duminy but straight to long off, Mumbai have almost won
Four. Boundary from Jadhav, a little too late in the day, 18 needed off 2 now
Just a single, last ball coming up
Jasprit Bumrah has bowled a great last over
A single off the last ball, Mumbai win by 15 runs
Its not only Slinga but Bumrah and Lange too can bowl yorkers in death overs..Good show #MI #MIvsDD #PepsiIPL2014 @mipaltan @IPL

— Niraag® S (@niraag69) May 23, 2014