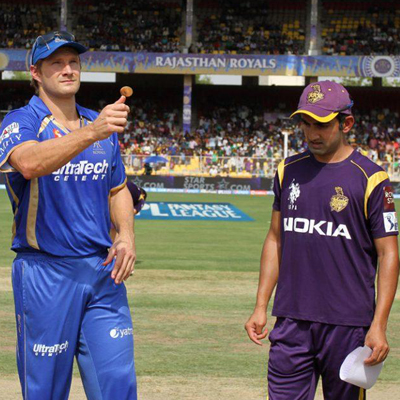 Rajasthan are 52/1 after 6.3 overs
Ajinkya Rahane is run out for 30 off 22 balls
Karun Nair is on 20 off 17 balls
Sanju Samson is the next man in
Rajasthan 58/1 after 7 overs
Shakib al Hasan to bowl
Single off the first ball
Just 5 off the over, Rajasthan 63/1 after 8 overs
No one seems capable of taking wickets in kkr rank except Narine #KKRvsRR

— Abdul Ahad Siddique (@rippling_joy) May 5, 2014
Sanju Samson slices a length delivery over point for four
Good comeback, slowe delivery outside off beats Samson's edge
RR 71/1 after 9 overs
Two singles off the first two balls
5 runs off the over, RR 76/1 after 10 overs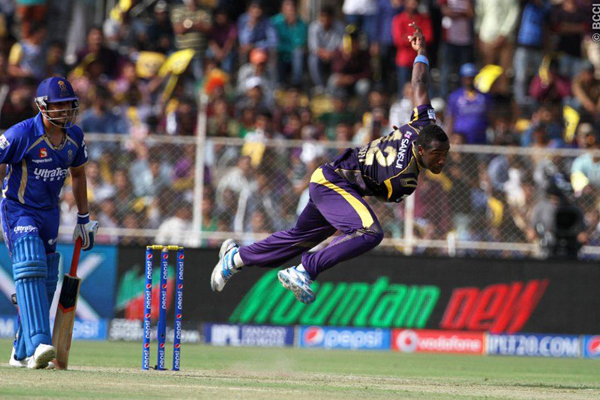 Ryan ten Doeschate to bowl
After 11 overs RR are 81/1
It's time to accelerate, surely.
Umesh Yadav comes in
Karun Nair needs to get going
SIX! Karun Nair finally goes big, he clears square leg and it is six
Rajasthan 92/1 after 12 overs
Sanju Samson is also struggling. It would be a good idea to get out and get Watson in.
Four. Poor delivery, down the leg side and Nair just flicks it away
RR 101/1 after 13 overs
Shakib Al Hasan bowls, and Rajasthan continue to struggle for runs
OUT! Karun Nair advances down the track and gets stumped.
This might actually be good for Rajasthan
Sunil Narine is back. Masterstroke by KKR
Still doing it in singles
#IPL2014 #KKRvsRR narine to Watson... Should be good!

— Jonathan Green (@worldboss336) May 5, 2014
Four. Samson gets an outside edge which runs away for four
Rajasthan 116/2 after 15 overs
Vinay Kumar comes in to bowl
SIX. Gift to Watson, clubbed over long off.
Four. Low full toss outside off gets hammered through the off side for four.
SIX. Another gift, full delivery outside off, slammed for six
Rajasthan 135/2 after 16 overs
OUT! Narine has taken Samson, he went for the pull but got the top edge and deep midwicket took the catch
Stuart Binny comes in
Narine comes back and gives away just 4 off the next over.
Four. Murdered down the ground, Stuart Binny nearly got killed. Change of bowler and Watson is back to his brutal ways.
1 run off a high full toss which gets called a no ball, its so high that even Watson can barely get to it
What happened there? Andre Russell ran in, then halted behind the umpire. Watson nearly pulled out of the shot and then Russell bowled. Watson is protesting with the umpire.
Now Watson gets a thick outside edge which lands in front of third man for a couple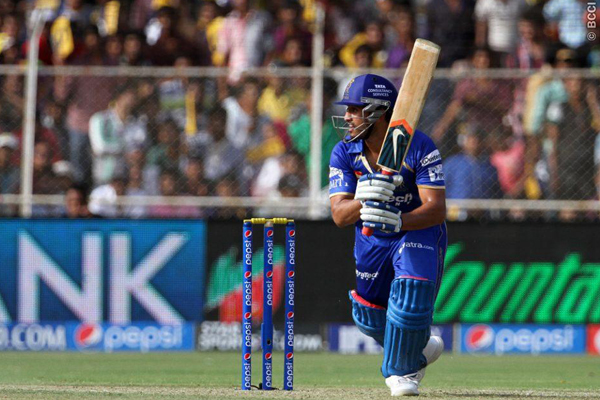 11 runs off the over, Rajasthan 150/3 after 18 overs
They will be looking to score at least 30 off the last 2 overs
That's the smartest piece of gamesmanship I've seen on the cricket field. (Andre Russell to Shane Watson) #KKRvsRR

— Nikhil Naz (@NikhilNaz) May 5, 2014
OUT! Watson is out, the ball spun away from Watson, who went for the big shot over long on. He got a top edge, and long on took a superb catch on one leg
RR 153/4
Narine is the man again.
SIX! Stuart Binny is not going to hold back though. He comes down the track and swings hard, the ball flies over the midwicket boundary
RR 159/4 after 19 overs
Vinay Kumar will bowl the last over...this could be a treat for Rajasthan
Four runs off the first two balls
OUT! Steve Smith is out, he tries to go over the on side and fins mid wicket
OUT! What a catch on the bounday. That was almost like Chris Lynn's catch all over again, now Binny tries to go big and is caught superbly on the long on boundary
Vinay Kumar has been seriously lucky
1 run
SIX! Six to end the innings, the batsman swings Vinay hard over square leg, there was not a single yorker in that over and Kumar was going to pray the price at some point
Rajasthan 170/6 after 20 overs
They will be disappointed with this score after such a good start, but its still competitive
Utthappa is looking in great touch, two boundaries so far
KKR 13/0 after 2 overs
Watson strays down leg side and Utthappa whips him for four through square leg
Edged for four more through the off side
No run, he tries the drive again but finds the fielder
Single off the last ball, Robin keeps strike, 23/0 after 3 overs
Down the track and four more, Utthappa continues to assault the Rajasthan bowling
KKR 31/0 after 4 overs
Four. Gambhir slams James Faulkner over midwicket for four
KKR 39/0 after 5 overs
what a brilliant start my Uthappa #KKRvsRR .... #BelieveKKR

— Sportsizikovic (@iRishiDutta) May 5, 2014
Tim Southee comes into the attack
Utthappa charges down the pitch but finds the man at midwicket
Half volley on middle stump, Gambhir lifts it over mid on for four
Four more. Now over the off side, similar delivery, slightly fuller and Gambhir clears mid off
Yorker length outside off stump, Gambhir picks the gap between point and third man and they get two
KKR 50/0 after 6 overs
Rajat Bhatia into the attack
SIX! Slower delivery, clobbered over mid wicket for six by Utthappa
KKR 61/0 after 7 overs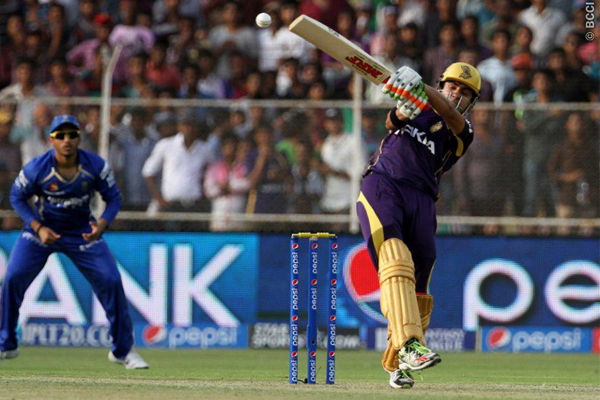 What is it with Kolkata and sensational catches?? Lynn, Suryakumar Yadav, and Now Ryan ten Doeschate! #IPL7 #KXIPvsRR

— Nek Muhammad (@Nek_Muhammad) May 5, 2014
KKR 66/0 after 8 overs. A somewhat quiet over after all that mayhem
Time for the strategic timeout
Gambhir goes inside out over point, gets it just over the point fielder for two
Four. Boundary to end the over, KKR 75/0 after 9 overs
KKR 80/0 after 10 overs
Rahul Tewatia comes back
He has been launched into the stands for SIX by Robin Utthappa
Utthappa has reached his fifty
Four, swung over square leg for four
KKR 93/0 after 11 overs
Classy Uthappa n Aggressive @GautamGambhir at their best #KKR all the way #KKRvsRR

— Purnesh Chudasama (@iPurnesh) May 5, 2014
Tambe comes back for his third over
Robin down the track and gets a single to midwicket
Bad ball outside leg stump, Gambhir sweeps but can't beat square leg, he should be disappointed
KKR 98/0 after 12 overs
100 up for KKR in the 13th over
SIX! Gautam Gambhir goes high over midwicket, that went a good 100 metres I think....
Gambhir on 49, gets a leg bye
Short ball on middle stump, Utthappa backs away and smashes it straight down the ground off the backfoot, six more.
KKR 114/0 after 13 overs
Four. What a shot from Gambhir, swings across the line, gets four through square leg, and its his fifty from 32 balls. What an innings. He had scored 1 run in 4 innings at the start of the IPL.
KKR 121/0 after 14 overs
OUT! Gambhir is out, he got a thick outside edge to the keeper
Chaos...Andre Russell is the new batsman. Watson yorks him, he manages to keep it out, then turns around and tries to stop the ball from going onto the stumps. Utthappa meanwhile is halfway down the pitch, or more. Andre finally sees him and sends him back, the bowler throws but misses, and they get a single anyway.
OUT! Utthappa is out now, he tried to go big over deep square leg but failed.
The game is suddenly in the balance
OUT! Slow ball from Watson, short as well, Andre tries to block it but misses and is bowled
KKR were 121/0 and now they are 122/3
KKR 122/3 after 15 overs
OUT! What is happening here! Manish Pandey comes down the track, the ball is outside leg stump and he's way out of his crease, gets stumped easily
Time for the timeout
OUT! Five down now, Yusuf Pathan is down the track, he chips it straight back to the bowler who takes a good catch.
just goes to show that anything can happen in T20 Cricket #KKRvsRR #PepsiIPL

— Mansa (@Mani_280) May 5, 2014
OUT! Another one goes down, KKR are suddenly losing the match in a hurry. LBW
Its all up to Shakib Al Hasan now
KKR 126/6 after 16 overs
It's still possible, 44 off 23. But momentum is with Rajasthan now.
Single down to long on
Swing and a miss, KKR get just 6 off that over. 132/6 after 17 overs
38 needed off 17 balls...KKR need a few big hits now.
Southee around the wicket now, slower ball but its outside leg and called wide
Down the track comes SA Yadav, he swings and misses
Now he goes for a sweep and misses, there was an appeal for LBW but turned down
SIX. Southee bowls on a good length outside off, Shakib goes hard and straight down the ground, into the sightscreen.
Big relief for KKR, that six
Short ball, too wide outside leg. Southee has lost his line here
Four. In the slot, KKR are coming back, Shakib goes over mid off with success. What a shot.
25 needed off 13. What a match.
Dropped. Shakib went hard and mid off dropped a tough chance
KKR 147/6 after 18 overs
Your own people help you in bad times, Shakibul Hassan fighting for his nation, Bengal! #KKRvsRR

— Cover Drive™® (@ItzIshfaq34) May 5, 2014
23 needed off 11, Yadav smashes it to long on for one
Short ball, Shakib tries to get all of it as he pulls, but can only manage a single to long leg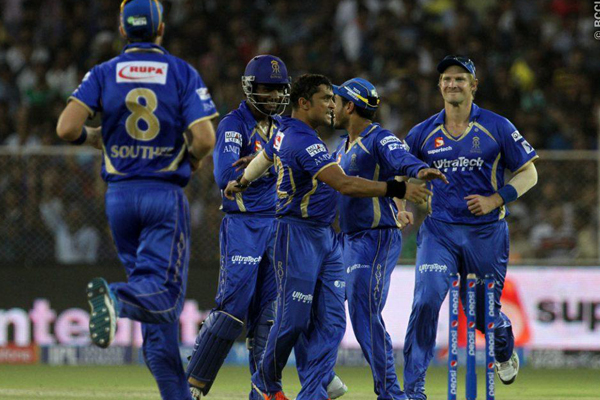 Great over so far, just 4 from 4 balls
No ball called, and they also get a single. Free hit as he oversteps
SA Yadav tries to scoop over the on side but can't, gets a single off the free hit
KKR 154/6 after 19 overs
17 needed off the last over, Watson to bowl. I cannot bet on a KKR win here.
No ball, also wide outside leg, free hit signalled.
Down the track, yorks himself and they get a single
Swing and a miss, The ball was fired into leg stump, Shakib swung and missed and they could only manage a single
Short ball, Yadav goes on his knees, the ball sails over him and he's shocked that its not called a wide
Low full toss, biffed hard to long on
Another yorker-length ball, Shakib can only dig it out for a single, game almost over
12 off 1 ball
Single to end the innings, KKR have lost a nearly unloseable game, courtesy 6 wickets in 8 balls.
KKR 160/6 after 20 overs