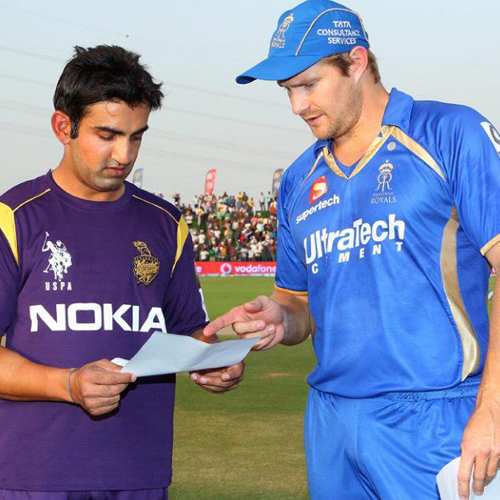 Venue: Abu Dhabi
Start time: 8 pm IST
The main worry for Kolkata Knight Riders going into this match is the form of captain Gautam Gambhir. Gambhir has scores of 0, 0, 0 and 1 this season so far, and has struggled to get bat on ball. Gambhir tried dropping down to No. 3 in the last game to revive his form, but the ploy did not work out.
However, Kolkata may not drop Gammbhir yet, given that the alternatives - Manvinder Bisla and Debabrata Das - are not considered anywhere close to his league.
The other problem for KKR is the terrible form of Yusuf Pathan. Pathan, who was bought for a hefty sum by KKR last year, failed to ignite the stands then and is continuing that poor run in this year's IPL.
For KKR, the only silver lining is that they have won two out of their four games despite Gambhir and Pathan, as their bowlers have backed up decent performances from the other batsmen. Sunil Narine in particular has been his usual impressive self.
Rajasthan Royals have less to worry about - just on Saturday, they rolled over the powerful Bangalore side for 70. Though RR too have two wins and two losses, their bowling unit seems to have come together finally. Tim Southee and Kane Richardson have complemented the Indians - Rajat Bhatia and Pravin Tambe.
Shane Watson seems to be getting into good IPL form of late, and Robin Utthappa has one big innings under his belt.
KKR lead 6-5 against the Royals in the IPL.
With teams batting second doing extremely badly at Abu Dhabi in general, the team winning the toss will look to bat first.
19:37 IST Tuesday, 29 April 2014
It's almost time for the toss
Rajasthan win the toss and Watson says they will bat first. A sound decision.
Yusuf Pathan is not playing today
Chris Lynn is out of the KKR squad as well, but this Twitter user is not missing him for his fielding:
#Lynn out of @KKRiders squad Thats not a good thing He deserve one more go He has scored more than GG #KKRVSRR #PEPSIIPL

— USK (@UsUsk) April 29, 2014
Ajinkya Rahane on strike, Nair at the other end. Vinay Kumar will bowl.
Rahane drives Vinay for four off the second ball of the innings.
Rajasthan 7/0 after 1 over
Morne Morkel comes on to bowl
3 runs and a wide off the first two...err..one ball
Teams:
Rajasthan Royals- A. Rahane, K. Nair, S. Samson (wk), S. Watson (c), S. Binny, S. Smith, R. Bhatia, J Faulker, K. Richardson, P. Tambe, I. Abdullah
Kolkata Knight Riders- G. Gambhir (c), M. Bisla (wk), J. Kallis, M. Pandey, S. Hasan, R. Uthappa, S. Yadav, R. Vinay Kumar, S. Narine, M. Morkel, P. Chawla

Rahane to take strike, Nair at the other end, Vinay Kumar to bowl
Morkel to bowl the second over
Good pacy stuff from this tall and lanky bowler
Rahane has an average of 41 against fast bowlers, while it dips to 23.60 when he faces spinners
RR 13/0 (2) Rahane 10*- Nair 1*
OUT, BOWLED ! Length bowl from Vinay Kumar as it darts onto the stumps, Nair dances down the track to play an unconventional heave, misses and gets out for 1
Sanju Samson is the new batsman
Good over from Kumar, just two runs and a wicket
Morkel to continue
FOUR, Back of a length from Morkel, gets an edge of Rahane's bats and flies towards the third boundary for four, Rahane never looked in control of that shot, four anyways
FOUR, This time Rahane get the runs where he wanted, width offered outside off, Rahane leans back and cracks it towards the backward point boundary
RR 23/1 (4) Rahane 19*- Samson 1*
Sunil Narine straightaway is introduced
Carrom Ball ! First up delivery and Narine deceives the batsman, Samson gets a faint edge towards covers as he tried to flick that one
Economical as usual for Narine, just two runs
Morkel into his third over
Morkel's bowling average against rigth handed batsmen is 21.52 and against left-handers in jumps up to 37.45 (since 2011 IPL), He is better off bowling to right handers
FOUR, not here though, as straight as you like from Samson, fullish from Morkel, Samson cracks it down the ground
FOUR, MORKEL GIFTING RUNS ! Full onto pads, Samson leans and glides it past the fine leg boundary
FOUR ! Morkel tries shorter one this time, Samson looks to pull, gets a top edge, ball flies over wicket-keeper for four
FOUR, SAMSON TAKING ON MORKEL HERE ! clean hit, Morkel strays on the pads and Samson timed his flick shot very well
20 runs from the over ! Expensive
RR 45/1 (6) Rahane 21*- Samson 18* Run-rate 7.50
Field restrictions over now
Shakib Al Hasan into the attack now
Shakib slides this one, inside edge onto the pads, no run
Four runs from the over
Samson's strike-rate against right-arm spinners is just 76.59, he finds it tough against them, Narine and Piyush Chawla will be pleased to know this
Veteran Kallis comes to bowl now
Fuller on stumps, Samson defends and take a quick single, 50 up for Rajasthan in 7.2 overs
Kallis giving only four runs, so after that Morkel over which went for 20 runs, KKR making a good come back in the next-two overs, giving just 4 runs each in both of them
Shakib continues
OUT, UNFORTUNATE ! it was ball onto the pads from Shakib, Samson goes back to play on the leg side, misses, ball hits his pads and rolls away to kiss the leg stump (Samson gone for 20 runs)
STRATEGIC TIME OUT
Rajasthan skipper Shane Watson comes at no. 4
so another excellent over from Shakib, 4 runs and a wicket
Last three overs only 12 runs scored, no boundaries conceeded and a wicket taken, good comeback from the KKR
Bowling change, Piyush Chawla to bowl now
FOUR, WELCOME ! floated on leg stumps, Rahane sits and sweeps it elegantly towards the deep-square leg boudary
googly from Chawla, spins in, Rahane doesn't get it
At half-way stage RR 63/2 (10) Rahane 34*- Watson 3* Run-rate 6.30
FOUR, SMASHED OVER THE BOWLER'S HEAD ! flighted from Shakib, Watson comes down and hits it straight for four
FOUR, CLASSY ! floated up around off from Shakib, Rahane plays it inside out over the covers for four
RR 84/2 (13) Rahane 43*- Watson 12*
14wickets taken by Piyush Chawla against Rajasthan are the second highest in IPL, Amit Mishra of Sunrisers Hyderabad has taken 24 wickets
FOUR, Watson is playing some beautiful shots here, picked up this length delivery from Chawla and slogs it over mid-wicket for four
FOUR, SWEET AS YOU LIKE ! tossed up from Chawla, Watson drives and drives it amazingly towards the covers
FOUR MORE, quicker one from Chawl,a Watson rocks back to cut, but gets an inside edge for four
Narine comes back
FOUR, Watson completes his 2000 runs for Rajasthan by powering this over the covers
50 run stand comes up
Vinay Kumar brought back into the bowling
SIX, MISTIMES BUT ENOUGH FOR MAXIMUM ! Short from Kumar, Rahane mistimes it but the ball just crosses over the rope for six, Rahane gets to his 50
OUT, RUN-OUT ! Watson pummels the low full toss towards the sweeper cover and runs back for a second, however, he is marginally short of crease, Watson departs at a time when he was looking to go big tonight, Out for 33
RR 118/3 (16) Rahane 59*- Binny 0*
Rajasthan's average score in 15 overs is 112/4 , they were 106/2 today
FOUR, that has been drilled towards sqaure of the off-side for four from Rahane
Rahane tries to reverse sweep, beaten by spin, no run
Morkel now
OUT, Binny facing the first ball, tries to cut a short and widish delivery from Morkel, gets a faint edge to the keeper
Stuart Binny has now 2 first-ball ducks in the IPL
Steven Smith strolls out to the centre
Narine's economy rate at the death from 17-20 overs in this year's IPL has been 2.60, he continues to be a mystery
Narine into his last over
No Rajasthan batsman has hit Narine for a six yet in the IPL
FOUR, Smith trying to swing the carrom ball, gets an edge past towards third man for four, all this will count, Narine is frustrated
This has been Narine's most expensive spell this season 4-0-28-0
Last over, Vinay Kumar to bowl
OUT, Rahane clears the front leg and tries to smash it over the long-on, doesn't connects it well and holes out at long-on, great innings comes to an end, though he consumed many deliveries but his effort was valiant, helped his team in holding the innings from one end
FOUR, NICELY DONE ! Smith walks outside off and times it well towards the long-leg boundary
End of the innings Rajasthan Royals 152/5 in 20 overs (Rahane 72- Vinay Kumar 2/30)
Watson's dismissal robbed off Rajasthan from a big score, Rajasthan kept their cool and had a few good partnership, the best thing for them was Rahane was there from the start till the end, he got out in the last over, so that really propelled Rajasthan to a decent score of above 150. Morkel was very expensive, gave away at 10 runs per over, surprisngly, Rajasthan saw off Sunil Narine very well without giving him any wicket and also socring at just above 6 runs per over on him.
With the KKR batting not clicking, 152 is a very competitve socre on this pitch.
Will Gambhir finally get a start today, Rajasthan would love to see him go back very early
Chase begins in few minutes
Both the teams are out
Gambhir to open the innings with Bisla, Stuart Binny will bowl the first over
Gambhir last three matches score 1, 0, 0
That's a relief for Gambhir, he gets off the mark with the first ball, as he glides down the ball to the third man
Three runs, short, Gambhir pulls but not really well,
Kane Richardson to bowl the second over
FOUR, CRACKING ! outside off, Gambhir places this between the cover and the point fielder, his first boundary in this IPL
KKR 14/0 (2) Bisla 2*- Gambhir 10*
The birthday boy, James Faulker comes to bowl, will it be his night?
Starts up with a wide down the leg side
FOUR, THUMPED ! short ball from Faulker, Gambhir picks it up and pulls this one over square leg for four, good positive batting from KKR captain
Huge shout for LBW, Gambhir survives there, Length on middle, Gambhir comes forward to defend, hits his pad, loud appeal from Rajasthan but the umpire says no, Gambhir must have felt his heart in the mouth
OUT, THERE'S THE FIRST WICKET ! slightly outside off from Richardson, Bisla seeing the room tires to cuts, ball nips back away and only finds an edge from Bisla's bat towards the first slip
Kallis is the new batsman
Good bowl, pitched up outside off, Kallis looking for the drive, gets beaten
Just one run from this over and a wicket
KKR 21/1 (4) Gambhir 15*- Kallis 0* Required rate 8.25 runs per over
Gambhir must have felt his heart in the mouth
On 6 ocassions KKR have successfully chased down a 150+ score
While, Rajasthan have won 20 out of 25 games when defending a 150+ score, so we have an exciting match on our hands
Rajasthan liek KKR also opting for spin in the fourth over
Iqbal Abdullah to bowl now
FOUR, Gambhir is starting to find some form now, flighted delivery, Gambhir sits down and hammers it past between sqaure leg and fine leg
Kallis 1st innings batting average 23.16, his 2nd innings batting average is 31.31 (since 2011 IPL), so he prefers chasing down the totals, ideal situation for him to score now
Watson comes to bowl
OUT, BUT NOT-OUT, DRAMA HERE ! Back of a length outside off, Kallis looks to cut, gets a faint edge and is given out, umpires are chekcing for a no ball, and OH, Watson has over-stepped it here, Kallis survives, Watson is dismay- NO- BALL, FREE HIT
Full outisde off, Kallis thorws his bat, gets a thick edge towards third man for a single
KKR 33/1 (6) Gambhir 24*- Kallis 2* Required rate 8.57
Rajat Bhatia has been given the ball to break this partnership, he can you know with those killer slower deliveries, that's been lethal
Kallis sweeps, it went high in the air, just short of Faulker at deep square leg, 2 runs
Slower one, beats Gambhir who tries to dab it towards third man, Bisla does the quick work in removing bails, Gambhir was in
Watson continues
WAS THERE AN EDGE??? wide outside off, Kallis sways his bat, misses, there was a sound as ball went past the bat, however no appeal from the bowler or wicketkeeper
FOUR, wrong line and punished, fullish on pads, Kallis tickles away to the fine leg boundary
Time for some leg break, Pravin Tambe brought into the attack
OUT, BREAKTHROUGH ! tossed up delivery, Kallis looking to play against the spin, he gets a top edge, ball stays miles above before coming down into the hands of Steven SMith, who had to cover a good distance to take that catch. Kallis finally departs for 13 after having a few scares and early survivals. Bowling change has given Rajasthan the wicket
STRATEGIC TIME OUT !
Manish Pandey walks out to bat
Bhatia bowls
FOUR, FABULOUS ! It was full on off, Gambhir makes some room and lofts it over the covers for for four
KKR 59/2 (10) Gambhir 36*- Pandey 3*
At similiar stage RR were 63/2
94 runs required off 60 balls
Bhatia's balls per boundary rate is 9.40, the best ratio among all medium fast bowlers (minimum qualification 200 balls, since 200 IPL)
Gambhir slowly proressing his innings
KKR have hit just 4 fours till now, no sixes , 43 per cent of the total deliveries have been dot balls
SIX, Manish Pandey gets a biggie, charges out and hammrs it over midwicket
FOUR, quicker one, Pandey hits that one for four towards midwicket
Flurry of runs
OUT-LBW, Tambe has the final say, flatter from him, skids on and hits Pandey in front of middle and leg stump (gone for 19)
KKR 85/3 (13) Gambhir 44*- Yadav 0*
KKR require 68 from 42 balls at 9.71 rpo, they need Gambhir to stick around till the end to win this one
OUT, BHATIA GETS THE BIG FISH ! cutter from Bhatia, Gambhir tries to sweep it towards square leg, gets a top edge, Iqbal Abdullah takes an easy catch at deep sqaure leg
Bhatia gets another wicket on his slower delivery, so many times he has taken wickets on his slower one, his most lethal delivery now
Gambhir's gone, KKR tottering
Shakib Al Hasan is the new batsman, he has done so many times for Bangladesh, can he repeat his feat for KKR?
End of 15 overs 101/4 (Shakib 5*- Yadav 8*)
KKR require 52 from 30 balls
Tambe to bowl the last over of his spell
FOUR, angled down the pads, Yadav bends on his knee and sweeps it over short fine leg
Tambe spell tonight 4-0-31-2
Yadav's strike-rate in this edition's IPL has been 184 (excluding this game)
TIME OUT
Watson comes back into the attack
NO-BALL, Watson has over-stepped again
FREE HIT COMING UP !
Facing the free hit will be Yadav
He gets just a single, good yorker from Watson
SIX, Picked from outside off and punished towards the sqaure leg, this is Suryakumar Yadav
FOUR, full outside off from Watson, Yadav tries to swing hard at this one, gets a thick edge, ball races towards the third man boundary, Watson is upset
15 runs from the over, a big one for KKR at this stage
KKR 126/4 (17) Yadav 29*- Shakib 8*
27 required from 18 balls
Kane Richardson comes back, 2 overs- 6 runs and a wicket for him, Rajasthan needs same performance from him now
FOUR, fine leg up in the circle, Shakib pulls this one to fine leg boundary
FOUR, ANOTHER ONE ! Shakib gets deep inside his crease and whacks it towards mid-wicket boundary, no chance for long-on fielder to stop that one
KKR on a roll
11 runs from the over
KKR 137/4 (18) Yadav 31*- Shakib 17*
16 reuqired from 12 balls
Faulker to bowl the penultimate over
OUT, full bowl, Yadav skies this one towards Smith at long on, he socred a valuable 31 off 19 balls.
This game is not over yet
Uthappa comes in
OUT, BOWLED ! Faulker has bowled Uthappa around his legs, Uthappa walks across looking to flick, misses and ball cannons into the leg stump. BIRTHDAY BOY IS ON FIRE !
OUT, ANOTHER ONE BITES THE DUST, It sure is the best birthday for Faulker, slower one and Vinay Kumar tries to swing this one and misses
TWO IN TWO- FAULKER ON A HAT-TRICK !
Piyush Chawla to face the music
OHH, Faulker misses his hat-trick by a whisker, fullish delivery on middle, Chawla tries to flick, misses, balls just goes on top of the stumps
What a time to bowl this type of an over 4 runs and 3 wickets
KKR need 12 from last over
Richardson to ball, Shakib to face
FOUR, poor bowling, full toss and Shakib smears it towards the covers
8 from 5 now
RUN-OUT, big wicket, unnecessary from Chawla, to call for a second run, Smith from long on throws the ball to the keeper, Chawla was far away from the crease
Narine is the new batsman
Last ball coming up, 3 required, Shakib on-strike, can he do it? or can we have a super-over?
2 runs and it's a tie, and we are heading for the super over, full delivery Shakib drags down the ground and gets two runs,
KKR 152/8 in 20 overs
AND WE HAVE THE FIRST SUPER OVER OF THE IPL 7
As, the tournament was making an exit from UAE, this is the best thing crowd could have asked for
A super-over in Abu Dhabi
KKR needed 16 from 12 what an over from Faulker, 3 wickets and four runs, the match kept on swinging both the ways, but Faulker gave the best over of the tournament and the crucial juncture
KKR and RR have been involved in super over before, Pathan who was playing for RR had sealed it then
KKR will play first
Suryakumar Yadav comes with Shakib Hasan, Faulker will bowl the super over
Can the birthday boy do it again?
RUN-OUT and we have a first wicket in the super-over, as Yadav is out
DRAMA , MORE DRAMA !
Pandey comes
KKR are going no-where in this super over, 3 runs in 3 balls
SIX, THERE SHE GOES ! Pandey has conencted this one, comes forward and slams it over long on, he is charged up
Good yorker from Faulker
RUN-OUT in the last ball, though they managed to sneak in 1 run
so KKR making 11 runs in the eliminater over
Rajasthan require 12 to win, the same score KKR required to win in the last over of their innings
Sunil Narine will bowl the super-over, Warson and Smith come out
Narine to Watson 1 run
Narine to Smith 2 runs
Narine to Smith 1 run
FOUR, Watson gets this one, slogged towards deep midwicket
Narine to Watson 1 run
3 require off the last ball, same equation
Narine to Smith 2 runs
RR wins this if they tie the score as they have more boundaries,
Another tie- it's a tie in a super-over, I haven't seen anything sort of this ever
However, Rajasthan Royals wins on the boundary counts, RR had 19 while KKR had 15 boundaries
What a game of cricket, we just witnessed here in Abu Dhabi tonight, this is Pepsi IPL. They were effectively two ties today, one after 20th over and other after the super over, as both the teams refuse to die, but they had to be separated and by the number of boundaries at the end.
It's been a LONG and entertaining night in Abu Dhbai, probably this couldn't have been the best way to say thanks and good-bye to Abu Dhabi and UAE, in the penultimate game in UAE leg of IPL. It was worth watching.
Rahane earlier guided RR past 150 with Watson supproting him really well, and then Gambhir while chasing finally clicked, however got out at the wrong time, but blizzards from Yadav and Shakib in the end took KKR closer to victory, BUT, the birthday boy Faulkler with his magical over got RR back into the game, before heading it for a tie in the last over.
James Faulker is the Man of the Match
Final Score: Rajasthan Royals (152/5 Rahane 72- Vinay Kumar 2/30) tied with Kolkata Knight Riders (152/8 Gambhir 45- Faulker 3/11) Rajasthan won the one-over eliminator on boundary count
Thanks for joining us for an entertaining night, this is Uzair Hasan Rizvi, have a good night!