Delhi Daredevils win the toss and will bat first
Q de Kock hits straight to Gambhir at mid on and is out
Full and driven away by Murali Vijay for four
Delhi 18/1 after 3 overs
Shakib Al Hasan just concedes 2 runs off the next over
Delhi 20/1 after 4 overs
Sunil Narine comes in early to bowl
Four. Spots the doosra Pietersen, and goes inside out over cover for four
Delhi 26/1 after 5 overs
OUT! Pietersen is out now, this is silly! He pushed the ball to cover and ran like a madman, there was no run there and the fielder just threw to the keeper who flicked off the bails, Pietersen didn't even look back
Dinesh Karthik is in, he will now partner Murali Vijay
Delhi 29/2 after 6 overs
Umesh Yadav continues
Why KP why?! That wasn't a run! #DDvskKR

— Anshika Agarwal (@anshika_06) May 7, 2014
Four. Kisses the glove and runs down to fine leg for four
Delhi 39/2 after 7 overs
Vinay Kumar comes in to bowl
SIX! Down the track and chipped over the umpire's head for six
Four, four of the last ball and Delhi are 53/2 after 8 overs
14 off that over
Jacques Kallis comes back into the attack
OUT! Vijay throws it away, length ball outside off, he tries to go big over long on and holes out on the long off boundary
Delhi 61/3 after 9 overs
Delhi 66/3 after 10 overs
SIX! Karthik won't hold back, he scoops Kallis over the fine leg boundary for six
Four. Slower ball, taken from wide outside off and whacked to the square leg boundary
Another slower ball outside off stump, smacked for four through point
Delhi 82/3 after 11 overs
OUT! Karthik looks to smack the ball to deep backward square leg and ends up hitting it to short leg
Delhi 85/4 after 12 overs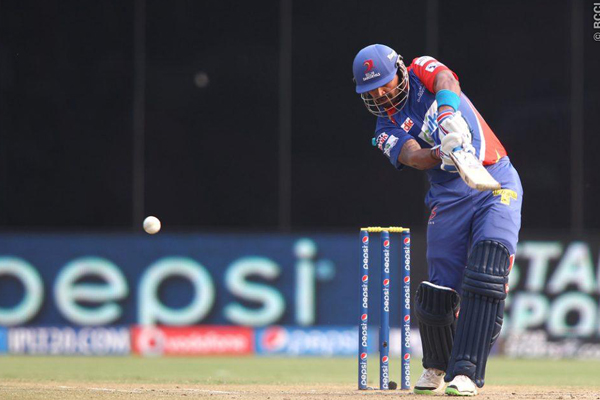 Umesh Yadav comes back
Wickets given away! Gotta hate 'em. I hope bowlers do good job. They should penetrate the batting line up. #DDvsKKR

— Anjaneya (@anjaneya0809) May 7, 2014
He had bowled a good over for five balls, then Laxmi Ratan Shukla smacks him for four through the off side
Delhi 94/4 after 13 overs
Vinay Kumar comes back, Duminy drives through the covers
After struggling for three balls, Laxmi Shukla manages to take a single
Delhi 99/4 after 14 overs
Carressed to deep cover for a single
Another good over from Yadav so far
Delhi 103/4 after 15 overs
Sunil Narine is being taken to the cleaners today.
Duminy slog sweeps for six, this goes into the KKR dugout, what a statement
Jadhav advances down the track and gets a thick outside edge that flies away for four behind point
Four. Now he waits for this slower delivery to come on, and then steers it very fine for four
Delhi 136/5 after 18 overs
SIX! Low full toss, Duminy smashes it into the second tier for six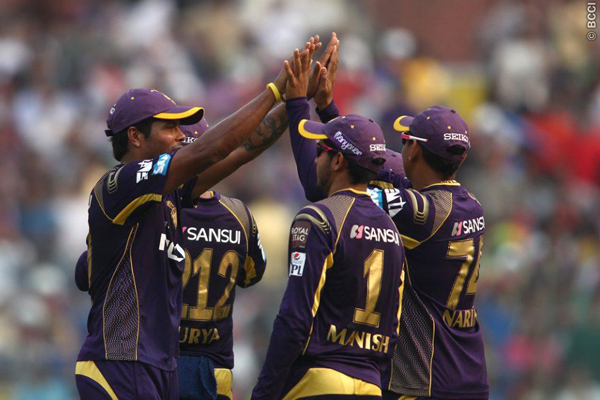 4 leg byes, that was not necessary, the bowler is very displeased
12 runs from the over, Delhi 148/5 after 19 overs
Narine will bowl the last over
1, 1 from the first two balls
Low full toss clipped to deep midwicket for two
SIX off the last ball, they had just scored 6 runs before this. Delhi get to 160 off the last ball of the innings, and Narine has been hit for 38 in 4 overs - very rare.
KKR are 27/0 after 3 overs
Parnell to bowl
2 singles off the first 2 balls
Nudged to midwicket for a single
KKR 30/0 after 4 overs
Laxmi Shukla to bowl first change
Starts with a wide
Oh...almost another KP moment, Utthappa charged down the ground, but the turned back. Then he collided with Laxmi Shukla
SIX! Six off the last ball, full on the pads and smashed over midwicket
KKR 42/0 after 5 overs
Sid Kaul comes in to bowl
Wow, this is a seriously weak bowling line up. JP is their best bowler actually and he doesn't bowl. #DDvsKKR

— Vikram Mehta (@MehtaMorphosis) May 7, 2014
10 runs off the over including a four from leg byes.
KKR 52/0 after 6 overs
It's the end of the powerplay
JP Duminy to bowl...here comes their 'best bowler'
4 runs off the first 4 balls of the over
SIX! 5 off 5 balls, and then he gets launched into the stands for six!
KKR 63/0 after 7 overs
Four. Shahbaz Nadeem gets tonked for four
After 8 overs, KKR are 72/0
Mohammad Shami comes back
KKR are putting up another great opening stand...will they get across the line this time?
5 runs off the over, KKR 77/0 after 9 overs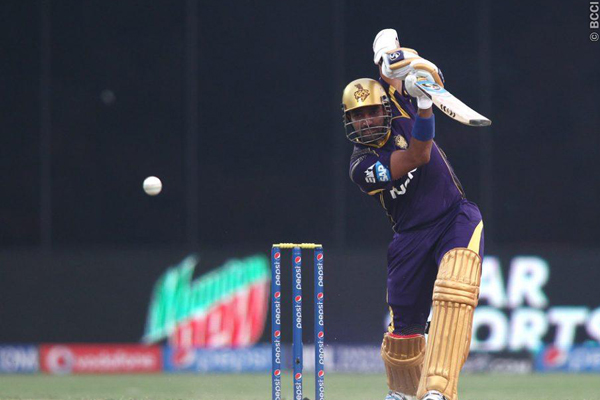 Gambhir hits the first ball from Sid Kaul for four
KKR playing this like they played the last game. (Oh dear) #DDvsKKR #PepsiIPL

— Mohamed Zeeshan (@ZeeMohamed93) May 7, 2014
Two boundaries off the over, KKR 90/0 after 10 overs
Another 12 runs from the 11th over, the runs continue to flow. KKR 102/0 after 11 overs
Wayne Parnell comes back. KKR just need 58 off 54 with 10 wickets in hand. Surely they can't screw this up.
OUT! Utthappa is out LBW, he shuffled down the track and missed the ball.
Manish Pandey comes in, no hattrick today.
KKR 107/1 after 11 overs
and KKR loses 1st wicket... is there a drama again? #PepsiIPL #DDvsKKR

— vijesh (@vj070781) May 7, 2014
After 13 overs KKR are 116/1
Laxmi Ratan Shukla comes back after the timeout
Simple half-volley outside off stump, driven away for four
3 off the next 4 balls
A bug or moth seems to have entered Gambhir's eyes...its irritating him
KKR 124/1 after 14 overs
Oh...that was almost out, Gambhir nearly edged it to the keeper
4 runs from the 15th over, KKR 128/1
Sid Kaul comes back
Four. That was simple. Driven to sweeper cover, all Vijay had to do was pick it up, but it went between his legs for four
KKR 138/1 after 16 overs
Four. Short and wide, Manish Pandey murders it through the off side
SIX! Down the track and smashed for six by Pandey. This is getting over fast.
KKR 151/1 after 17 overs
OUT. Gambhir is out, what a catch by Dinesh Karthik. Karthik has leaped a few feet in the air to pluck that out of nowhere! Gambhir went for the pull on a short delivery and got a thick top edge.
Just 5 needed off 12 balls, KKR 156/2 after 18 overs
Four. Driven for four by Kallis and KKR are nearly there
One run, now he takes a single and KKR are home by 8 wickets