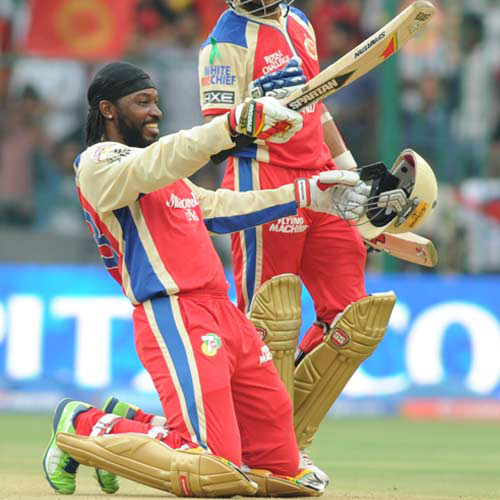 19:32 IST Thursday, 17 April 2014
Toss: Royal Challengers Bangalore (RCB) captain Virat Kohli wins the toss and chooses to bowl first
Kohli and Co. take the field followed by Delhi Daredevils (DD) openers Mayank Agarwal and Murali Vijay.
Steaming in from the other end is Mitchell Starc.
Agarwal looks to be in good touch. The drive he played oozes masterclass. The fun part is that the lad is from Bangalore and is playing against his own state team.
End of the first over, four off the over.
Albie Morkel runs in from the other end, Agarwal pulls him for a single. Morkel has had a fantastic T20 career with 76 wickets from 79 matches, he is surely one of the assets of the Delhi franchise.
Morkel is keeping things tight, Agarwal looking for the gap but finding the fielder.
Cheeky single from Agarwal.
After two overs, DD 7/0
Vijay goes for the maximum in the first ball of the third over. His intentions are clear. The balls seems to have disappeared.
Agarwal mistimes, ball lands in the safe hands of captain Kohli. First wicket for RCB, Agarwal departs for 6 off 10 balls.
Captain Dinesh Karthik walks in the middle.
Morkel strikes this time, captain Karthik has to go for a duck. Fine catch by Parthiv Patel behind the wicket.
Manoj Tiwary walks in, after having been out due to injury, this is his golden chance to prove himself. Can he rescue DD out of the turmoil?
End of the fourth over, DD 17/2
Speed gun from Jamshedpur comes as a first change, brace yourselves, Varun Aaron clocked a 150 kmph recently, he is fast. And what a start, gets a wicket first ball. Tiwary edges to Patel behind the stumps.
Five overs, DD 17/3
End of sixth over, DD 30/3
Aaron starts the seventh over, RCB bowling coach Allan Donald seems to have worked his magic on the bowlers. They look unplayable. Vijay is the only batsman standing tall in front of the deadly bowling. He has reached 17 off 18 balls. Giving him company on the other end is JP Duminy who can be dangerous in the middle overs as well as the death.
The strategic time-out seems to have worked for RCB too as DD lose fourth wicket. Leggie YS Chahal runs through Vijay's defence. Chahal, previously a member of Mumbai Indians, is a Haryana cricketer and has 25 wickets from 14 first-class matches.
Ross Taylor comes out.
Can the foreigners prove their worth?
Eight overs, DD 36/4
RCB start as favourites to win this game, with a batting line-up that would be the envy of any other team in the IPL. When you have Chris Gayle, Virat Kohli and AB DeVilliers in your side, you should be a serious contender to the title.
Bangalore, however, have failed to win the trophy any of the six IPL seasons so far. They reached the finals in 2009, but failed to make it past the eliminators thereafter.
The RCB bowling side is considered weak this time around, with Ashok Dinda, Varun Aaron, an ageing Mutthiah Muralitharan, Ravi Rampaul and Mitchell Starc making up the ranks. With Gayle and DeVillers natural picks, Bangalore can pick just two out of Starc, Rampaul and Muralitharan, which further reduces their bowling strength. However, a surprise performance from the RCB bowlers may just be in the offing.
The other point of discussion is Yuvraj Singh, whose horrendous performance in the World Twenty20 final probably cost India the match. He would like to forget that quickly, and justify the high price at which he has been purchased. A good IPL season could resurrect both his ODI and Test careers.
Delhi Daredevils will not be led by Pietersen in this match - he is out with an injury. Dinesh Karthik will take his place. Karthik's team will rely on the likes of Murali Vijay, Karthik himself, Ross Taylor and JP Duminy to put up a good score.
The Delhi bowling seems of moderate strength. Wayne Parnell and Mohammad Shami will have to play a big role, but Rahul Sharma's spin could come in handy on the slow wickets.
Delhi and Bangalore have a 5-5 record against each other in the IPL. The team winning the toss should ideally bat first, though RCB will also back their chasing capabilities with the kind of batting prowess they possess.