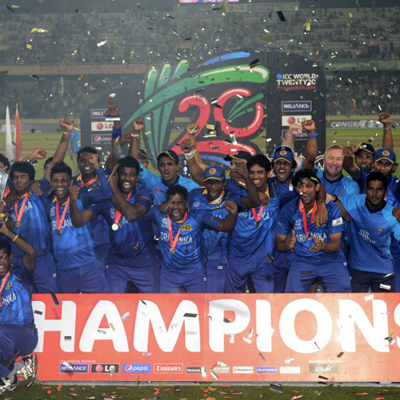 Sri Lanka have won quite easily in the end, by 6 wickets. Sangakkara made a crucial fifty, but India will feel they were about 25 runs short. Yuvraj Singh may rue his 21-ball 11, to be honest. Sri Lanka bowled really well at the death and then Sangakkara and Perera batted well when it really mattered.
Sri Lanka Batting
Over 18
17.1 Four. Perera missed and got a thick edge behind the keeper for four
17.2 Four. Swept away for four
17.3 Gets beaten this time. Just 4 needed though
17.4 Single to sweeper cover
17.5 FOUR! That is the victory shot! Perera comes down the track and just slogs this straight down the ground for four
Over 17
Amit Mishra's last over
16.1 Four. That was a slow, wide ball that Sangakkara had plenty of time with. He smashed it over extra cover with ease
16.2 Single to long on
22 required off 22 balls
16.3 SIX! Full ball on middle stump, slogged away for six by Perera
16.4 Dropped! He skied it high and the straight fielder could not hold on to a very, very tough chance
16.6 Single to end the over
Sri Lanka have this match and trophy in the bag now. 12 needed off 18. 15 of the over.
Over 16
Ashwin comes back. Is it too late?
15.2 Four. Leg stump line, flicked away for four. The fielder made a desperate effort.
15.3 Defended for no run
15.4 Swept away for one
15.5 Carrom ball defended to short mid on
15.6 Wide. The batsman almost fell over again
15.6 Full ball outside off, Perera swung hard and missed
Sri Lanka 104/4
Over 15
14.1 Wide ball, Sangakkara tried to go after it. Dhoni could not collect it cleanly, so Perera attempted a run. Was sent back and almost got run out
14.1 Slapped to wide long on for one
14.2 SIX! Full delivery on middle stump and Perera comes down, goes big into the stands over long on!
14.3 Hit to sweeper cover for one
14.4 Four. Sangakkara sweeps for four
14.5 No run. Beautiful googly that beat Sanga's bat
14.6 Single to long off
Good over for Sri Lanka. 14 off it. Takes the pressure off immensely.
Sri Lanka 98/4
Over 14
54 runs required off 42 balls
Raina still continues to bowl
13.1 Driven down to long off for a single
13.2 Another single to long off
13.3 Wide ball, the batsman nearly fell over and got stumped
13.3 Another shot to long off for one
13.4 No run
13.6 Cut away for a single
Sri Lanka 84/4
Over 13
12.2 Single down to sweeper cover as Amit Mishra comes back into the attack
12.3 OUT! That one kept low, Thirimanne tried to cut it, and got an underedge to Dhoni. What a freak dismissal.
Lahiru Thirimanne 7 off 11 balls
12.4 Thisara Perera is in, and immediately gets beaten by Mishra outside off stump.
12.5 Short ball and Perera tried to whack it, but could not get the timing right
12.6 No run
Sri Lanka 78/4
Sangakkara is crucial to Sri Lanka's chances now
Over 12
Sanath Jayasuriya is in the stands
Raina continues. Why no Mishra?
11.2 One run
11.3 A single
11.4 Thirimanne defends solidly back to the bowler
11.6 Pushed to midwicket for no run
Just two off the over
Sri Lanka 75/3
Over 11
Ashwin comes back with a slip in place
10.1 Low full toss hit down to long on
10.3 Good length ball gets flicked away to the on side for one
10.6 Fuller delivery gets pushed away to point for one
Sri Lanka 73/3
Over 10
Suresh Raina continues
9.2 Down the track comes Mahela and scoops it to long on for one
9.3 Kumar Sangakkara turns over the strike again with an easy single
9.4 Four. Fine late cut for a boundary
9.5 OUT! Jayawardene slog-sweeps again, but finds the fielder at short midwicket this time!
Mahela Jayawardene 24 off 24 balls
9.6 Four. Thirimanne edges for four
Sri Lanka are keeping up with the run rate but also losing wickets
Sri Lanka 69/3
Over 9
Ravindra Jadeja to bowl now
8.1 Four. Sangakkara slog-sweeps the first ball away for four
8.2 Defended to short mid off
8.4 SIX! Slog-swept into the stands for six this time!
8.5 Gets a leading edge into the off side for one
8.6 Jayawardene defends stoically again
Sri Lanka 58/2
Over 8
Raina into the attack
7.1 Sangakkara defends a full ball to mid off
7.3 Oooh...scooped in the air, dropped short of the fielder coming in from long on. two runs
7.6 Good length ball onto the pads, flicked away for a single
Sri Lanka 47/2
Over 7
Amit Mishra will bowl his first over
6.1 Single to long on. The powerplay is over.
6.2 Outside off, defended to point
6.3 Defensive prod back to the bowler
6.4 Jayawardene took one step forward but then dabbed it to short mid off calmly
6.5 Another defensive shot for no run
6.6 Solid defence to end the over.
Sri Lanka 42/2
Over 6
R Ashwin into the attack
5.2 Short ball, stayed low, but Dilshan slapped it for four through square leg. Good shot.
5.4 Turning on middle stump, flicked to the bowler for no run
5.5 OUT! Dilshan has thrown away a good start. Dilshan swung this one to deep square leg and was caught by Kohli on the edge of the boundary.
Dilshan 18 off 16 balls
Ashwin gets yet another dangerous batsman out in a crucial game, at a critical time
Kumar Sangakkara comes in. The legends are batting now.
5.6 No run
Sri Lanka 41/2
Over 5
Bhuvaneshwar Kumar continues
4.1 Short medium-paced delivery is cut away for a single
4.2 Swinging ball into middle and leg, muted appeal. One leg bye.
4.3 Four. The keeper is up and Mahela takes advantage, steers it fine for four.
4.4 Four. What was that shot? Mahela swiveled around and tried a weak pull to a ball outside off stump. It hit the top edge and almost went for six behind the keeper again.
4.6 No run
Sri Lanka 37/1
Over 4
3.1 Four. SHOT! Very short ball from Mohit Sharma and Mahela upper cut it right behind Dhoni for four. It almost went for six.
3.3 Four. Short ball, pulled away by Dilshan for four.
3.4 Four. Lucky! Dilshan went hard at the next ball and got an inside edge to the boundary. Fine leg was in the circle.
3.6 Tickled down to third man for a single
Sri Lanka are up and running. 27/1
Over 3
2.1 Short ball outside off, Dilshan thrashes it into the covers but finds the fielder
2.2 Four. Poor ball, leg stump line. Flicked away for four to fine leg
2.3 Short ball and Dilshan lets it go, looks at the square leg umpire who does not react
2.4 Another shot into the covers for no run
2.5 The wicketkeeper comes up. Short ball, but Dilshan couldn't get bat on it. Missed and Dhoni flicked off the bails. No run.
2.6 Flicked to mid on, no run.
Good over from Bhuvaneshwar Kumar barring the boundary.
Sri Lanka 12/1
Over 2
Mohit Sharma will bowl
1.1 OUT! Scooped in the air and Kusal Perera holes out inside the circle
That was a silly shot. Perera 5 off 7 balls
Cross-batted shots often lead to demise
Mahela Jayawardene comes in
1.3 Two runs down to square leg
1.4 Good length delivery, played defensively into the ground
1.5 Mahela clips it to point for no run
1.6 Beautiful cover drive for no run
Sri Lanka 8/1
Over 1
Bhuvaneshwar Kumar will open the bowling
0.1 Slapped to mid on, no run
0.2 Four. Slogged away through the on side for four by Perera
0.4 Good length delivery on middle and leg, Perera missed
0.5 Let go through to the keeper. No run.
0.6 Single to mid off
Sri Lanka 5/0
India could manage just 130 despite losing just four wickets. Part of the blame must go to Yuvraj who struggled terribly, but Sri Lanka bowled superbly in the death overs.
Let it be said again - if not for Virat Kohli's 77, India would be nowhere in this game.
India Batting
Over 20
19.1 Similar scenes again. Wide yorker, can't get bat on it.
19.2 Now this was too wide. Wide ball
19.2 Low full toss, Dhoni could not connect. The wicketkeeper also failed to collect it and India managed two runs
19.3 Dhoni goes for another big slog and cannot connect. That was not an intelligent shot - he played it more like a No 10 batsman
19.4 Slapped to long on and they run hard for two
The morose faces of Indian fans tell a great story
19.5 Another wide yorker and slapped out to the off side for one
19.6 OUT! The last ball is dug out onto the on side by Kohli. He rushes back for the second, but is run out off a direct hit.
Virat Kohli 77 off 58 balls
India 130/4 after 20 overs
Over 19
18.1 OUT! Finally Yuvraj is put out of his misery. Full toss from Kulasekara. Yuvraj did not connect well at all and hit it straight to long on
Yuvraj 11 from 21 balls
MS Dhoni walks in. Perhaps one wicket too late?
18.2 Single to third man
This Indian innings would have been nothing if not for Virat Kohli
18.3 Dhoni gets a single to long on
18.4 Full ball that almost slid flat through to the wicketkeeper, and Kohli could do nothing about it.
18.5 Hit hard to deep point for one
18.6 Another wide yorker, Dhoni tried a scoop shot to the leg side but failed. Just a single.
Another great over for Sri Lanka. 12 runs from the three penultimate overs of a World Twenty20 final is amazing.
India 123/3
Over 18
17.1 Malinga still can't get the yorker right. Tough single to short cover.
17.2 Poor Yuvraj is really struggling. Backs away, yorker outside off, misses and it goes to the keeper.
17.3 Similar delivery, but Yuvraj gets bat on it for a single to wide third man
Yuvraj is 10 off 19 balls.
17.4 What a stop. Kohli tried to steer that hard through the covers, but two fielders dived in succession to stop it.
17.5 Another full delivery outside off, Yuvraj misses again. There was an appeal from Sangakkara but the umpire dismissed it.
Great over from Malinga
17.6 Yuvraj slaps it into the deep but can only get a single.
The big hits have not come at all for Yuvraj. 11 from 20 is very embarrassing in these circumstances. This slow innings might make the big difference later.
India 119/2
Over 17
16.1 Short ball but Yuvi can't get it away.
16.2 Oh! That was a slower ball, Yuvraj backed away, missed it. The wicketkeeper missed it. They nearly went for the single. The fielder at backward short leg made a hash of it and there was almost a run out.
16.3 Dropped! Full blooded shot, almost out caught and bowled. Gets a single.
Yuvraj is trying very hard without much success.
16.5 Another hard sweep for one run
16.6 Kohli gets a single to hold strike, but another terrific over from Senanayake.
India 115/2
Over 16
Kulasekara will bowl now
15.1 SIX! Full delivery on off stump and Kohli launches it over wide long on for six.
100 up for India
15.2 Four. Now careened away through cover for four.
Malinga adjusting the field again
15.3 Four. That was almost out. Leg cutter from Kulasekara, but too short. Kohli did not get well under it, he hit it to the fielder at wide long on, who dropped it and it landed into the boundary.
15.4 Whipped down the ground. Good stop by the fielder. One run.
15.5 Yuvraj whips it to sweeper cover for one
15.6 Good slower ball to end a poor over. No run.
India 111/2
Over 15
14.1 Yuvraj wanted the single but was sent back
14.3 Yuvraj still preferring to play it safe. Single behind square leg.
14.4 Pitched way outside leg, no way it was LBW. A single backward of point.
14.6 Yuvraj came down the track, was beaten in the flight. It hit his pad and there was a loud appeal, but not given.
India 95/2
Very good over from Senanayake. Just 2 off it.
Over 14
Lasith Malinga is back for his searing death-over yorkers
13.1 Low full toss, yorker intended. Hit away for a single.
13.2 Good length delivery outside off. Yuvraj strokes it away for one
13.3 Very full ball, poor line, hit out to deep extra cover for two
13.4 Another wide ball is hit to the same region, for one this time.
FIFTY for Virat Kohli. YET ANOTHER FIFTY. What a player.
13.6 Four. Very wide ball from Malinga, Kohli got his bat to it and it flew away fine for four
Malinga didn't get his line correct at all in that over
India 93/2
Over 13
12.1 SIX! Down the track and Kohli lifts Rangana Herath for six. What timing.
12.3 Wide down leg side
12.3 Pushed to long off for one
12.4 Defensive stroke from Yuvraj for no run
12.6 Very short ball, but keeps low. Pulled to deep midwicket for one
India 83/2
Kohli 46 (40) Yuvraj 3 (4)
Over 12
11.1 A quick single to short third man
11.2 No run, defensive stroke
11.3 Kohli bludgeons it straight down the ground, but the fielder does well to get a hand to it. Two runs
11.4 Four. Down the track and inside out over cover for four
11.6 Wide, full ball, Kohli smashes it to deep cover for one
India 73/2
Over 11
Herath to bowl
10.1 Beaten in the flight as he comes down the pitch, but Rohit manages to block it.
10.3 OUT! He has given it away again! Makes room to drive but hits straight to short cover.
Rohit 29 off 26 balls
Yuvraj Singh is in
10.6 No run off the last two balls.
India 65/2
Over 10
9.2 Rohit tried to send this into the IPL in Dubai but could get just one
9.3 Down the track and Kohli pushes a slower delivery for one
9.4 Four. Whipped away through point for four
9.5 Rohit tries a Dilshan-like scoop. The ball hits the top of the bat and spoons away. Big appeal for LBW but that was definitely not out.
9.6 SIX! Slower ball gets creamed for six by Kohli
India 64/1 That was the biggest over of the innings so far
Over 9
8.1 Herath again, a single is taken
8.4 Kohli danced down the pitch and almost yorked himself. No run
8.6 Punched to long on for a single
India 50/1
Kohli 23 (26), Rohit 23 (20)
Over 8
7.2 Kohli drives, but is well stopped by the fielder. Rohit ran halfway down the pitch again
7.3 Single to wide long on, sliding stop...more style than necessity
7.4 Rohit goes for a wild slog off a short ball. Luckily there was no one behind the umpire. 2 runs
7.6 Kohli dabs a single through the on side
India 47/1
Over 7
Rangana Herath to bowl
6.1 Dropped! Kohli hit straight to short midwicket, but the catch was spooned by Malinga. 1 run
6.3 Single from Rohit
6.5 Rohit advances down the track, but Herath bowls into his legs and he can only get a single
6.6. SIX! Inside out six over wide long off!
India 41/1
Over 6
Malinga into the attack now
5.1 Single to third man
5.3 Slowish delivery, flicked to the on side for a single
5.4 Another single
What is India's lowest score in the powerplay this series? Has to be this one.
5.6 Four. A good over from Malinga is spoilt by a straight hit from Sharma
India 31/1; the powerplay is over
Over 5
Sachitra Senanayake to bowl
4.2 Four. Rohit pulls, doesn't get it off the middle of the bat, but it goes one bounce into the square leg boundary
4.3 Now a sweep shot to deep square leg, the fielder did well to stop it
4.5 Ah! Almost a run out as Kohli flicks to the on side but Dilshan fields. Kohli sent Rohit back, who would have been out in case of a direct hit
4.6 Short ball, but no width. Kohli cut it straight to a fielder.
India 23/1
Over 4
3.1 Mathews continues; Rohit gets a single on the on side
3.2 Single to Kohli
3.4 Rohit dabs another single to third man
3.6 Oh. The keeper was up and Sharma missed the cut. Another near miss. India 15/0
Very slow start by India here
Over 3
2.1 Four. That was a beautiful shot from Kohli. Flicked away through mid wicket for four.
2.3 Oh. Kohli had a go at it and missed. Could have been out caught
2.4 Now Kohli drives but finds short cover
2.5 Flicked away backward of square, but great stop from the fielder. Saved 3 runs
2.6 Rohit Sharma dabs it to third man for one. India 11/1
Over 2
1.2 Mathews to Rahane, no run
1.3 OUT! Bowled him. Rahane misses and Mathews hits timber!
Rahane 3 off 8 balls
Virat Kohli comes in to bat
1.6 Mathews to Kohli, 1 run
Great over that
Over 1
0.1 Rohit Sharma gets a single off Kulasekara off the first ball
0.4 Two runs off a leading edge from Rahane
India 4/0 after 1 over