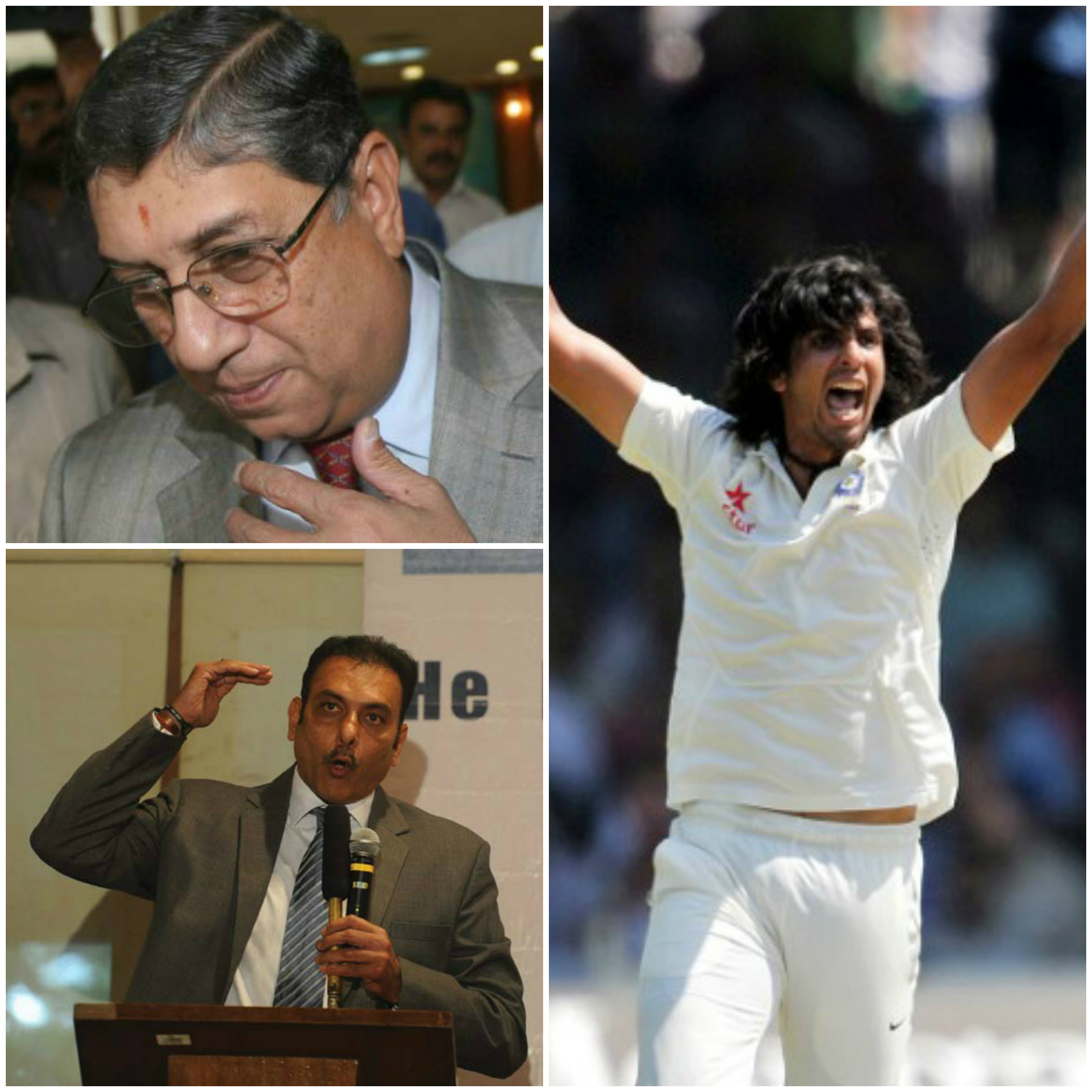 Twitter is again showing its penchant for having fun at the expense of controversial, well-known individuals. This time, it is the turn of newly-crowned ICC chairman N Srinivasan and commentator Ravi Shastri.
Ravi Shastri interviewed former BCCI President and the first-ever ICC Chairman N Srinivasan during the 4th day of the second Test between India and England at Lord's, London on Sunday. Ravi Shastri is thought to be a forever-important person in the Indian cricketing establishment, and N Srinivasan is unpopular following a string of events concerning betting and match fixing in the Indian Premier League (IPL).
Fortunately or unfortunately, the cricket match was far more interesting than the interview, which was extremely benign. Shastri stayed off the fixing controversy which has even opened the doors of the Supreme Court. Instead, he focussed on issues like the 'future of cricket', and the global appeal of cricket, to which Srinivasan responded in equally benign terms, to no one's surprise.
Consequently, Twitter erupted with 'Ravi Shastri' and 'Srini' trending immediately in India. Users lost no time in poking fun at the duo and the farcical interview. The following tweet basically implies that N Srinivasan is in the thick of match-fixing:
Knowing our luck, it will rain tomorrow. But Srini will intervene and fix it. #EngvInd #TheBigTest

— Rahul Fernandes (@newspaperwallah) July 20, 2014
Here's an interesting comparison:
Ravi Shastri interviewing Srini reminds me of Rajat Sharma interviewing Modi. All you expect is questions like "where do you buy kurta from"

— Bhak Sala (@bhak_sala) July 20, 2014
India's clout in ICC has grown manifold with Srinivasan's appointment as the chairman, and this user captures it well:
Srini seems to be mixing up on what he is the president of. ICC? BCCI? Or has he rechristened ICC to Indian Council of Cricket?

— Fake IPL Player (@_fakeiplplayer) July 20, 2014
Yet another sarcastic tweet about Srinivasan:
just realized, was Shastri there ONLY for that Srini interview? haven't noticed hin doing the commentary this series. Such resolve.

— bugShutter (@bugShutter) July 20, 2014
Anand Ranganathan is spot on about Ravi Shastri here:
Meanwhile, Ravi Shastri has once again let it be known who he works for. Even Vaidik would've asked Hafiz tougher questions.

— Anand Ranganathan (@ARangarajan1972) July 20, 2014
Simply_Me has made a serious, if vague, allegation against Shastri, but it will find many backers:
Does the organization we work for, buyouts our soul too, in lieu of what they print on the salary slip? Well, with Ravi Shastri it seems so.

— Simply_Me (@imgauravjha) July 20, 2014
Here's a funny tweet that mocks Shastri's cliched commentary too:
Srini: U didn't ask me abt corruption, match fixing, betting.. Ravi Shastri: That's what doctor Srini ordered! Srini: LOL! RS: LOL!

— Keh Ke Peheno (@coolfunnytshirt) July 20, 2014
Anurag Verma captures the gist of the interview in one tweet:
Ravi Shastri: What do you think about cricket? Srinivasan: Associates geographies, associates geographies, associates geographies.

— Anurag Verma (@kitAnurag) July 20, 2014
And Pratyush Sinha might just be completely correct in this assessment:
Ravi Shastri interviewing N Srinivasan - this all seems so choreographed.

— Pratyush Sinha (@prat1204) July 20, 2014
Both Ravi Shastri and N Srinivasan are well disliked by the majority of Indian cricket fans. We might expect more trolling on social media in the coming days if those two come together again during the course of the India-England series.
On another note, India have taken four England wickets on the fourth evening to leave England struggling at 105/4 at stumps, needing 214 more to win. It must also be mentioned that perennially out-of-form (or unlucky) pacer Ishant Sharma has taken two of those four wickets. That's right, TWO WICKETS in a single innings. He might just begin to trend before this match is over.