Sachin Tendulkar's final lap looks well-crafted as he sets foot for his last at Wankhede.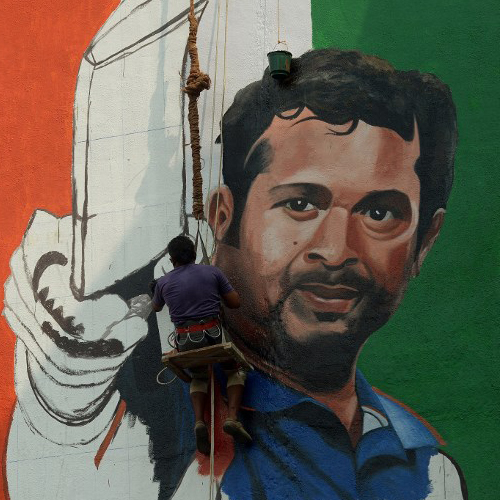 "Let us go then, you and I,
When the evening is spread out against the sky
Like a patient etherised upon a table;"

— T.S Eliot
The above lines from the English poet best describes the condition of the king who has passed his prime and hence, calling it a day. Sachin Tendulkar's state of anaesthesia began since he retired from ODIs and now, millions of Mumbaikars and well-wishers from across the globe will line up at his operation theatre – Wankhede Stadium. Going by the preparations which started from his penultimate Test in Kolkata, even God would probably be sulking for not being born as a Tendulkar.
Nowhere before the world has witnessed a tussle between two renowned associations. Cricket Association of Bengal and Mumbai Cricket Association's competition for baking the best cake for the Master turned many heads. Apparently Tendlya (fondly called) doesn't like to be in such scheme of things – so much of attention for his farewell Test – like he never played for records. But it remains a mystery as to why he announced his retirement three weeks prior to the start of a scheduled series and that too after his 200th Test match. What mistake did the numbers between 190-199 make?
However, when it comes to the Master, questioning him might land my career in ruins. My readers are dear to me as my journalism is, but I am writing this piece as a common man.
If one can recall, India has not seen such euphoria even after independence or after Indira Gandhi was shot dead leave alone the 22 yards.
Ricky Ponting – often compared to Sachin, hung up his pads in 2012 but it did not create much of a havoc in the Australian media. The legendary Don Bradman had once called the Master to his Adelaide residence on his birthday, that created a hue and cry in the media. Not because it was Bradman's birthday but the Master was his guest along with Shane Warne.
This is India and most importantly Mumbai – God's hometown. People will celebrate if he is in action and will do the same even if he is not.
But the pride with which he held fort for 24 years, is that somewhere missing in the celebration script? We all thought his last would be against South Africa – the best in the world but his swan song is against a team which is like a skeleton of its predecessors. West Indies might have come up through the ranks in T20 cricket but their Test record is far from being satisfactory. Unfortunately, Tendulkar – who started his journey facing the likes of Wasim Akram and Waqar Younis – will grace the careers of Sheldon Cottrell and Veerasammy Permaul. (I think I got the names right)
But what made the BCCI change their plans so suddenly? Do they think Sachin to be too old to face the Steyn and Morkel music? Well, the Master script looks safely written, the introductory page being the match-winning innings at Lahli against Haryana.
But the maestro should thank his stars that his last is not against Zimbabwe.