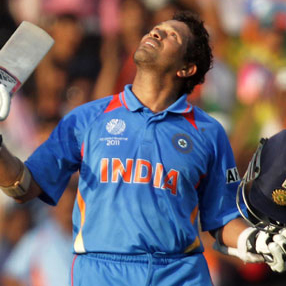 Sachin Tendulkar finished his ODI career with 18,426 runs at an average of 44.83, with 49 centuries and 96 fifties. On this day, June 29, back in 2007, Tendulkar became the first batsman to reach 15,000 ODI runs. He achieved the feat in Belfast, Ireland while playing against South Africa in the 2nd match of a three match series, off the third ball of the 18th over. Sachin was out for 93 in this match, after having been dismissed for 99 in the first.
Sachin Tendulkar was also the first batsman to reach 10,000 ODI runs. This occured during the 3rd ODI against Australia at Indore on March 31, 2001. Sachin scored 139 off 125 balls and India won the match by 118 runs. This was the ODI series immediately after the famous 2001 India-Australia Test series.
Sachin's first ODI run was scored against New Zealand at Wellington on March 6, 1990. He had scored ducks in his first two ODIs and in the third, he managed a fluent 36 off just 39 balls, a very quick performance in those times. He came in at No. 6 in this match, as he used to during the early days of his ODI career. India won the match by a measly one run, so Tendulkar's performance was worth its weight in gold.
Tendulkar is unquestionably one of the greatest ODI batsmen of all time, bettered perhaps only by the incomparable Sir Vivian Richards. He is also a huge icon in India, and during his career, was the most popular cricketer in the world. For a long time encompassing the 1990s and the early 2000s, Tendulkar was arguably the best batsman in the world. His perfect range of strokes, his body balance, the ability to pace an innings well, to be both aggressive and defensive, and most importantly the ability to read the ball off the bowler's hand rather than off the pitch, were the factors that set him apart from the good batsmen and made him an all-time great.