Nine days remain for the English Premier League to begin. Here are the top Number 9s the Premier League has ever seen since its start in 1992.
1) Alan Shearer (for Blackburn Rovers and Newcastle United)
Alan Shearer, OBE, started his career at Southampton. He went on to become one of the most prolific scorers of all time with Blackburn Rovers and his beloved Newcastle United. Great in the air, predatory from close range and deadly from distance, Shearer was at one time the complete striker. He scored 112 goals in 138 appearances for Blackburn and led them to the Premier League title in the 1994-95 season. He netted 148 goals in 303 appearances for Newcastle and is still a fan favorite at the Tyneside club.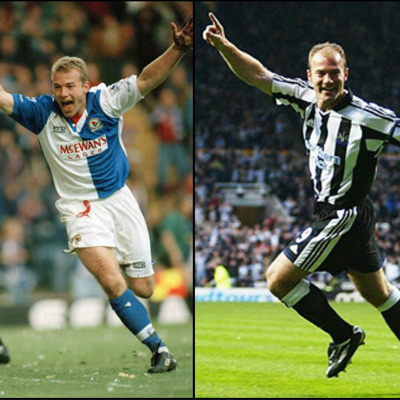 Getty
2) Robbie Fowler (for Liverpool)
Robbie Fowler grew up in Toxteth, a rough area of Liverpool, and went on to become one of the best players ever to represent the Reds. In 1995 and 1996 he was awarded the PFA Young Player of the Year award. Fowler scored 128 goals in 266 appearances for the Merseyside club. Renowned for his natural finishing ability, in 1994 Fowler scored three times in 4 minutes, 33 seconds against Arsenal, still the fastest hat-trick in Premier League history.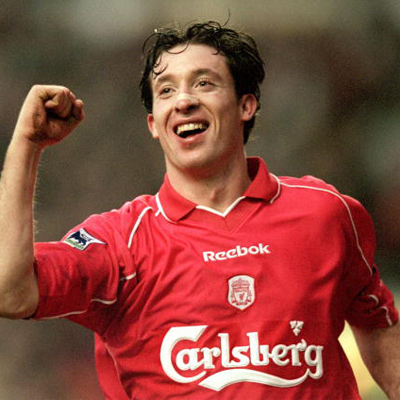 Getty
3) Andy Cole (for Newcastle United and Manchester United)
Andy Cole, or Andrew Cole, as he now prefers to be called, began his career with Arsenal, but played just one game before moving to Bristol City. His goal scoring exploits for The Robins caught the attention of Kevin Keegan at Newcastle, who signed the striker in 1993. His scoring record for the Magpies was a good one, netting 55 goals in 70 appearances. He was sold controversially to Manchester United in 1995, where he went on to achieve huge success. He was the top scorer in Europe for United in the treble winning season of 1998-99, a season in which he and strike partner Dwight Yorke contributed 53 goals between them overall. Cole scored the goal that won the Premier League title, and the goal that took them to the Champions League final for Manchester united. He scored 93 times in 195 appearances for the Red Devils.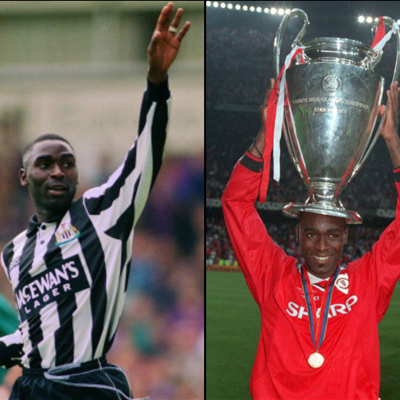 Getty
4) Les Ferdinand (for Newcastle United and Tottenham Hotspurs)
Like Shearer, Ferdinand was the complete package. Fast, strong, deadly in front of goal, and absolutely unbeatable in the air. After two years at Newcastle he moved on to Tottenham, where he spent six successful years. His first big move was to top flight Queens Park Rangers, where he spent eight years banging in goals from 1987 to 1995 before earning a high profile move to Newcastle United. On Tyneside, Ferdinand developed a frightening strike partnership with Alan Shearer. His goal tally for Newcastle was 41 goals in 68 appearances. For Tottenham, he netted 33 times in 118 appearances.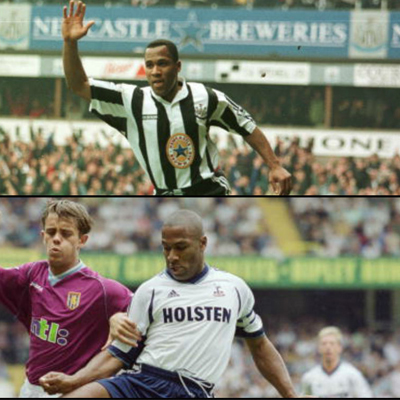 Getty
5) Fernando Torres (for Liverpool and Chelsea)
Now at Chelsea and a shadow of his former self, Fernando Torres was one of the most lethal number 9's the Premier League has ever seen. Classy finishing and an amazing eye for goal, Torres was one of the top performers in the Premier League from 2007-2011. El Nino was named the Premier League Player of the Month for February 2008, during which he scored four goals in four appearances, including a hat-trick against Middlesbrough. This hat-trick and another in a 4–0 victory over West Ham United meant he became the first Liverpool player since Jack Balmer in November 1946 to score a hat-trick in successive home matches. Torres netted 65 times in 102 appearances for the Reds and has 20 goals in 110 appearances to his name for Chelsea.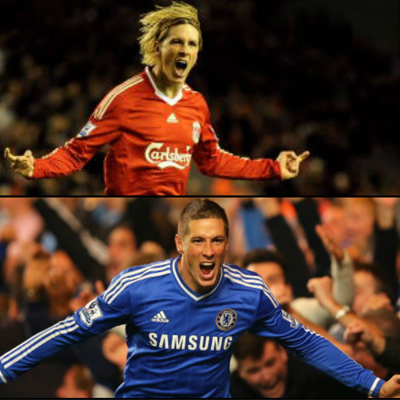 Getty
6) Dimitar Berbatov (for Tottenham Hotspurs and Manchester United)
Dimitar Berbatov stands out in a way than none other. The Bulgarian is one of the most classiest and calmest players to have played in the Premier League. He joined Tottenham Hotspurs in 2006, where he spent two years before moving to Manchester United. He won the Champions League trophy in 2008 with the Red Devils and played in his second Champions League final the following year but his side were beaten 2-0 by Barcelona. Berbatov became the only non-Englishman in Premier League history to have scored five goals in a single match, having done so in Manchester United's 7–1 win over Blackburn Rovers at Old Trafford in 2010. Berbatov scored 27 goals in 70 appearances for the Spurs and 48 in 104 appearances for United.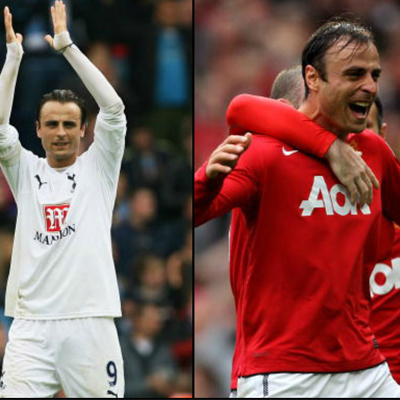 Getty
7) Louis Saha (for Fulham, Manchester United and Everton)
Saha started his career at Metz before playing on loan at Newcastle United. Saha moved to Fulham in 2000 where he helped them to gain promotion to the Premier League in his first season with them. His performances gained attraction from Manchester United, who eventually secured his signing in January 2004. Injuries plagued his Old Trafford career, however he did enjoy success with twice winning the Premier League, the 2007–08 UEFA Champions League. After four and a half years at United, Everton took him to Goodison Park, where he opened the scoring in the 2009 FA Cup Final after 25 seconds, setting the record for the fastest goal scored in FA Cup Final history. He has 53 goals to his name in 117 appearances for Fulham, 28 in 86 for Manchester United and 27 in 97 appearances for Everton.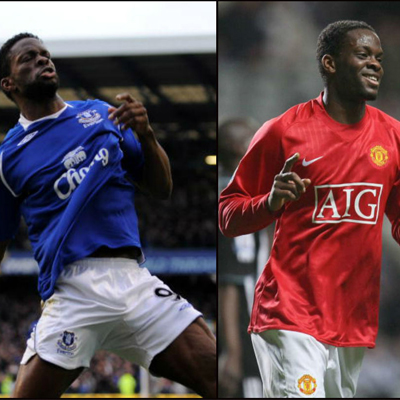 Getty
8) Paul Merson (for Arsenal)
Now a football televiosion pundit, Paul Merson was one of the many versatile players for Arsenal. He could play up front, he could play on the wing and also a number 10 role, sitting in the hole behind the striker. He was a regular on the right wing in the 1988-89 season, at the end of which Arsenal secured the First Division title with a last gasp Michael Thomas goal in the final game of the season against Liverpool. Merson scored ten times that season, made his debut for the England U21 side, and was voted PFA Young Player of the Year. Merson had 289 appearances to his name and scored 78 times for the Gunners.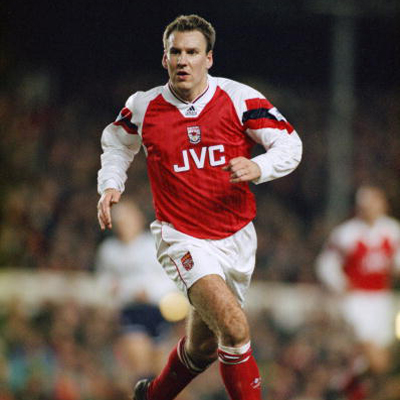 Getty
9) Bobby Zamora (for West Ham United and Fulham)
In January 2004, Bobby Zamora joined West Ham in a deal which saw a switch between him and Jermaine Defoe who went to Tottenham. He quickly made his mark, scoring on his debut as West Ham came from behind to beat Bradford City. In the 2005–06 season, he made 42 league and cup appearances and scored 10 goals as West Ham finished in the top half of the Premier League and reached the FA Cup final, but lost to Liverpool in the final where he missed a penalty. He has 30 goals in 130 appearances to his name for the Hammers. Zamora headed to city rivals Fulham in 2008, where he netted 20 times in 91 appearances.