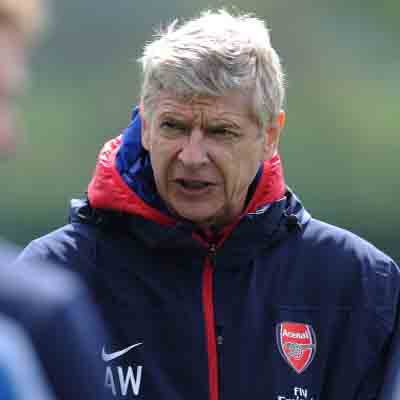 Arsenal's manager Arsene Wenger has called on Europe's football governing body UEFA to clarify its punishment for the ones who break Financial Fair Play rule and also suggested that clubs like Manchester City should not be allowed to play in Europe's elite football competition, the Champions League.
Wenger said the following on Financial Fair Play:
"You would think you accept the rules and you're in the competition or you don't accept the rules and you're not in the competition - then everybody would understand it."
"I'm a complete supporter of Financial Fair Play because I think that every business should live within its own resources like in any other activity."
"For the punishment, I think it's a sophisticated punishment. I would like a more simple one that makes more sense, but they have studied that for a very long time certainly to be in accordance with the legal side of it. There are rules. You respect them or you don't respect them. If you don't respect them you have to be punished."
Wenger also stated that it would be "ODD" for Manchester City to be the English Champions after breaching UEFA's Financial Fair Play rules. "Of course there is something wrong, but I plead for that for years..." added Wenger. UEFA's Club Financial Control Body (CFCB) will soon announce their first break-even decisions for Financial Fair Play. The CFCB had previously stated that it has conducted in-depth reviews of around twenty clubs to assess whether those clubs had breached the UEFA Financial Fair Play regulations. It is believed as many as ten clubs may be sanctioned. Out of those ten, two are reported to be Manchester City and Paris St.Germain.
Manchester City and French football giants Paris St.Germain have failed UEFA's new regulations that limited the financial losses to €45 million (£37 million) between 2011 and 2013. The punishment proposed by UEFA is a £50 million fine along with a reduction in the squad for Champions League from 25 to 21. A wage cap could also be introduced on the errant clubs to ensure there is no rise on this season's squad wage bill for the Champions League. Manchester City suffered losses of £97.9 million in 2012 and £51.6 million in 2013.
Paris St.Germain coach Laurent Blanc believes that his side will show the sights of improvement despite sanctions from UEFA on Financial Fair Play. "I think next year we will improve one or two things. We will wait to find out the Financial Fair Play punishments, but I think we will still be able to improve the team," said Blanc.
Tweets on Manchester City and Financial Fair Play:
Man City's FFP sanctions: 21-man CL squad instead of 25; 60m euro fine over 3 years; no rise in CL squad wage bill allowed. Same as for PSG.

— Martyn Ziegler (@martynziegler) May 6, 2014
Man City given till Mon to accept/reject FFP sanctions after end of negotiations. Understand PSG + other 7 clubs have accepted sanctions.

— Martyn Ziegler (@martynziegler) May 9, 2014
Man city fine for breaking FFP £50,000,000 Uefa fines for racism.... Serbia £65,000 Lazio £32,500 Porto £16,700

— FourFourTweet (@FourFourTweet) May 6, 2014
What happens to the fine? Will it go to the pockets of City's and PSG's rivals? That would be a good punishment

— Ouriel Daskal (@Soccerissue) May 6, 2014
So what exactly is Financial Fair Play?
Financial Fair Play is a rule introduced by UEFA to improve the overall financial health of European club football. This rule prevents professional football clubs spending more money than they earn in the pursuit of success, which may lead to financial problems that might threaten their long term survival. It has already started in 2011. Since then, the clubs that have qualified for UEFA competitions have to prove they don't have any kind of overdue payments towards other clubs, their players and social/tax authorities throughout the season, which basically means the have to prove they have paid their bills.
UEFA has put forward the Club Financial Control Body (CFCB) to verify each club's accounts of the past two years put together, every year, and as of 2014/15, they will keep a check on the club's figures of the previous three combined.
The first sanctions for clubs not fulfilling the break-even requirement will be taken following the first assessment in April/May 2014. The first possible sanctions relating to break-even breaches would be effective for the 2014/15 campaign.
One may have to wait for some more time to find out whether the UEFA's Financial Fair Play sanctions will come into effect on Manchester City and Paris St.Germain or not. It certainly is a matter of time.