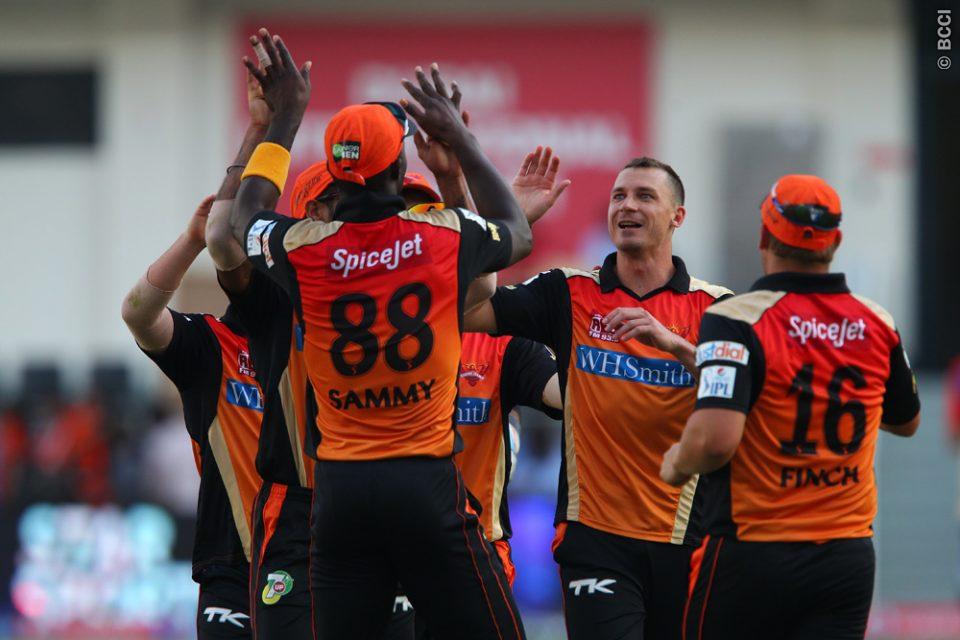 20:01 IST Sunday, 18 May 2014
Welcome to the live coverage of the match between Sunrisers Hyderabad and Kolkata Knight Riders. This is a crunch game that both sides cannot afford to lose.
Hyderabad have won the toss and will bat first
Morne Morkel to bowl to Aaron Finch
No run off the first ball
Finch gets an edge, Morne throws up his arms. He was almost bowled - Finch. 1 run
Wide ball
Four. Whadda shot, flayed through the covers for four by Dhawan, that went like a rocket.
SRH 8/0 after 1 over
Lifted high in the air, no timing from Finch on this pull, but it lands away from the fielder at mid wicket even as he tries hard to catch it.
Edged, weak shot, no feet, but four to third man
OUT! A similar weak shot, no feet again, flies to third man again, but this time is caught
SRH 14/1 after 2 overs
Wide ball, after a boundary
SRH 20/1 after 3 overs
Dhawan has made a good start for once
SRH 28/1 after 4 overs
Two fours from Dhawan this over
SRH 40/1 after 5 overs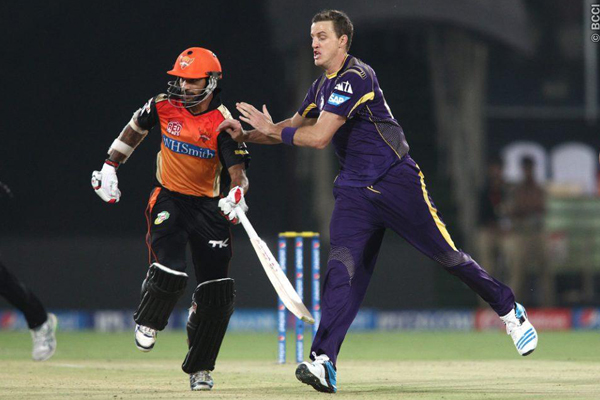 OUT! Dhawan is out, he was looking good but has holed out. His pull went nowhere, the fielder running back almost dropped it but then held on
SRH 41/2
Sunil Narine has struck again.
Hyderabad 41/2 after 6 overs
Oooooh... Gambhir almost messes it up, but S. Dhawan is gone. #SRHvsKKR #GoForItKKR

— Rohit Gupta (@gupta_rohit) May 18, 2014
David Warner comes in
SIX! Very beautiful six, chips down the track, is in perfect position for the hoick, picks it up on good length and goes over long on.
Hyderabad 50/2 after 7 overs
SIX! Naman Ojha hits ten Doeschate for six
Hyderabad 58/2 after 8 overs
Will they pay Ravi Shastri more just because he shouts?? #SRHvsKKR" #PepsiIPL

— Jameshubert  (@ImJames_) May 18, 2014
SIX! Gets one under the bat and Ojha slams it over long on
OUT! Naman Ojha is out, he tries to go for the big one again and holes out
It's the strategic timeout, Hyderabad 64/3
After 9 overs, Hyderabad are 65/3
SIX! Warner continues to attack Narine despite the wickets, whacked over the midwicket boundary for six
Four from Rahul to end the over, SRH 77/3 after 10 overs
After 11 overs, SRH are 84/3
Four. Warner slams a wide ball from Morkel away from sweeper cover for four
Four. Now he gets an edge and it flies away from the keeper for four
SRH 96/3 after 12 overs
OUT! Lokesh Rahul is out, Piyush Chawla has him LBW, he put his front foot across but was caught in front, plumb.
Hyderabad 100/4 after 13 overs
OUT! Warner is out, the big fish falls. Short ball, Warner pulls it hard, but cannot beat midwicket
Darren Sammy is in
1 run to end the over, SRH 108/5 after 14 overs
Chawla to bowl his third over
Just one run off the over, what an over
SRH 109/5 after 15 overs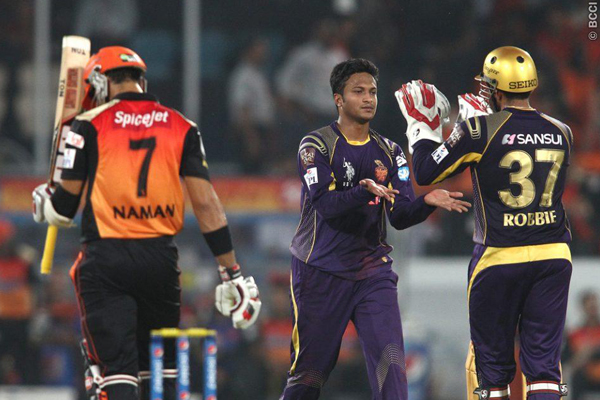 3 runs off 5 balls so far, KKR have turned it around now.
Just 5 off the over, SRH 114/5 after 16 overs. Time for the timeout.
Full ball from Chawla, Pathan sweeps and gets four
Another boundary and two runs, 10 off the over. SRH 126/5 after 17 overs
Narine comes back for his last over
Great over from Narine, just 3 off it, SRH 129/5 after 18 overs
Shakib al Hasan to Sammy, gets his front foot across and slogs, but holes out in the deep
He made 7 off 16 balls, real struggle
7 off the over, another great over, SRH 136/6 after 19 overs
SRH finish on 142/8 off 20 overs, 2 wickets in the last over and no boundary, not fun. Very poor score
Kolkata are 6/0 after 1 over
Dale Steyn from the other end
OUT! Gone. Gambhir is out. Swings at a length ball, misses, and keeper Ojha takes it. It's given out but there was no edge!
KKR 8/1 after 2 overs
KKR 12/1 after 3 overs
Just 2 runs from the 4th over, KKR 14/1
Umpire has postponed Gautam Gambhir's smile for some more days. #SRHvsKKR

— Alchemist (@iBestest) May 18, 2014
Four, Darren Sammy gets slapped for four by Manish Pandey and KKR have some relief.
7 runs off the over, KKR 21/1 after 5 overs
Dropped. Utthappa goes high, but he cannot get the distance. We think he has holed out to cover but then, the fielder spoons an easy catch. This is a strange match.
SIX! Adding insult to injury!
Swing and a miss
Single off the last ball
KKR 30/1 after 6 overs
KKR 36/1 after 7 overs
Karn Sharma continues
Four, fuller on middle stump and Utthappa flicks it away for four
Turned through midwicket for two
KKR 45/1 after 8 overs
Irfan Pathan to bowl
Four! Utthappa swings hard at a short ball and its four through midwicket
Awkward shot but got the desired result
KKR 53/1 after 9 overs, and its the timeout
OUT! Run out, a good innings is nipped in the bud. Utthappa goes for 40.
KKR 60/2 after 10 overs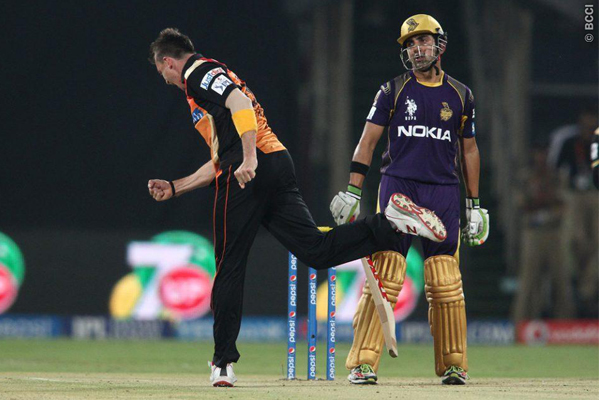 SIX! Another six, Pandey has gone wild here, 4 and now 6.
Pulls it away, Mishra is getting a tonking (again), deep square leg can't cut it off
KKR 81/2 after 12 overs
Four. Short of a length and Yusuf Pathan cuts it away for four.
Kolkata 88/2 after 13 overs
Gambhir is going to wear the same look in the dug out until @KKRiders wins the game now #SRHvsKKR #PepsiIPL @bhogleharsha

— Uzair Rizvi (@RizviUzair) May 18, 2014
Just 3 off this over from 5 balls
KKR 92/2 after 14 overs
SIX, Pathan launches into one from outside off, he moves outside off and hammers it for six over midwicket
Dropped, almost pulled off a stunner, but he gives away two
KKR 103/2 after 15 overs
OUT! Pandey is out, he slogs a full delivery to long off
Ryan ten Doeschate comes in
KKR 107/3 after 16 overs
Irfan Pathan bowls to ten doeschate
3 runs off the first 3 balls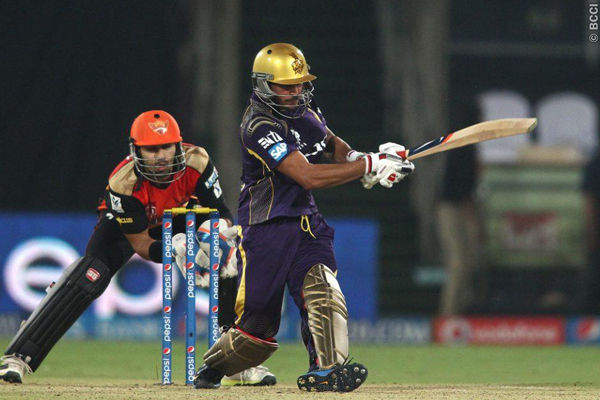 6 off the over, KKR 113/3 after 17 overs
30 needed off 3 overs
SIX! Yusuf launches it high over midwicket and into the crowd!
1 run, swept down the ground
Four. Wide, full ball, RTD goes hard at it, over point for four
KKR 127/3 after 18 overs
16 needed of 12, this over was crucial and KKR did well.
Dale Steyn is back, this is a very crucial over
Pathan goes hard at a full and fast ball, can get just two off an edge
13 needed off 10
This is wild. Pathan is in lots of strife against Steyn, his shots are heading in the opposite direction to what he intends. This was full and fast, on middle, Pathan tried to flick it away to the on side, it spooned over point for one!!
RTD now swings and misses at a near-yorker
Single to end the over, great over, 10 needed off 6.
Bhubaneswar Kumar bowls the last over
One off the first ball
SIX! Big shot. Full outside off, and RTD slams it over extra cover for six.
1,1
Just 1 needed to win off 3 balls
Four. Match over.