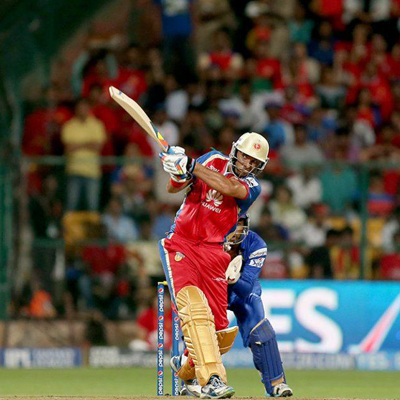 How do you score 83 off 38 balls, then take 4/35 and still end up on the losing side? But it happened to Yuvraj Singh on Sunday evening.
Yuvraj Singh returned to form against the Rajasthan Royals, smashing 83 off 38 balls to help Bangalore on its way to 190. He then followed it up by grabbing the wickets of Shane Watson, Stuart Binny, Sanju Samson and Karun Nair (who had made 56).
The wickets all came at crucial times, but the end could not have been more anticlimactic for Bangalore as the Royals plundered 67 off the last 17 balls to grab victory from the jaws of a Yuvraj-induced defeat.
For Yuvraj though, his performance must have come as a big relief, panned as he has been over his continuing run of poor form.
Yuvraj's worst time came during the ICC World Twenty20 final in April, where his painfully slow 11 off 21 balls was held reponsible for India's poor score of 130. The performance and India's subsequent loss triggered angry reactions from fans. Stones were pelted at his home, people called for his retirement and some cricket fans even revelled in Yuvraj's misery, mocking him on social media.
However since mid-2013 itself, Yuvraj Singh's form had taken a turn for the worse.
Since July 1, 2013, Yuvraj Singh has scored 118 runs in 11 innings at an average of 16.85 in ODIs. This includes just one fifty and no century. The strike rate of 65 is also well below his career strike rate of 87, indicating that he has struggled to put bat to ball and find a gap. This woeful performance was indirectly, silently, attributed to his illness by some, and as a mere sign of age by some others.
On Sunday, Yuvraj walked in with Bangalore at 40/3 in the 9th over. Chris Gayle and Virat Kohli were out and AB de Villiers, the man of many miracles, had just walked in. He could surely not be expected to perform yet another miracle on yet another night.
From the third ball he faced, however, Yuvraj Singh tore into the bowling. The Rajasthan bowlers did not help matters by bowling full to him. Tewatia was hit for four immediately after he had decieved Yuvraj, and the much-hailed Pravin Tambe was swept for two more boundaries in the next over. RCB were back in the game and Yuvraj seemed to have found his mojo.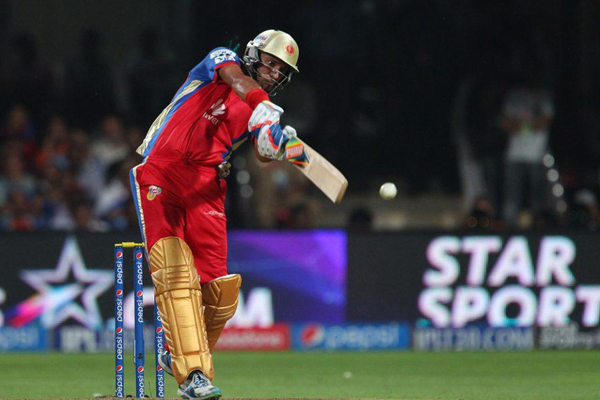 Tewatia was given another over and off the last ball, Yuvraj decided he was confident enough to go after a googly - it turned to outside leg and his swing found the stands behind deep midwicket.
From hereon there was no stopping Yuvraj. He went to 24 in 13 balls and then 54 in 24 balls. Pravin Tambe did create a tough chance with Yuvraj on 48, but wicketkeeper Sanju Samson failed to hold on to it.
Next in Yuvraj's firing line was Kane Richardson. A fullish ball was lifted into the stands to bring up a half century in 24 balls, and then AB de Villiers took over.
Shane Watson bowled some wide deliveries to Yuvraj, which were not called wides because Yuvi had taken guard on off stump. The strategy was intelligent - the idea would have been to negate the off-side lines of the Rajasthan bowlers and go over the on side. Indeed, most of Yuvraj's boundaries and sixes were scored between mid on and square leg.
Two dot balls were frustrating for the batsman but he responded by thwacking Watson for a six and a four off the last two balls. Around this time, Yuvraj decided to open up the off side for his shots, thus stamping his absolute authority over the bowling.
In the 19th over, De Villiers and Yuvraj together took apart Kane Richardson. Singh in particular tore into the beleagured bowler, who was first carted over mid wicket and square leg, then hit over long off off a full toss via a helicopter shot. The next ball, Yuvraj moved across to off once again, but was beaten and the ball crashed into his pads. The umpire's decision giving him out was contentious - a potential century had been nipped in the bud.
The euphoria of Yuvraj's innings and his four wickets while bowling was extinguished by a certain Ashok Dinda, and then by a certain Varun Aaron. The 18th over from Dinda was smacked for 23 runs and then Aaron made sure Mitchell Starc didn't get a shot at Rajasthan by conceding the match in a terrible 19th over.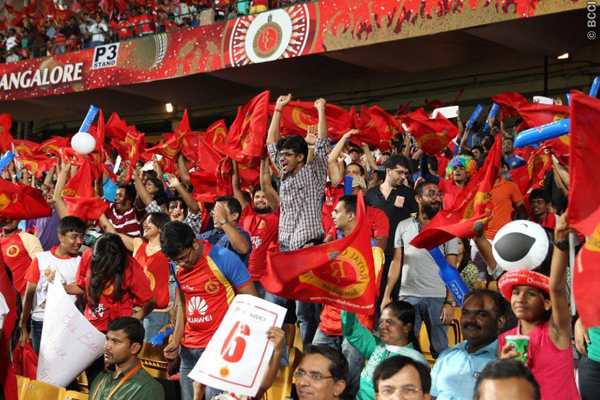 Twitter exploded after the Yuvraj assault, and then again after RCB lost the match in stunning fashion. The tags #Yuvi and #RCBvsRR were still trending in Mumbai as of Monday evening.
Twitter was full of praise for Yuvraj:
i am so happy for #yuvi brilliant batting bowling though his team didnt win bt still we saw our vintage yuvi #rcbvsrr

— bidisha biswas (@bidishha) May 11, 2014
When Yuvi was Suffering with Cancer Its his Mother believed & Supported him.. Now He Gifts back this performance to her on Mother's Day..

— Broken Cricket (@BrokenCricket) May 11, 2014
Tears in my eyes @YUVSTRONG12 gave u back every stone u pelted on him sixes on ur face haters Sher is back .Yuvi yuvi yuvi yuvi #rcbvsrr

— p?eety (@being_preety_) May 11, 2014
#Yuvi must have had himself as a Power Player in today's Fantasy League. 300 Points :O #IPL7 #RCBvsRR #RRvsRCB

— Sir Ravindra Jadeja (@SirJadeja) May 11, 2014
And then came the anticlimax, RCB lost, and Twitter mourned:
RCB bowlers.. STARC DINDA N AARON.. What were u thinking guys?? YUVI DESERVED THE VICTORY TONIGHT :( Still can't believe it.. :(

— Anita #RespectYUVI (@aniyuvi) May 11, 2014
83 of 38. 4/35. Tough Luck #Yuvi. The worst any player could ask for. Playing one of the best knocks and still ending on losing side. #RCB

— Prabhu (@Cricprabhu) May 11, 2014
83 off 38 balls and 4/35 must surely rank as one of the better T20 perfomances of all time, and probably the greatest effort in a losing cause. Yuvraj's son shone very bright after a long time, only to be robbed of its glory by some rank poor bowling in the final overs.