When Yusuf Pathan hit Lasith Malinga for four in the 19th over, Mumbai Indians' fate was sealed. They were finally out of IPL-7 for all practical purposes, four matches before the league round ends.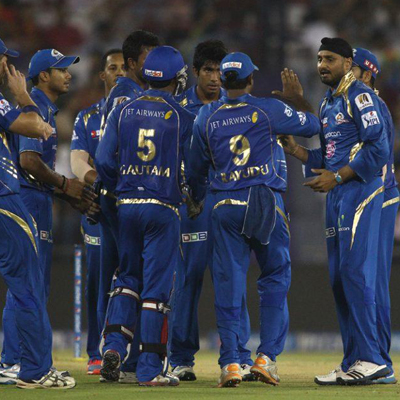 When Yusuf Pathan hit Lasith Malinga for four in the 19th over, Mumbai Indians' fate was sealed. They were finally out of IPL-7 for all practical purposes, four matches before the league round ends.
Finally out, because ever since the defending champions lost five straight games in the UAE, Mumbai were always close to being eliminated. To qualify for the playoffs, Mumbai needed to win at least 8 of their remaining 9 games, a tall order considering the way they performed in the tournament.
For the first four games, Mumbai's biggest hitter, Kieron Pollard, didn't show up. When he finally slammed 78 off 48 balls against the Sunrisers Hyderabad, Mumbai lost by a whisker - once again because their batting order failed.
To put Mumbai's abysmal batting performance in perspective, their best score in the first four games was 141, and when Pollard fired in the fifth game, Mumbai posted 157.
Another indicator of Mumbai's shambolic performance is the number of half-centuries scored by their batsmen. Rohit Sharma has scored 3, but he has started slowly in all of them and not looked at his best. Ambati Rayudu has scored 2 half-centuries, but his strike is 120 and 2 half-centuries in 10 games is not a great performance anyway.
Kieron Pollard has a high score of 78 and then another score of 40+. He has only shown form in the last six games. Corey Anderson, hired because he became famous for smashing a 36-ball century in an ODI against West Indies, has been a big disappointment. He has neither been able to score runs quickly nor score many runs. His highest score is 39, his average 18 and his strike rate 118. By no stretch of imagination are these figures acceptable for an aggressive middle-order batsman.
The biggest disappointment, who has gone unnoticed in the batting order has been Aditya Tare who has 118 runs from 10 games at an average of 17, with no fifties.
Mumbai's bowling, hailed for its quality, has also performed well below expectations. Lasith Malinga is the only standout bowler, with 16 wickets and an economy rate of 6.45. Harbhajan has a better economy rate but has just taken 8 wickets in 10 games. The less said about Pragyan Ojha, Kieron Pollard and Corey Anderson, the better. They have simply been smacked around.
Ambati Rayudu is Mumbai's highest scorer in this year's IPL and he comes in at a lowly number 9 on the list. Rohit Sharma is 12th on the list. This may just be a pointer to the fact that in a poor season, Mumbai Indians are sorely missing Sachin Tendulkar. Tendulkar was among the top (and most consistent) run scorers in all previous IPLs except the last year.
Similarly, Lasith Malinga is the 3rd highest wicket-taker this IPL, and the next Mumbai name on the list is Harbhajan Singh, at number 22.
Mumbai have four matches left - two against Rajasthan and one each against Punjab and Delhi. On present form, they are likely to win only against Delhi. At best, Mumbai can also act as a spoiler for Rajasthan Royals, who have six wins from 10 games. Rajasthan need three more wins to be assured of a place in the playoffs, and have Kolkata breathing down their necks at number 4.
However, Kolkata has lost 5 games, Hyderabad and Bangalore six out of 10. Therefore, even a loss to Mumbai would not push Rajasthan towards real danger of being eliminated. As the table stands now, Kolkata, Hyderabad and Bangalore are most likely to jostle for the fourth spot. Hyderabad and Bangalore will look to win all of their remaining games, and neither of them play against Mumbai.
Unless Rajasthan lose at least two of their remaining games, they will not be in any danger.
Therefore, Mumbai Indians really have few things to look forward to in IPL-7. This might warrant giving a chance to newer players - the semi-tested Ben Dunk, and the ones who have been mostly on the bench - Shreyas Gopal, Josh Hazlewood, Sushant Marathe and Marchant de Lange.