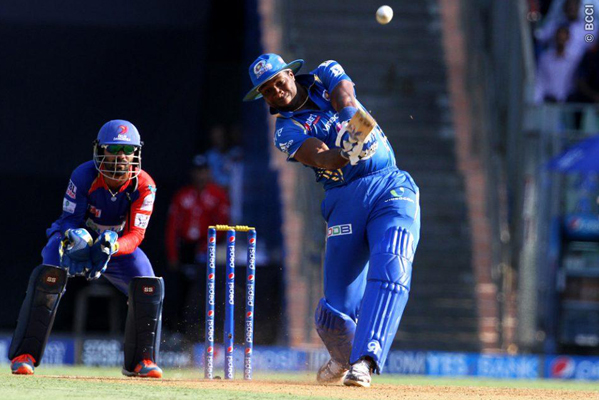 Mumbai Indians finished IPL-7 by reaching the playoffs, where they lost to the redoubtable Chennai Super Kings in an Eliminator.
They won 7 matches out of 14, a far inferior performance compared to last year's. However, it was far better than anyone could have imagined after Mumbai lost all five games in the Dubai leg of the IPL.
From zero wins from 5 games to 7 wins from 14 games is quite impressive. Had Mumbai shown the same form in Dubai as they did in India, they could easily have made it to the top two teams in the playoffs. This would have given them a cushion of winning just one out of two games in the qualifiers to proceed to the final.
Unfortunately, Mumbai's best batting performance in the first 4 games was 141/7. When Kieron Pollard finally came good in the fifth game, it was a lone-warrior knock, and Mumbai finished on 158. More importantly, they lost again.
Lendl Simmons was an asset in the later part of the tournament and Mumbai will question themselves whether their fortunes would have been different had he been in the team earlier. Among the other batsmen, Rohit Sharma was a shade below par, throughout the tournament. When he did make good scores, he started far too slowly and surrendered the momentum.
Kieron Pollard began to perform after four games, but in the end he was a vital cog in the team reaching the quarterfinals.
Aditya Tare was mercurial, but he played a fine role in the last-ball finish against Rajasthan when Mumbai had to hit a boundary to qualify for the playoffs. Tare seems to have performed much better down the order than when he was opening. The same cannot be said of Ambati Rayudu, whose 361 runs did not nearly make as much difference to Mumbai's fortunes as the number itself. In other words, Rayudu was less than the sum of his parts, playing several middling innings but rarely constructing a massive one, except in THAT game against Rajasthan.
Like Tare, Corey Anderson came good when it mattered most - against Rajasthan - and yet one brilliant innings in 14-matches does not do justice to the price which MI purchased him at.
Among the bowlers, Harbhajan Singh played a part in Mumbai Indians' fortunes: in 14 games he took 14 wickets at an economy rate of 6.47. Though his best was just 2/13, Harbhajan did what he has been doing best for a few years now - restricting the opposition while the other bowlers took on the mantle of taking wickets.
Mumbai were constrained by the loss of Lasith Malinga to the Sri Lankan national team towards the crucial stages of the tournament. He was once again their best bowler, at an average of 15.81 and an economy rate of 6.45. Mumbai coped up admirably without Malinga, but his absence in the playoff against Chennai would not have gone unhurt.
No other bowler did anything much of note for Mumbai and the heavy dependence on Malinga and Harbhajan, and then on Harbhajan alone, certainly meant they conceded more runs in the death overs than they would have liked to.
Overall, Mumbai would rue their abysmal performance in the Dubai leg, having won 7 out of the 9 games in India later on. They remained a strong force at home, dropping just one game, but eventually, the ghost of past mistakes came to haunt them and put them out of the season.