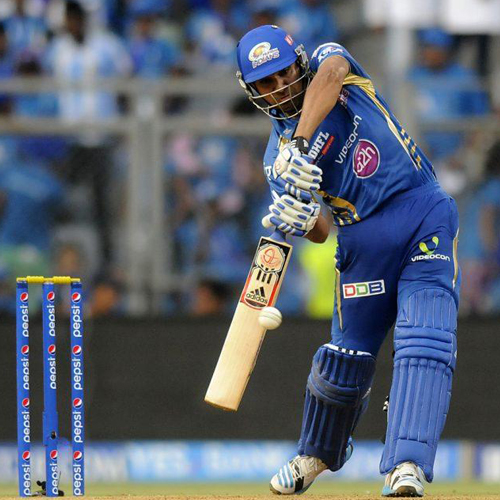 The UAE leg of the Indian Premier League (IPL) was a disaster for the Mumbai Indians. So far, they've lost all five games, and only in the last game did they manage to compete. Or to put it correctly, one batsman - Kieron Pollard - competed with the opposition.
On Saturday however, the Mumbai Indians' batting stepped up to the task. Perhaps playing a game at the Wankhede helped. Perhaps it was just that they were slowly getting better and finally managed to put one match in the bag.
More impressively, they defeated the one undefeated team in the tournament - Kings XI Punjab. They halted Glenn Maxwell's onslaught midway, successfully negated the threat of David Miller and then batted just well enough to win.
The irony of Mumbai beating Punjab is that they lost their last match to Sunrisers Hyderabad, a team which had won a mere 1 out of 4 games before they beat Mumbai.
There was a new opening combination for Mumbai against Punjab - Ben Dunk and Chidambaram Gautam. It didn't do them any wonders - Dunk fell in the first over and Ambati Rayudu, batting at No 3, was out in the third over. Rohit Sharma's arrival to the crease seemed to be the beginning of Mumbai's familiar slide.
Sharma has rarely shown his much-hailed talent in international cricket. In IPL though, Sharma has been a crucial batsman for Mumbai since he joined them. This season, even Rohit Sharma seemed to be out of touch. There was a laboured 50 against Chennai Super Kings, but Rohit was nowhere near his best even in this innings.
On Saturday though, Rohit began to show glimpses of the form that he is known for in IPL games. Though he was scoring largely in singles and twos for a major part of his innings, the shots were more confident, and the sixes, though not off the middle off the bat, showed assertiveness.
His dismissal was the only time in his innings when he looked out of sorts. An ugly attempt at a pull resulted in the ball gaining height rather than distance, and ending up in the wicketkeeper's hands.
The second positive was the return of Corey Anderson to form. Anderson, who so far had scored 69 runs in 5 games at a strike rate under 100, went on a rampage against spinner Akshar Patel, hitting him for 18 runs off four consecutive balls en route a 20-run over. Anderson was on 29 off 13 at one point and genuinely looked dangerous. 35 off 25 was thus only a reasonable return in the end, but Mumbai will be happy that at least for one over, Corey Anderson was the guy who made the fastest ODI century not long ago.
Kieron Pollard continued his form from the last game, making sure Mumbai were not denied victory once they were favourites to win. He not only took Mumbai to the win but also did it in style, with a few sixes towards the end and with five balls to spare.
The surprise though was Aditya Tare, whose demotion to No 7 actually worked far better than many would have imagined. When Tare walked out to the crease with Mumbai needing 42 off 20 balls, an educated fan's emotion would not have been stellar joy. Many would have viewed Tare with skepticism at this stage of the match, preferring the rash but more effective Harbhajan Singh.
Tare, however, cleared all doubts by walloping L Balaji for 16 runs in the next over, all of it clean hitting. He made sure Pollard did not have to do too much at the end, like in the last game against Hyderabad.
Pollard's audacity though lay in the freak assault he unleashed on Mitchell Johnson the next over. The Mitchell Johnson of today is a very potent force, and most batsmen would not back themselves to take him on with the match hanging by a thread. Pollard though had other ideas - there was no fear and full clarity - as he tonked Johnson for two fours and a six to decisively turn the game Mumbai Indians' way.
Mumbai Indians have been bowling decently throughout the tournament. Malinga has been his usual stingy, dangerous self, Zaheer Khan has turned the corner and Harbhajan Singh is taking wickets. It was Mumbai's batting that cost them five games this season. It will be a very uphill task for Mumbai to win enough matches now to make the playoffs (7 out of the next 8), but the returning form of their batsmen offers a glimmer of hope.