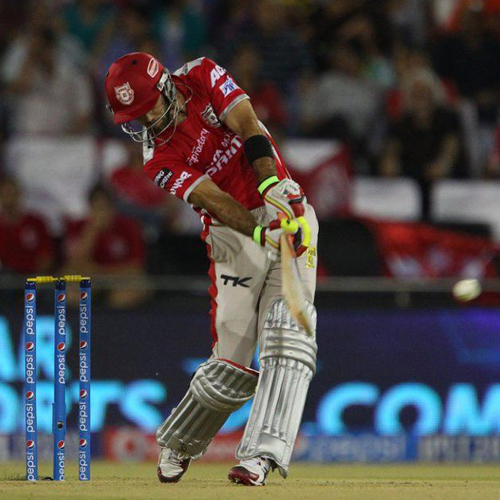 On Wednesday, Glenn Maxwell of Kings XI Punjab, playing against the Chennai Super Kings, smashed 90 off 38 balls even as Kings XI Punjab amassed a massive 231/4 in their 20 overs in the IPL.
This was Maxwell's fourth fifty of the tournament, adding to his scores of 95, 95 and 89 earlier. In all these innings, his strike rate has stood above 200 and he has amazed the spectators and the opposition alike with his breathtaking batting.
Glenn Maxwell has already become a big favourite of cricket fans on social media, and after his blitzkreig on Wednesday, Twitter was flooded with Tweeple's reactions. While praising Maxwell, people also heaped scorn, ridicule and pity on Chennai Super Kings, who became the subjects of much trolling.
This user compared R Ashwin to a samosa:
Glenn Maxwell is treating R Ashwin with as much respect as Virender Sehwag does a samosa #KXIPvCSK #IPL

— Cricket Gandu (@CricketGandu) May 7, 2014
Ya, this might be the rationale behind bowling Ashwin:
If you're wondering why Dhoni gave Ashwin second over, it's because he has 11 variety of deliveries. Had to try everything. #IPL #KXIPvCSK

— Silly Bowden (@SarcasmCricket) May 7, 2014
But we can't call Maxwell this on our website:
Madmax is an apt name for this freak! #KXIPvCSK

— Rahul Bhat (@maybornrahul) May 7, 2014
This user is as amazed with Maxwell not yet getting a hundred as we are. But his praise is right on target:
Maxwell is the most selfless Cricketer who never craves for self achievements and think about the Team first!!! #DhoomPunjabi #KXIPvCSK

— HappyBDay @sohailb19 (@karthik_jammy) May 7, 2014
Haha. M&M here stands for Maxwell and Miller:
Punjab might soon announce M&Ms as their state chocolate. #IPL #KXIPvCSK

— HoldingWilley (@holdingwilley) May 7, 2014
Ravi Shastri, please take notes:
Harsha: Ravi what should be CSK's strategy? Ravi Shastri: They shud think positively. #Respect #KXIPvCSK

— Dilliwallah (@ProudDilliwala) May 7, 2014
Mr Roy is unable to delink the Indian elections from the IPL:
Breaking News::: DNA Report Confirms Glenn Maxwell Ancestor Were From Gujarat. #KXIPvCSK

— atul roy (@atul_roy) May 7, 2014
Yes, Chennai's approach in the initial overs was baffling:
Shame that chennai didn't even try to go for the total. Bigger shame that they'll never admit it nor that they just played for NRR.#KXIPvCSK

— Procheta Mallik (@dr_pcvm) May 7, 2014
Is Rajnikanth listening to this?
Only Rajnikanth can make Chennai super kings win from here. #PepsiIpl #KXIPvCSK #CSKvsKXIP

— CM PUNK (@HbkShubham) May 7, 2014
In retrospect, one can only hope that Maxwell does finally get to his century in this year's Indian Premier League. His performance this year is arguably even better than Chris Gayle's last year. Punjab are also on a hot streak of form and if Maxwell continues this way, the title is surely in their grasp already.