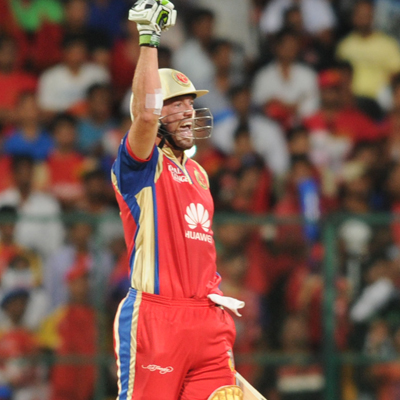 Elegant cuts, majestic pulls, astonishing reverse sweeps. Terrific power, great balance, brilliant hand-eye coordination and perfect timing. All this is an apt description of Abraham de Villiers.
AB de Villiers, along with Virat Kohli, or even ahead of him, is the best batsman in the world today. He had been strangely out of form for the first five games in this year's IPL.
Bangalore's batting has been terrible of late, with Virat Kohli failing and Chris Gayle only playing cameos. The less said about Yuvraj Singh, the better.
De Villiers had joined the brigade of batsmen in poor batting form. Today, he came out to bat under extremely tough circumstances. 38/3 off 40 balls, with Chris Gayle and Virat Kohli back in the pavilion and a terribly out-of-sorts Yuvraj to follow, is nowhere close to a dream. That they needed 155 to win, now at 9 runs per over, complicated the situation.
AB de Villiers started slowly, scoring 5 off his first 8 balls before he launched Irfan Pathan into the stands for six.
That wasn't it, however, as the next batsman, Rossouw, fell the very next ball – the first ball of the 11th over.
Bangalore were 59/4 at this stage and the struggling Yuvraj Singh walked in. He continued to struggle – at one stage he had made 8 off 12 balls.
When Yuvraj fell, Bangalore still needed 12 runs per over with over five overs to go. De Villiers acted as only De Villiers would – he did not wait for things to settle down. The next over from Sammy saw two of the hugest sixes ever in this year's IPL. 19 runs off that over and the target was suddenly achievable.
Then began a tense contest between the world's best fast bowler, Dale Steyn, and de Villiers. Steyn won the first contest, conceding just 3 runs off the 17th over to put Bangalore back under pressure. Steyn kept bowling near-yorker length balls outside off stump and de Villiers was simply unable to get under them.
One would think that de Villiers would attempt to seal the match off Bhuvaneshwar Kumar's over, rather than wait for Steyn to return. Just 9 runs were however taken off that over.
With 28 needed from 12 balls, and Steyn to bowl his last over, not many would have bet on a Bangalore victory, in spite of AB de Villiers.
What happened next was inexplicable. AB de Villiers used his famous walk-across-the-crease routine to destroy Steyn's line and confuse him for good.
It was not as though Steyn bowled the over badly. There were two near-yorker length full deliveries, one slow offcutter, one low full toss and one quick delivery outside off stump.
Of these, two near-yorkers and the wide delivery outside off were dispatched for a six, a four and a six. The greatness of hitting the wide ball for six was that de Villiers went over long leg, not the off side!
The slower delivery was also thumped into the stands. Three sixes and a boundary, plus two runs, gave RCB 24 runs off that over and sealed the game.
Then, in the last over, De Villiers kept his nerve as Irfan Pathan nipped out Mitchell Starc off the first ball and then gave away just two off the next three balls. Off the fifth delivery, which was by no means a poor one – a low full toss on middle stump – de Villiers moved to the off side and drove through the on side for four to seal the win.
It is said that there are three things which separate great batsmen from the good ones. Firstly, they read the delivery from the bowler's hand instead of off the pitch. Secondly, they hit good balls for boundaries. Thirdly, they hit good bowlers for boundaries. On Sunday, AB de Villiers once again showed that he possesses all those attributes in plentiful measure.