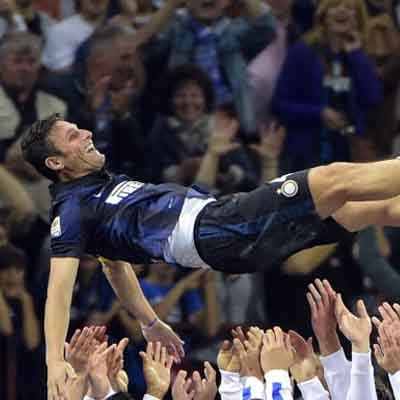 Internazionale's 4-1 victory over Lazio at the San Siro was Javier Zanetti's last home match, as the Internazionale legend will hang up his boots at the end on the season. Zanetti came off the bench on the 52nd minute of the match to make his final appearance at the San Siro. Lazio nearly spoilt Zanetti's farewell after scoring on the 2nd minute, but the hosts did not let that happen, winning the match 4-1. After spending nearly two decades with the Italian side, 40-year old Zanetti finally took the decision to say goodbye to football.
Javier Zanetti is a footballer with strong commitment towards training, and is known for being consistent in form, even in his late 30's. His hard work and commitment towards football along with his ability to keep calm on the pitch earned him tremendous amount of respect. Versatile in nature, Zanetti played on both the wing-back positions (left & right), played as a central defender, central midfielder and sometimes even on the wings. He is noted for his charity work, running a foundation in Argentina to help out the disadvantaged children. Zanetti was also named as an ambassador for the SOS Children's Villages project in Argentina by FIFA and received the Ambrogino d'Oro award in 2005 from the Milan town hall for his social initiative. Zanetti is also a Global Ambassador for Special Olympics.
Starting his career with Talleres de Remedios de Escalada, Zanetti moved to first division side Banfield in 1993. By 1995, Javier Zanetti, moved to Internazionale. After his move to Inter, he was nicknamed 'El Tractor' .During his 19 seasons, Zanetti won 16 major trophies, out of which 15 came under his captaincy. He became the club caption in 1999. With Internazionale, Zanetti won 5 Seria A (2005-10), 4 Coppa Italia(2004/05, 2005/06, 2009/10, 2010/11), 4 Supercoppa Italiana ( 2005, 2006, 2008, 2010), UEFA Cup in 1997/98, UEFA Champions League in 2009/10 and FIFA Club World Cup in 2010.
Javier Zanetti has made over 950 club appearances and 145 appearances for his national side, Argentina, holding the record for bring the most capped player for his national side. He also holds the record for the highest number of appearances by a non-Italian, making 857 appearances for Inter. Apart from these records, another club record on Zanetti's name is the most number of consecutive appearances (making 149 consecutive appearances between 2006/10). In 2010, he was the oldest player to score in the Champions League (scored an opening minute goal against Tottenham Hotspur).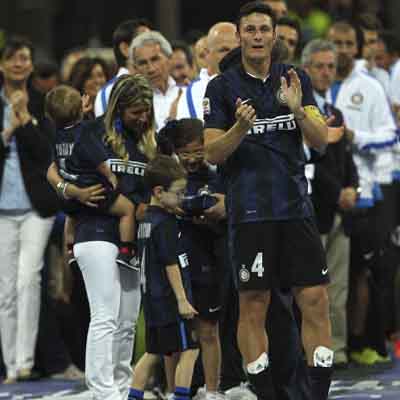 A.S. Roma striker Francesco Totti has stated that Javier Zanetti is a 'LEGEND'.
This is what Totti had to say on Zanetti according to Goal.com:
"Players like Javier are not just symbolic or emblems who represent a club for many years, but are also real champions who will remain in the history of this sport for their behavior, professionalism and obviously their attachment to the jersey."
"Pupi, a strong embrace and thank you for all you've done for world football. You are a legend for all of us."
Javier Zanetti after his last match for Inter at San Siro:
"I really struggled to hold back the tears, I'm crying on the inside. It's an amazing, unforgettable evening. Lots and lots of images passed through my mind tonight. I thank the fans and the Moratti family for the career I've been able to have and all the love they've given me. I could see what sort of atmosphere there was even before the game - incredible. I've always been proud to defend these colors. It wasn't easy to take this decision. I've given everything I had. I'm glad to be able to quit when I'm physically and mentally fit. I'll tell the lads who pull on the Inter jersey in future that they have to honor it and defend it as I've had the privilege of doing. It's important to have that sense of belonging and understand what it means to play for Inter and defend these colors across the world. That's what they need to understand. I'll miss lots of things: the dressing room, drinking mate with Samuel and Milito, the training camps. I'll carry it all with me for the rest of my life."​
Though Zanetti won't be playing anymore for Inter, he will be offered a role at the club. He will be appointed as the clubs Vice-President.
This is what club President Massimo Moratti had to say on this:
"I had thought of a role as president, but I know that he'll be vice-president, which I imagine is something prestigious for him. I'm glad this was thought up. It's up to him to do well in this role but he certainly will do because he has the right head for it."
Last night was truly memorable for Zanetti, because a Inter fan invaded the football pitch to meet his 'Idol'. Zanetti, putting the guards, goes to meet the fan and hugs him. Thats not all, the club captain was also given a special captain's armband for this special occasion.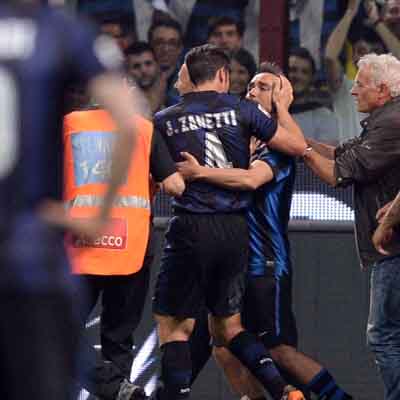 The special captain's armband made for Zanetti:
From Adani to Ze Maria #JZ4ever pic.twitter.com/vpjhyX16yl

— James Horncastle (@JamesHorncastle) May 10, 2014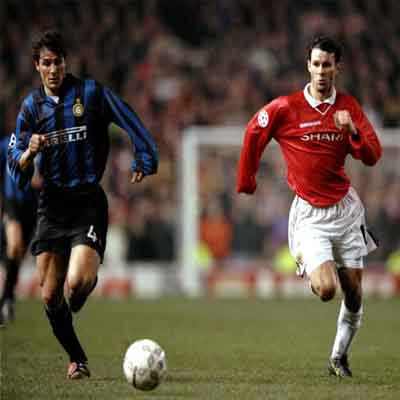 Ryan Giggs is the best I've played against: Javier Zanetti
Another great footballer's career has come to an end. He will be missed by millions world wide.