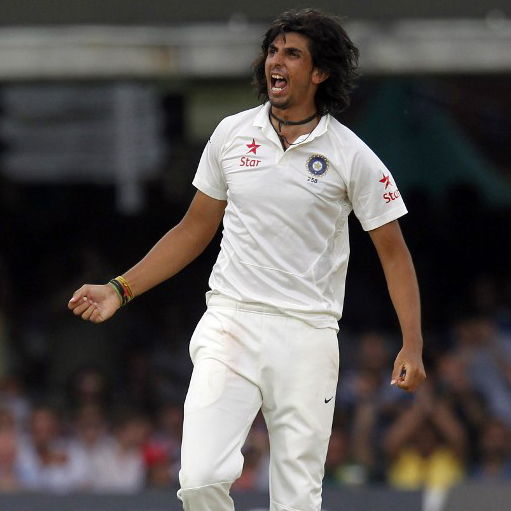 Ishant Sharma is the quintessential Indian fast bowler. Perhaps he is even the prime torchbearer of that description.
In other words, Ishant Sharma embodies the careers of several Indian fast bowlers - he is talented, he has swing and pace, he has the selectors' backing, and he got tongues wagging in the very early stages of his career with some top-grade performances against quality opposition. Like most Indian pace bowlers, he also eventually became a major disappointment in international cricket.
Ishant Sharma's claim to fame before Monday's 7/74 at Lord's was this: in Perth in early 2008, Ishant Sharma proved to be a nightmare for batting great Ricky Ponting, troubling him with swing and seam movement as well as that "awkward" length which is neither too full nor too short. His ability to bring the ball back into the right handers at well over 140 kilometres an hour, combined with the strange length made him an instant celebrity in the world of cricket.
Scores of articles were written about Ishant's 'talent', his performance against Ricky Ponting at Perth, and the fact that India had finally discovered a tall pace bowling sensation. His performances in that breakout year of 2008 were reasonably good, as he continued to trouble the Australia even back home on India's placid wickets.
Since 2009, however, Ishant Sharma's performances could mildly be described as very mediocre. Averages of 46, 37 and 36 did not do justice to the 'talent' that he was supposed to possess. Then came the dreadful year of 2012 when Ishant averaged 75 over five games at a bowling strike rate of 138. By this time, serious questions were being asked about his place in the side, and the supposed talent which never came to fruition.
He was dropped from the side a few times and returned a few times, as India failed to find a competent frontline bowler following the decline of Zaheer Khan. Over the years, Ishant's pace has deserted him - his high 140s in Australia in 2008 had turned into low 130s almost all the time. Sharma's reputation in Australia was based on one test match in 2008 - he was horrendous on the 2011-12 tour.
Ishant Sharma has succumbed to the Indian mentality of focusing on seam and swing movement at the cost of pace - even if it was naturally endowed for the bowler. But this is not where his problems ended - Ishant had become too wayward in general and unwilling to experiment with different lines and lengths. His 'weird length' had turned out to be a problem in itself - it was usually too short for LBW and bowled dismissals, and too full to have the batsmen fending off their chests.
The Indian team management attempted to help Ishant bowl slightly fuller to compensate for this 'lack of luck', but with the new length, his waywardness increased manifold.
On Monday, Ishant Sharma scythed through the England batting with an exhibition of well-directed short bowling at decent pace. The wicket was helpful but Ishant, for once, aborted his unwillingness to experiment and resorted to bowling short on a consistent basis. However, Ishant's reluctance to experiment was not undone by a stroke of inspiration. He later credited captain MS Dhoni for this, saying the latter had encouraged him to bowl short. Dhoni also gave him a long spell to keep his threat constant and his momentum going. It reaped five wickets on Day 5 for Ishant - added to two on the fourth evening as well.
Dhoni said during the post-match ceremony that "That last over before lunch, Ishant didn't really want to bowl short, I was like, 'you have to bowl it,' I turned the other way round. He got his wicket and then it gave him the confidence to keep bowling short, keep attacking the batsman. I think it was a fantastic performance."
This begs the question whether what Ishant really misses is a lack of a thinking mind. Perhaps he needs guidance from another, perhaps he needs to be told what to do in order to succeed. That is a worrying quality in a young pace bowler capable of terrorising the opposition on his day.
For now though, Sharma can bask in the glory of his Man-of-the-Match performance.
Crucially for his career, such performances have been frequent in 2014. Ishant has taken two six-wicket hauls this year apart from the 7/74 at Lord's on Monday. The first of these was 6/134 against New Zealand on a placid wicket in Auckland, a match that India went on to lose by just 40 runs despite a fine second innings batting performance. The second was more memorable - a then-career-best 6/51 against the same opposition in the very next Test at Wellington. India, however, failed to capitalise on the (massive) 246-run first innings advantage by allowing New Zealand to score 680 in the second innings. Ishant was as guilty as the rest of the bowling then, promptly returning figures of 0/164 - a return to the 'old ways' so to speak.
Ishant has played two tests since then and returned figures of 3/150, 0/61 and 7/74. Appropriately, these performances may be described as 'blowing very hot and very cold alternatively'. But his cumulative statistics for 2014 stand at 25 wickets from 4 Tests at an average of 26. For a man who took 19 wickets in 11 games at an average exceeding 60 over the previous two years, this is a tremendous performance.
What remains to be seen now is whether Ishant continues to follow good advice and bowl combining his strengths and the conditions in the coming days (and years). Incredibly, Ishant averages 33 at home on mostly placid wickets, and 39 away. That has to change if he is to be regarded as the genuine spearhead of the attack. At 25, Ishant still has age on his side, and with the support of the selectors, nothing should stop him now that he has finally found his rhythm.
Critically, Ishant Sharma has put in his best ever bowling performance in a win which ends India's 28-year drought at Lord's, as well as a sequence of 15 Tests outside the subcontinent without a win. Moreover, Indians have finally witnessed the day when their team bounces out the opposition on foreign soil, and Ishant is the architect of that achievement. That should make him feel a lot, lot better.