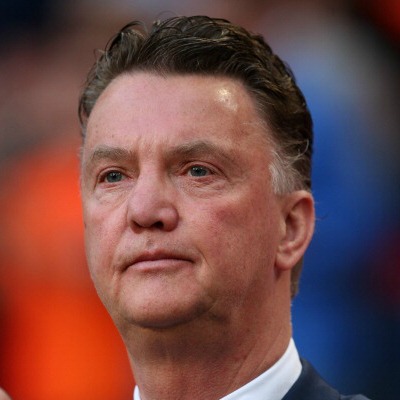 Louis Van Gaal was appointed as the new head coach of Manchester United on May 19. He is United's only third manager since 1986.
Before becoming Manchester United's coach, Van Gaal has previously managed four clubs and will currently head into the 2014 World Cup as the head coach for the Netherlands National Team. He will join the english club after the World Cup.
Lets have a Look at Van Gaal's managerial career:
1) AFC Ajax (1991-97) : Louis Van Gaal started his coaching career as a assistant coach AZ Alkmaar and then assistant coach for Ajax. After Leo Beenhakker's departure, Van Gaal became the new coach for Ajax in 1991. Under him, Ajax won the Dutch Eredivisie on three occasions, consecutively in 1994,95 and 96. The 1994/95 season was remarkable for Van Gaal and Ajax as the club was unbeaten in the league as well as Champions League. Under him, Ajax won the KNVB Cup in 1993 the Johan Cruijff Shield from 1993-95. Ajax also won the UEFA Cup in 1992 and the UEFA Champions League in 1994 and won the UEFA Super Cup in 1995. After serving out his contract at Ajax, Van Gaal received his knighthood in the Order of Orange-Nassau.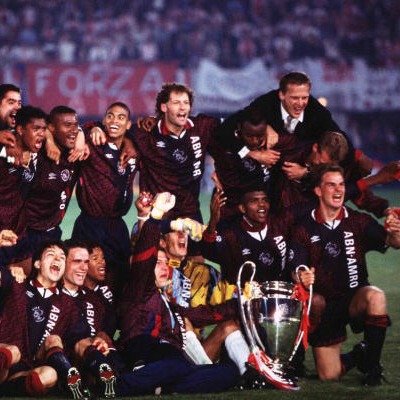 Getty Images: Ajan won the Champions League under Van Gaal
2) FC Barcelona (1997-2000) : Replacing Bobby Robson, Van Gaal became the new coach for Barca after serving six seasons for the Dutch club. Val Gaal's contribution benefited the team in the form of successive La Liga Championships in 1997–98 & 1998–99 and Copa Del Ray in 1998. Despite of success, Van Gaal faced criticism from the press as he expressed that it was difficult to implement his football philosophy at the club, the reason being cultural differences, and that he struggled hard as a few players were not willing to follow his lead. Van Gaal eventually left the Catalan side on 20 May 2000, days after losing the league title to Deportivo de La Coruña, uttering the immortal line: "Amigos de la prensa. Yo me voy. Felicidades." (Friends of the press. I am leaving. Congratulations.)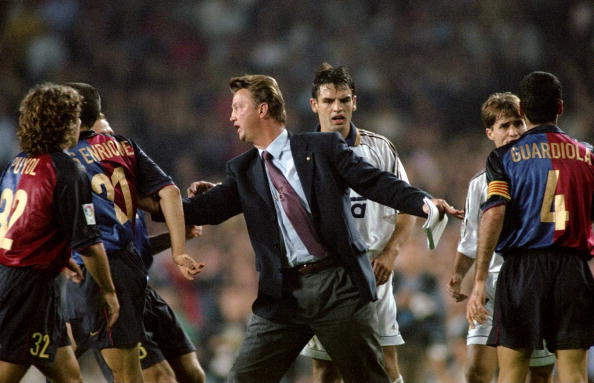 Getty Images: Van Gaal during his time at Barcelona
3) Netherlands National Team (2000-2002): After leaving Camp Nou, Van Gaal became the head coach for the dutch national side. Unfortunately Netherlands failed to qualify for the 2002 FIFA World Cup. Van Gaal stepped down as manager on 31 January 2002 to be replaced by Dick Advocaat.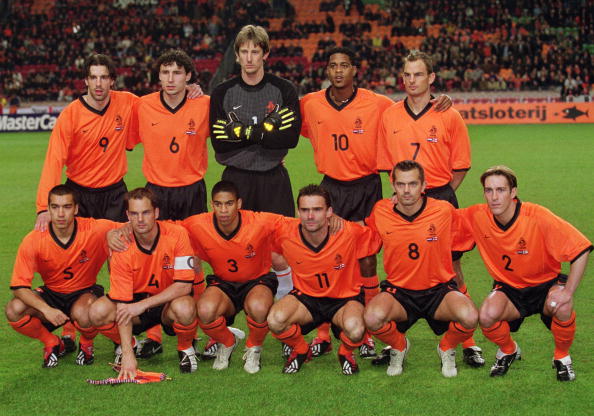 Getty Images
4) Return to Barcelona (2002-03): After having decent years with Barca previously, the Dutch manager was inconsistent with the Catalan Club, having a disastrous season with the club. Barca won four, drew four and lost three from their opening 11 league matches.Later, Barcelona lost three matches in a row, to Real Sociedad, relegation-threatened Rayo Vallecano and Sevilla. Barca later recorded two wins and a draw which improved things, but after successive defeats to Valencia and Celta de Vigo, he was sacked in January 2003 with the club just three points above the relegation zone.
5) AZ Alkmaar (2005-2009): AZ finished second in the Eredivisie in 2005–06 and third in 2006–07 under Van Gaal. He also helped AZ to a runners-up finish in the 2006–07 KNVB Cup and lost a 2007–08 UEFA Champions League qualification play-off to Ajax 4–2 on aggregate. Van Gaal won AZ Alkmaar the Dutch Eredivisie in 2008-09.
6) Bayern Munich (2009-11): On July 1 2009, Van Gaal took over as coach of Bayern Munich, the club to which he referred to as his "Dream Club". Van Gaal had a poor start as Bayern coach. He only only won one of his first four matches in charge, and by November the club was on the brink of a first-round Champions League exit following two losses to Bordeaux. With Bayer Leverkusen at the top of the Bundesliga, there were speculations that Van Gaal was on the brink of a departure from Bayern even earlier than his predecessor Jürgen Klinsmann. However, Van Gaal insisted he is a prozesstrainer, meaning that his team needs time to play the way he imagines. With the German club, Van Gaal went on to win the Bundesliga in 2009-10, DFB-Pokal in 2009–10 & DFB-Supercup & 2010. On 7 March 2011, Bayern Munich declared that Van Gaal's contract was to be cancelled after the end of the 2010–11 season. However, he was sacked on April 10 2011 after losing the third place in the Bundesliga.
7) Netherlands Return (2012-14): Louis Van Gaal returned to the Dutch national side. He led the Netherlands through its 2014 FIFA World Cup qualification group as the team won nine and drew one of their ten matches with a goal difference of 34-5 to secure their place at the finals in Brazil.
After the World Cup, Van Gaal will start a new chapter in his career with Manchester United. These are the comments Van Gaal made after the confirmation of his appointment, according to Mirror: "It was always a wish for me to work in the Premier League. To work as a manager for Manchester United, the biggest club in the world, makes me very proud. I have managed in games at Old Trafford before and know what an incredible arena Old Trafford is and how passionate and knowledgeable the fans are. This club has big ambitions. I too have big ambitions. Together I'm sure we will make history."
Chelsea boss Jose Mourinho has expressed his thoughts on the appointment of Van Haal, as reported on ESPN.co.UK: "He is a great football manager and I am happy he joins me in the same country and the Premier League. But more important than that, he's a great guy, a great man and I wish him good."
After United's disappointing season under David Moyes, the fans will have optimism towards the new manager.