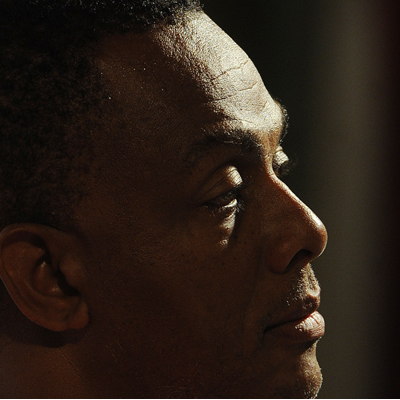 Courtney Walsh played international cricket for more than a decade and a half in the fairest manner possible. He stayed injury-free during the course of his 132-Test career in which he took 519 wickets, fifth in the all-time record.
On a week's visit to India to spot raw fast bowling talent and to mentor them in a 'Superpacer' scheme organised by a media house, Walsh is aiming to identify fast bowlers who can stay free of injuries and also lengthen their career.
"We don't want fast bowlers to come and disappear after one or two series. The reason for frequent breakdowns is that they burst into the scene, get a game or two and increase their pace and in the process get injured," Walsh said at an interaction with the media here on Thursday.
Walsh, the chief mentor of the scheme, will hone skills of young bowlers in the age group of 15-22 years and help them improve their pace while also staying fit.
Fitness was the key to Walsh's success in international cricket that spanned 17 years. "My fitness levels were pretty good. It was not a lot of gym. I did a lot of swimming and running and got my legs strong," the 51-year-old said. "Preparation is the key. You have to be prepared for the longevity in the game. I set my goals in that I should be able to bowl 20 overs in a day in Test cricket by preparing myself, training hard my mind, body, soul to do the job. I wanted to train for every game and not choose my matches."
Walsh said that India and West Indies were on the same platform as far as fast bowlers and injuries were concerned. "A couple of years ago, you had some young fast bowlers that burst on the scene and within a year after that, the injuries started creeping in. (Umesh) Yadav and all the guys whom I saw and looked promising after a Test series or two started to get injured. That is where we have to maintain or manage that these guys get fit and strong so that they can go through the rigours of international cricket.
"Rigours of cricket is not just Test cricket but also ODIs, T20s and first-class cricket. I judge a fast bowler not by his first spell but by his second and third spells when he needs to be at his best and if he can maintain the same level of accuracy and speed as in the first. The second and third spells will show if he is fit and strong enough."
Walsh, who took 519 Test wickets and formed a formidable partnership with Curtly Ambrose, said that the current pace bowlers "are not fully prepared for the work load. There is a lot of cricket being played and as a fast bowler you have to work twice as hard as the batsmen."
Walsh, who also played in 205 ODIs and took 227 sticks, said that the pitches across the world has flattened "and hence the fast bowlers have to work hard. As everything is in favour of the batsmen."
He wanted cricket to be a level-playing field. "I have always believed in a fierce contest between bat and ball. An ideal Test match is when on the first day there is some moisture and the fast bowlers have the advantage, on the second day the seamers come to the picture and on the subsequent days, it starts turning. Everybody gets into the picture. That's when all the characters are tested. At the moment, tracks are in favour of the batsmen," said Walsh.
The frequent injuries to fast bowlers in the West Indies and the focus on spinners have made one imagine that the fast bowlers are on the decline and more spinners are on the rise. Walsh did not agree. "West Indies have always had good spinners. Since the West Indies produced great fast bowlers, the attention on spinners was less. Now, with the injuries to fast bowlers and the emergence of spinners like Sunil Narine and Shane Shillingford, on whom there is a lot of attention following their success, it makes one feel that West Indies are producing more spinners now. It is not bad to have spinners."
Asked why West Indies stopped producing pace batteries, the last crop of such fearsome speedsters being in the Walsh-Ambrose-Ian Bishop era, the Jamaican said: "The main problem is keeping them on the park. West Indies have produced fast bowlers. Tino Best, Fidel Edwards, Reon King, Anderson Cummins, Shanon Gabriel, Ravi Rampaul... I can give you a long list of such names. But everyone is injured. They play five or six Tests and get injured. When they get injured, the competitiveness goes down a bit. They are not as sharp as they should be.