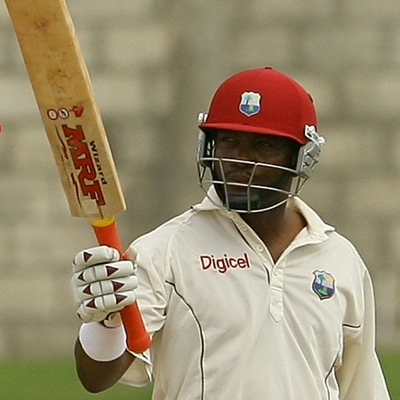 May 2 was Brian Charles Lara's 45th birthday. Considered one of the greatest batsmen of all time by most, and along with Sachin Tendulkar the greatest batsman of the modern era by many, Lara charted several incredible innings during his career.
None, however, stand out perhaps as much as the 153 (not out) against Australia in the third test of the Frank Worrell trophy at Barbados in 1999.
In the previous match at Jamaica, Brian Lara had made a monumental 213 help take West Indies to a series-leveling win. This time, he walked in with West Indies at 78/3, chasing 308 to win. The Australian bowling attack consisted of Glenn McGrath, Shane Warne, Jason Gillespie and Stuart McGill, and West Indies were no longer the force of old.
78/3 soon became 105/5 as Pedro Collins and Carl Hooper fell in quick succession. Lara was now left with wicketkeeper batsman Jimmy Adams, in the twilight of his career.
How did Lara respond? He took on the onus of scoring the runs and let Adams do the blocking. The pair put on 133 for the 6th wicket before Glenn McGrath clean bowled Adams.

At this juncture, West Indies were still 73 runs away from the victory, with a weak tail to follow. The situation was worsened by the fall of Ridley Jacobs and Nehemiah Perry, who were both caught plumb in front of the wicket by McGrath. With 63 runs needed and just 2 wickets in hand, the match seemed Australia's to lose.
Lara then decided the match was his to win. He devoured the strike, keeping Ambrose off strike as much as possible. Curtly Ambrose though, was not about to wilt either. His resolute defence in the wake of top-class bowling was to be deeply admired.
Ambrose however, fell when six runs were needed for victory and the Barbados crowd, which had found its voice, again fell into silence. Courtney Walsh walked out, with the very real possibility of being cleaned up by Gillespie or McGrath in quick time.
After Lara took a single off the first ball of McGrath's next over (he tried to hook a short ball for four but could not make it past fine leg) it was up to Courtney Walsh to face five deliveries from the world's best pace bowler.
Walsh negotiated four balls from McGrath, and then Australia's captain, Steve Waugh, brought the field in for the last. This was an intelligent move - Waugh knew West Indies needed just a single to win and the only way for Australia to win was to get Walsh out off that ball.
The ball however, left much to be desired. McGrath bowled a considerable distance outside off stump, perhaps hoping Walsh would go at it. He was mistaken - Walsh wanted nothing to do with that delivery.
As Walsh left the ball alone, the Barbados crowd roared. Lara would now be on strike and victory was nearly theirs.
Jason Gillespie was the bowler. His ball was on a good length outside off, shaping away. Lara drove, he split the close in field and the ball sped to the cover boundary as the Barbados crowd erupted.
The quality of the bowling attack, the situation of the match, the situation of the series (1-1 before this match) and the fact that West Indies were on a downward spiral in world cricket all contributed to the greatness of this knock.
Unfortunately, West Indies could not capitalise on the victory to win the series. They went down by 176 runs in the last match, drawing the series 2-2, even as Lara scored another century - this time off 84 balls. It was West Indies' last competitive series against Australia - they have never managed to even draw a series ever since, and their downward spiral in world cricket stands unabated.
It can easily be said though, that if not for Lara, the series would have been 4-0 to Australia.
A couple of months earlier, the other genius of the era - Sachin Tendulkar - had woven his way to a classic 136 on a turning track against the Pakistan of Wasim Akram, Waqar Younis and Saqlain Mushtaq. Tendulkar saw his side slip to 82/5 in a chase of 271, and partnered with wicketkeeper Nayan Mongia to rescue India. Mongia fell at an inopportune time and only Tendulkar stood between Pakistan and victory.
Tendulkar's ailing back was giving him dreadful spasms - he could barely play an attacking shot without enduring severe pain - and he attempted to close out the match quickly towards the end. After a couple of hits to the boundary, Tendulkar tried to loft Saqlain Mushtaq inside out over the off side - and instead lofted the ball into the hands of Wasim Akram.
India collapsed after Tendulkar's dismissal and lost by 12 runs. Tendulkar was injured and his tailenders, unlike Lara's, gave him no support, making his task very difficult. But in the annals of world cricket, one batsman managed to take his side to a historic win and the other failed at the finish line - in very similar circumstances. This is the one fact that is held up to describe Lara, and not Tendulkar, as being the greatest batsman of his generation.
Whether this is a fair assessment is a matter of opinion, but on his day, there was no doubt that Brian Lara's genius was beyond that of anyone else.