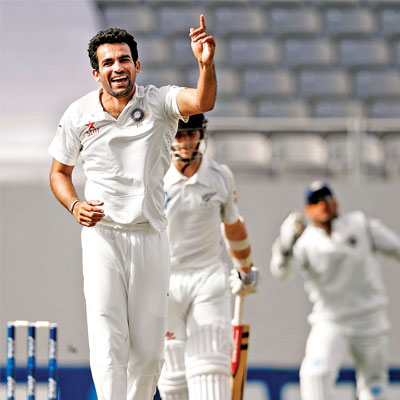 The Basin Reserve, Wellington, venue for the second and final Test between India and New Zealand is going to be different from Auckland where visitors played their first Test.
I have played a Test in Wellington and got a lot of help from the wicket and the conditions. Wind will be the biggest factor in Wellington. It is the second or the third windiest city in the world. So it is something Indians will have to get used to.
As a bowler it is going to be difficult if you are bowling against the wind. You could be five kmph slower against it or five kmph quicker if your bowling with the wind.
For the batsman, too, it is not going any easier. The force of the strong wind can sway the batsman and affect his his stance. Hence, they will have to get the balance right.
During my interaction with the New Zealand players, they used to say that they usually begin series by playing in Wellington because it is different from other grounds. By the time the teams get adjusted to the conditions, they are found struggling. So it is going to be a big challenge for India.
Not many from the present team have toured New Zealand before. Only Zaheer Khan, MS Dhoni and Ishant Sharma have played there. Most of them are new and it will be new expereince for them. How quickly the boys adjust to the challenge will be the key. It is a new team and a big challenge since historically, the wickets in New Zealand have been seamer friendly.
If the bowlers bowl with the wind, they will do quite well. They won't need to add extra pace or hit the deck hard, all you need to do is to put the ball in right areas and you will be dangerous.
However, it will be a challenge for anyone bowling against the wind. Dhoni will have to take this crucial decision of who will take up this responsibility. I feel Zaheer, who is the senior-most, will be entrusted to face this uphill task.
At Auckland, India bowled well in the second innings to restrict New Zealand to a low score. That is a positive for us. We also batted well and almost made it home. We have a good chance in this game too.
If we pitch the ball in the right areas, we definitely have the chance to get them out as New Zealand line-up is not the greatest.
India will take a lot of confidence from the Auckland match. However, I believe we have to be more patient. It is a new Indian batting line-up with little experience of playing overseas. I am glad Shikhar Dhawan has got those runs in the second innings and it will give him confidence. Virat Kohli, too, has been in a good form. Rohit Sharma did well by getting those 60 runs while Ajinkya Rahane got out to a rough decision.
New Zealand may start favourites, but India has a chance and will be a bit more confident. The biggest challenge, however, will be the wind.