The three top-ranked teams — Spain, Germany and Brazil — have no chance of winning the World Cup. While Iker Casillas's trophy cabinet is full, Philipp Lahm's horoscope isn't that strong. Ditto with Thiago Silva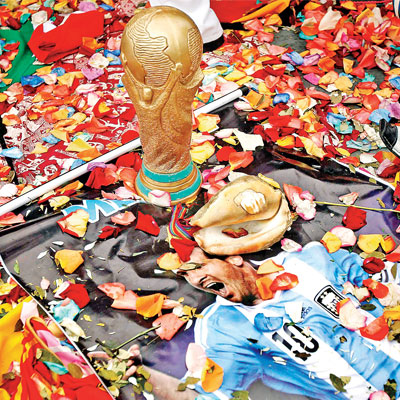 This may sound strange, but the three top-ranked teams have little chance of winning the 2014 FIFA World Cup.
The talismanic Iker Casillas has one of the best horoscopes among all sportspersons in the world. His horoscope is almost similar to that of Swiss tennis maestro Roger Federer and Mahendra Singh Dhoni.
But just like the India captain, Casillas has reaped the benefits of his horoscope. Simply put, he has exhausted his luck. 'The Saint' has tasted unprecedented success in football: he led Spain to an incredible 'treble' of Euro-World Cup-Euro and has already become the greatest footballer of the generation. He just cannot better this. The recent UEFA Champions League triumph in Real Madrid colours was his last bit of success.
Also, Spain coach Vicente Del Bosque has already won the World Cup as well the Euro. The team also consists of players who have won great laurels already. Also, this World Cup will sound the death knell of 'Tiki-Taka' football. It will be rendered ineffective. Spain can pose a threat if and only if a younger player wears the captain's armband.
Brazil coach Luiz Felipe Scolari's horoscope shows that he can't win another World Cup. The success he tasted back in 2002 was the highpoint of his career. Also, skipper Thiago Silva cannot guide Brazil to glory. Again, the hosts' will only benefit if Silva makes way for another player. Quite a few stars will shine brighter than Neymar & Co. this time. Brazil will fail to bury the ghosts of 1950 when they lost to Uruguay in the final.
If you thought Germany have a balanced team, think again. Astrologically speaking, Germany have a highly skewed team. The presence of an ageing Miroslav Klose will affect their chances. Captain Philipp Lahm's horoscope isn't good enough to win a tournament of this stature. A change in captaincy, too, wouldn't work in favour of the Germans. Coach Joachim Loew has a negative Pluto in exaltation. This phenomenon leads to bitter heartache.
Italy, Switzerland, Colombia and Uruguay are other top-10 teams that have no chance of winning the tournament. Their teams are rather weak.
Widely considered the greatest player of this generation, Lionel Messi is poised to lead Argentina to glory this time. Messi has the supremely powerful 'Planet X' in the deepest point in his horoscope. Coach Alejandro Sabella has four planets — Jupiter, Saturn, Pluto and Mars — in exaltation, thereby making him the best coach in the World Cup. Interestingly, Jupiter and Saturn will be in exaltation when the tournament ends on 13th. Ditto with Sabella's planets. Simply put, this is Argentina's World Cup to lose. And they will show the world that there is more to the team than Messi.
France, too, have an astrologically phenomenal team with Hugo Lloris as captain and Didier Deschamps as coach. Portugal has the irrepressible Cristiano Ronaldo, who has one of the best horoscopes among all captains. With coach Paulo Bento in command, they will be a force to reckon with. France and Portugal are serious contenders for the crown. England's Steven Gerrard, Belgium's Vincent Kompany and Robin Van Persie of the Netherlands also have a chance.
—Lobo is a city-based astrologer