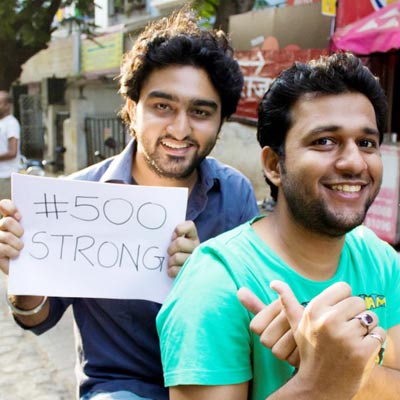 There are search engines that can dig into deep web and find what you're looking for... and search engines that can help you plan a trip or buy a product, online. But how about a search engine that can let you 'search' the offline world?
That's what Mumbai-based startup Pricebaba does. The website is a search engine for offline stores selling mobile devices. So the next time you want to buy a mobile phone, you can quickly check which offline store is giving you a good deal.
Pricebaba lets you search and compare prices, discounts and deals being offered on 1000 mobile phone models that they have listed on their site.
With 900 stores on its network in 8 cities that include Mumbai, Delhi, Noida, Gurgaon, Pune, Bangalore and Ahmedabad, and funding from 500 startups, the site looks promising.
We caught up with the co-founder, Annkur Agarwal and asked him a few questions about his venture.
1. How, why and when did you think of the idea?
Honestly, I was fed-up of friends asking me for advice on what phone to buy. There were just too many people asking me for advice and I had no time to answer them all. So I solved a personal problem by starting PriceBaba.
2. How does pricebaba work? What is its USP?
We are a shopping research platform. Of the 200M Internet users In India ~20M transact online. That too mainly for books and tickets. We realized that while a huge chunk of India's Internet population uses the digital medium to research for products and services online, however most of them transact in the real world. PriceBaba is bridging that gap. So we are the unsexy guys doing the difficult work of integrating the offline world on the internet. We have technology deployed to tell you which store near you is selling a particular product and at what price.
3. How did you carry out your research, networking in so many cities, with so many offline retailers?
I started in 2002 as a retailer and worked extensively in the offline market for several years. That experience helped in making PriceBaba. From my interactions with local retailers I could figure that the Internet is a mystery for them. For most retailers, Internet is their enemy. People fear what they don't understand! As PriceBaba our job starts with educating the retailer about the Internet and how it can help them.
Kickstarting an offline network is tough. Our boys walk over 6 miles everyday (yes, I measured it) to keep up with the retailers. There is no easy way to do it, we need to physically visit cities, retailers and get them onboard. Some retailers still think the Internet is blackmagic and shun us, while others embrace us. We continue to educate them and bring them online.
4. How big is your team? Tell me something about them and how you came together...
We are a total of 10 as of today. The core team members include me, Tirthesh Ganatra, Rohan Naravane and Nishit Shah.
I met Tirthesh during a train journey from Bangalore to Mumbai. He was headed back disappointed by India's Silicon Valley where a talented engineer like him couldn't find a job and luckily we met on the way back :) Tirthesh incidentally has sold electronics during his college days as well, his gujju blood has business in it!
I know Rohan from his UTV days when he was a tech blogger and I was running OnlyGizmos.com, a technology publication. Rohan moved into retail and was working with Apple. As he was looking to get back to his writing, a common friend suggested that PriceBaba could be his doorway. He was already sold on the concept of PriceBaba and the idea of being involved in not just a small part of a big system but giving direction to the entire business. Today he leads our content side and adds a lot of value to the product. A technology editor sure makes a very good product guy too!
Nishit manages our operations now. He is a young MBA graduate from Mumbai who met us during an entrepreneurship event in his college. He joined full time after interning with us for a couple of months.
5. What are future plans for Pricebaba?
We want to be the one stop destination for people to research before they shop. We want to answer three questions for you — what to buy, where to buy and how much to buy for. This can be for anything from a pin to plane. So as we grow, we would keep making a great research engine for people to choose what to buy, we would keep adding new product categories, avenues to shop from and pricing intelligence to help you get best deals.
6. How and why did you get to Silicon Valley? What was the experience like?
We are one of the few companies In India that got into the 500 Startups business accelerator. We were speaking to 500 Startups India venture partner Pankaj Jain to raise funds in India and as we met the team including Paul Singh and Dave McClure, they insisted that we should go to Silicon Valley with them and grow along with the community there. So we flew to Silicon Valley and spent a few months with the geeks there, sharing an office space with 30 other startup companies from across the globe.
It is an experience of a lifetime! It gave us so much confidence. That we are just as good as any other startup across the globe. Also, spending time with 500 Startups' mentors, who have worked with some of the largest names in the Internet / Technology domain, has helped shaped our vision for PriceBaba.
During our final days with 500 Startups as I walked up on the stage in New York wearing a traditional Lucknowi Kurta pitching PriceBaba to an auditorium full of Investors and Media, I realised that I have come far from being a hesitant 15 year old kid who started a small business right out of school.
7. Do you intend to add other gadgets too?
We aspire to get into one new category every quarter this year. So at least 4 product categories by the end of the year.
8. What's the status on funding?
We are at nearing a million users a month and making revenues. Our focus is on building the product and business, funding shall happen at the right time. We aren't in business to raise funds, we started to company to help our friends shop better and we continue to do that :)
9. Do you have an app?
50% of our users are from mobile. PriceBaba.com works great on mobile browsers and that serves the purpose just fine.
An app would come in the future, but the core product offering for a user to install a PriceBaba app should be different. We have some pleasant surprises for our users coming up :)
10. What's the latest?
Since December 2013, we have grown 300%, now reaching to 2 million users a month.
Small retailers have been troubled by the recent e-commerce boom in India. With Flipkart, Snapdeal, Amazon, eBay and others sinking 1000s of crores in acquiring users, it has been hard for offline players to compete against such loss making online ventures.
Manufacturers are trying their best to curb practices by online players where they sell products below cost (often in the form of discounts and coupons).
Just to give a perspective, of ~24 crore mobile phones sold in India last year, only 40 lakh of them were bought online. However over 25+ crore searches happen online in India for mobile phones every year. It is evident that consumers are researching on the web, but shopping offline.
PriceBaba has over 850 retailers on its network and they love using us to market themselves to millions of internet users in India. Though, it takes a lot of education from us to make these retailers realise the potential of internet. The same tool that caused them so much agony is now helping them rebuild their business in a new way.