Expectations were high from the current government as the finance minister tabled the Union budget. Pune's Raut family members were pretty disappointed last year with what the budget held in store for them. This year, dna revisits the family residing in Hadapsar along with chartered accountant Rishabh Parakh to understand how Jaitley's budget will affect them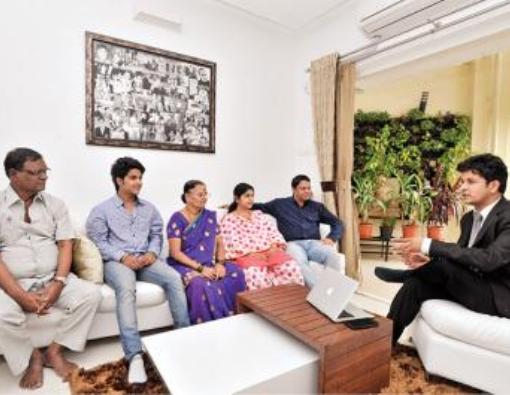 Dadasaheb Raut, Grandfather (Retired)
I appreciate the fact that the new government has hiked the excise duty on cigarettes making them costlier, as cancer is claiming a lot of lives. However, I don't see the logic behind announcements like reducing prices of colour TV below 19 inches as most middle class families would go for something bigger these days. If I think selfishly, I am happy that the tax exemption has been increased from Rs2.5 lakh to Rs3 lakh in the case of senior citizens.
Alka Raut, Grandmother (Housewife)
I don't see any major immediate relief to the kitchen budget. I am glad that people with a dream of having their own house will be happy as the housing sector has been given priority and incentive in the budget, as I know how difficult it is to own a home.
Rajendra Raut, Husband (IT Professional)
As per their pre-election promises, I had expected that the tax exemption for salaried professionals would be raised to Rs3lakh, which has been raised to Rs2.5lakh. I wouldn't dismiss it outright as falling short of expectations but I would say government is taking measured risks. I also appreciate the fact that they increased the exemption from interest on housing loans because we were planning to invest in a second home for tax saving and investment purpose and it means more savings for me.
Rahul Raut, Son (Student)
I was expecting some sort of relief on the entertainment tax front. The movie rates are sky high as we have to pay about Rs300-400 for a single movie in a multiplex these days. Along with the number of multiplexes/ movie theatres, the rates are also increasing everyday which disastrous for a generation that survives on pocket-money.
Chanchal Raut, Wife (Real estate broker)
I am disappointed as I didn't get great exemption in income tax as a working woman. However, I am happy for three things. First, that there will be more IIT's and IIM's created, Pune included, which means better standards of education. I'ts good news for my children. Secondly, the budget is women friendly, especially women's safety. Third and most important, I am happy about the announcement of developing 100 Smart Cities as this would help in reducing migration to cities like Pune. When migrantsreduce, locals will have more opportunities.
CA Rishabh Parakh, Director, Money Plant Consulting
I believe it is very relative to compare this budget in terms of 'Acche Din' because we the common men and women have been at the receiving end, especially in terms of rising inflation and no respite from tax burdens, as the previous government has hardly done anything. Whenever the choice is between bad and worse, bad is always good. Overall, the budget has provided reliefs on the much needed tax side in terms of hike in Tax Slabs/Home Loan Interest and 80C Investment limit.
Tips by Rishabh Parak, to leverage this budget for a better financial use:
1. Save when there's hike in interest on home loan. Basic exemption limit should be utilized to invest for increased 80C limit of Rs. 50000/-.
2. Invest monthly, about Rs. 4000/- per month in PPF to optimize the benefit of higher deposit limit i.e. Rs1,50,000 overall and get assured return.
3. Take a joint home loan to optimize the benefits of higher interest on home loan and get benefits of atleast Rs4 lakhs deduction.
4. Utilize the amount of Tuition Fees of your kids as it comes under 80C with an increased benefit of additional Rs50,000/-.
5. If you are young or in your thirties, invest the additional amount of Rs50000 under 80C in Mutual Funds ELSS to leverage equity market and savings both.
6. If you are in fifties and looking for tax savings and safety of investments, then go for PPF to get dual benefits, tax advantage & safety both.
7. Work on your 80C Tax Planning investment looking at your overall Financial Planning.
8. Invest savings coming out of reduced outflow on branded cloths and home appliances.