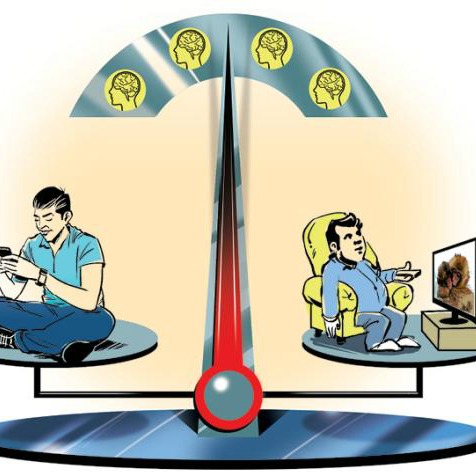 A recent Ericsson ConsumerLab survey shows that mobile usage in India is outstripping TV viewing, with users spending more time watching videos on their smartphones than watching programmes on TV. Is the trend an indicator that India is getting smarter?
Only for live sports I rely on TV
Just because I can view videos on my smartphone does not make me any smarter. It only means I am using more bandwidth and hence helping make the telecom sector possibly boom. But what it does is makes us more connected and that it has the potential to make us smarter. I probably watch more YouTube today than telly. The only thing I turn to telly is to watch live sport. Other than that I can watch so many amazing videos online that I guess it does help me get more information. So, yes, I know more about random things today and it makes for great conversation with friends or clients but does it make me smarter? I am not sure. So I have become better informed but the day I chuck that smartphone and go for a hike in the hills is the day I believe I would have become smarter.
Jesh Krishna Murthy, Director, Anibrain
Mobile technology keeps you connected
Smartphone usage is the current trend and it is true that mobile technology has taken us to next level of entertainment and social interaction. India is one of the highest both in terms of actual population and growing number of mobile users. Smartphone are now cheap so we can see exponential growth in users, also they come in various screen size and shapes giving near to similar consumer experience like we get from normal television. Social channels like YouTube and other video services allow us to play videos, songs and even full length movies. If you have smartphone with good internet connectivity then you can watch videos from anywhere. Some vendors have already unleashed this potentials and they are now offering LiveTV on mobile platforms. So let it be cricket match or Football World Cup or even any live news, you will not miss anything.
Vikram Pendse, IT Professional
TV is better than smartphone
It is true, India is getting hooked on to more wireless communication tools with the advent of smartphones. Especially the younger generation seem to be more comfortable with the mobile communication tools and with net access getting cheaper, it has become all the more preferred gadget. However, watching TV on smartphone is still not truly possible due to bandwidth problem in India, we have to wait a little longer for that to happen. It is true that networking applications like Whatsup and various other apps now available, has got many hooked on to mobile phones. However, what is is being watched on smartphones in terms of videos, clips etc is more time pass with no value creation as such. The question is if the addiction to smartphone is worthwhile. Television is an altogether different media, we have a choice of entertainment and knowledge. We can really have comparative analysis when live TV on mobile is accessible to everyone.
Deepak Shikarpur, Co chairman IT committee MCCIA
TV is in transition phase
Today the mobile has become an entertainment device. Chatting and online discussion forums are the new ways to socialize. Keeping this in mind it is no surprise that the television has been left far behind. This is however a natural course of action. Television in the years before overtook radio and tomorrow there will be something else to take over the mobile phones. Moreover nothing ever out does anything, it just starts getting less used that the other. This is neither a good nor a bad thing. Rather it cannot be classified into either of the two categories. It has its own advantages and disadvantages like anything else and both are equally balanced out in this aspect.
Shyama Dutta, Media Communications Faculty
Mobile is easily accessible
This outstripping is not a new phenomenon. The young generation today, the majority of them are far away from daily soaps and serials and look for something more interesting. They have a different taste. Even the youth channels or the youth centric shows are not able to attract the youth. The mobile that has easy access to the internet and is a faster medium is more appreciated than the television. The sports and other event based notification are easily got on the smart phones without having to stay on it continuously and that is the main reason for the shift. The time advantage is huge. I see a total convergence of the media happening in the next five to 10 years. The handheld device has a huge technological advantage to it.
Achyut Vaze, Dean, Flame School of Communication

Television is very boring
The main reason for this shift is the kind of things that are shown on the television. There is nothing worth watching and the world of internet is much more interesting. The phones have developed a lot from what they were before and now they allow a lot of functions to run simultaneously and this helps us save time a lot as well. Even the television can be seen on the phones and so there is no need to save some special time from your day to sit in front of the television. However this shift is not a good thing is what I believe. Yes it might be keeping us updated about everything happening around the world and everywhere but it keeps us away from knowing, observing and feeling the things that are happening right next to us. For me the time that I spend watching the television is family time and that is not possible on the phone. The phones take away our personal social connect.
Sameena Sayed, Media Student
Smartphones are more affordable than TV
The biggest advantage the mobile phone has is that it is with the individual throughout the day. The technology that is present in today's phones make the phone viewing as good as viewing it on the television and sometimes the higher resolution gives an even better experience. Apart from this the phones are extremely affordable now days and can be used on the go so are more preferred. The need to sit in front of the television and watch it is absent now. You can even watch the same television channels on your phone while travelling which saves time. It has both its benefits and disadvantages. If the technology is used judicially it is an excellent device and can do wonders but if not used properly it also has the potential to cause severe harm.
Vikas Khanvelkar, MD, DesignTech Systems