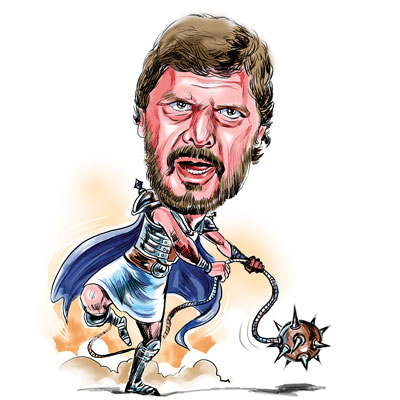 Republican Party of India (A) was a key ally of the Congress-Nationalist Congress Party (NCP) combine for the past 18 years, but party chief Ramdas Athawale, who is a prominent Dalit leader, decided to switch sides, and joined the rival BJP-Shiv Sena alliance a year ago. While Athawale charged the Congress and NCP with denying him his due, his rivals have branded him an opportunist. Athawale, 54, who is now a Rajya Sabha member, spoke exclusively to Kanchan Srivastava on Thursday.
What are the chances of NDA forming the next government under Modi at the Centre?
NDA is going to win the elections. Initially, I was also apprehensive about the decision of the BJP to choose Narendra Modi as its prime ministerial candidate. But now it is evident that he is leading the alliance in the right direction and would be able to dethrone the UPA. People feel Modi will free the country from corruption and inflation.
But the 2002 riots are still hounding Modi.
We should move on from 2002 riots and look at Modi's work and his capabilities. The riots happened in 2002 in the aftermath of the Godhra train burning incident. Many Muslims were killed. As a chief minister Modi was accountable for what had happened in his state, but the administration was equally responsible. Riots have taken place in other states and under Congress regimes also. Modi has proved his mettle in the last 10 years. Gujarat may not have developed fully, but it has definitely done better than other states. The way Modi's rivals from diverse ideologies have joined hands to defeat him, reminds me of 1977 when all the opposition parties came together with the sole aim of defeating Indira Gandhi.
You are a follower of Dr Babasaheb Ambedkar who was against the Hindutva ideology. What political compulsions made you join the saffron alliance?
Ours is not an ideological alliance. It's a political one. Ambedkar had always stressed on national unity. The alliance of a Dalit party like RPI (A) and the BJP-Sena has helped bring communities together. Brahmins are now comfortable saying 'Jai Bhim'. Ambedkar's photos now adorn offices of non-Dalit leaders. Ambedkar wanted people to keep the country above religion, caste and communities. Modi is seeking votes in the name of the country, and not for the BJP or himself. His slogan, 'India first', has a huge significance. Modi has also expressed his respect for Ambedkar.
What are your expectations as far as welfare of Dalits are concerned if the NDA comes to power?
I would press for reservation for Dalits in the private sector, more slum redevelopment schemes, curb on atrocities against Dalits, and at least five acres of land for each farm labourer in the country. I would also seek a special scheme to develop more small scale industries and self-employment for Dalits.
Why did you snap ties with Congress-NCP?
The Congress and the NCP used me and ditched me as and when it suited them. They didn't include me in the 2004-2009 Union cabinet. I lost the 2009 parliamentary election from Shirdi because the Congress and the NCP stabbed me in the back. In the 2004 Maharashtra assembly elections, Congress won 141 seats, and it admitted that RPI support was crucial in at least 37 seats. But they still didn't give me a ministry, and later they refused me even a Rajya Sabha ticket. I later realised that if I remain with Congress-NCP, they would give my party just one Lok Sabha ticket. That in no way would have helped my party and the Dalits at large. So I left them.
But the saffron alliance too has given the RPI (A) only one seat, that too in Satara and not in Vidarbha or Marathwada, where your party has considerable influence. Satara is an open seat and the chances of the RPI candidate winning look slim?
I had sought three seats, but my new partners didn't agree to that. They have promised to compensate me in the assembly elections with more seats.
You have also demanded a good ministry at the Centre and 15% ministries in the state despite your limited strength.
They (NDA) will have to give me a ministry if they come to power at the Centre. If the BJP-Sena combine wants to win in the Maharashtra assembly elections, they will have to give us due respect. My party's support can fetch them 5,000-12,000 votes in each assembly constituency, which would be decisive.