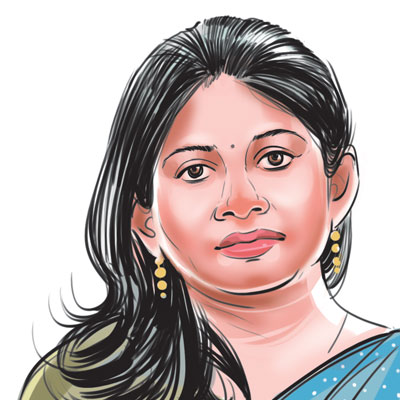 BJP nominee in Raver Lok Sabha constituency Raksha Khadse, 27, is pitted against NCP candidate and scion of Lakhichand Group Manish Jain and Congress rebel Dr Ulhas Patil. A political heir and daughter-in-law of Opposition leader and BJP MLA Eknath Khadse, Raksha recently lost her husband Nikhil, who committed suicide. However, she says she wants to work so hard to serve people that in the next life she won't face any tragedy at a young age. She opened up and shared her ideas with dna's Sudhir Suryawanshi. Excerpts:
How are you managing yourself after your husband's demise?
It was a great tragedy in our family and big personal loss for me. I never imagined that at such a young age, I will be widow and have to shoulder so much responsibility. But it's destiny, we have to accept it. However, whenever I have gone out and met the poor, I have realised they have more problems than me. I have at least got a good family to support me. For them, there's no one. That's why I decided to contest the Lok Sabha polls to resolve the problems of the down-trodden.
Do you miss your kids during the campaign?
I do, I miss both of them — my seven-year-old daughter and three-year-old son. However, they understand my problems and never trouble me. They don't even demand that I be with them all the time. I learned many things from them. They have taught me how to forget sorrows and stand firm in difficulties.
Coming to the polls, what are your campaign issues?
As a BJP candidate, I have been concentrating on augmenting water supply, quality of education, health, reducing power-cut hours in rural and urban areas and generating jobs for the youth, especially women. I am in favour of inclusive growth. Development is most important for me. I am not in favour of setting up private English medium education institutions, where only 15% of poor students can avail free education. I want to strengthen the existing government primary schools. All strata of society will then be able to avail of good education by bearing minimum expenses. I also want to strengthen the local health centres, which lack infrastructure and qualified doctors.
Jalgaon is known for abundant banana and cotton production and yet farmers are committing suicides there. What will you do toward it if you get elected?
Presently, due to local small businessmen's vested interests, big industrial houses are reluctant to set up their units here. If I get elected, I will set up a big research unit and processing industry for cotton and banana. Today, our entire cotton goes to Tamil Nadu via Gujarat for handloom and garment industries. If we start these here itself, the local unemployed youth will get work. As a result, migration will go down. Also, farmers will be made partners of these industries, so they will get a good price for their product.
As a woman candidate, what kind of programme you want to conduct for women?
Self-employment is the key to resolve women's problems. Once they start getting money, they will be able to give quality education to their children. Women's safety is also an important... I want to stop their exploitation by setting powerful women help groups at local level.
Have you met BJP's prime ministerial candidate Narendra Modi? What is your view of him?
I have not met him but I am fascinated about his innovative ideas and development in Gujarat. He is a strong leader, someone who takes tough decisions and leads well even in a crisis.