All questions about Maharashtra's ex-Industries Minister and Congress leader Narayan Rane answered here.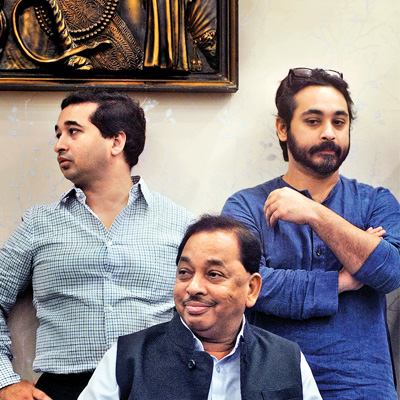 Why did industries minister Narayan Rane resign?
Rane says when he left the Shiv Sena and joined the Congress in 2005, the promise was that he would be made chief minister within six months. "I have been in the party the for last 9 years and the promise is yet to be fulfilled," he said.
What are Rane's options now?
He may join the BJP. He had ruled out rejoining the Shiv Sena. The Sena, too, is not keen on admitting him back into the fold. The other option is to convert his son Nitesh Rane's non-government organisation, Swabhiman Sangatana, into a political outfit and tie up with the MNS.
Will Rane's resignation affect Cong's chances?
It will dent the party's prospects and may linger for a longer time.
What's Rane saying?
There are lots of vacancies in many parties. I can go anywhere. The way the state govt is run, Congress defeat in assembly polls looks almost certain.
I do not want to be part of this defeat. Therefore, I quit the ministry.
Will he leave the Congress as well?
Rane is unhappy that, like him, many of his supporters who left the Sena with him were not given any important position by the Congress. "No one loyal to me has been made even an MLC in the last nine years. The Congress completely betrayed us." This indicates he may leave the Congress as well.
Why is Rane angry with chief minister Prithviraj Chavan?
According to Rane, Chavan is indecisive and incapable. "Chavan is a good man and may be clean also, but that's not helping the govt or the party. My department had submitted several files for his approval. But he chose to sit on them for the last three years," Rane said.
Why did the files get stuck?
Chavan reads each and every page of all files, says Rane. Delay in taking decisions will delay benefits from reaching the people. That's why the Congress lost badly in Lok Sabha polls. If these things continue, the party's defeat in assembly polls is also certain, he says.
Which are the files that are stuck in Chavan's office?
Files on additional floor space index for the construction of a maritime board's administrative building at BKC. Rane says money was paid for additional FSI to the state urban development minister. Files on the rehabilitation of slum-dwellers in MIDC is also gathering dust at the CM's office.