Crowds have gathered outside Matoshree as an announcement on Bal Thackeray's death expected shortly.
Saturday, Nov 17, 2012 16:54 IST
Shiv Sena spokesperson Sanjay Raut said that party chief Bal Thackeray passed away due to cardio-respiratory arrest at 3:33pm on Saturday.
The Sena patriarch had been suffering from complications arising out of lung and pancreas failure for the past few days.
The Sena founder's doctor Jalil Parkar said that despite their best efforts, they could not revive the failing health of the Sena founder.
Saturday, Nov 17, 2012 16:56 IST
At 7:30am on Sunday, the cortege of Shiv Sena founder Bal Thackeray will leave the Thackeray residence for Shivaji Park, where the body will placed for darshan.
Saturday, Nov 17, 2012 17:03 IST
Shiv Sena patriarch Bal Thackeray will be cremated at 6:00pm on Sunday.
Saturday, Nov 17, 2012 17:05 IST
The Shiv Sainiks who gathered outside Matoshree are unable to hold their emotions and many are visibly bereaved at the loss of their leader, who influenced Maharashtra's politics for decades.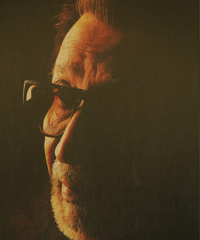 Saturday, Nov 17, 2012 17:07 IST
BJP leader Sushma Swaraj, whom Thackeray hailed as the only suitable BJP candidate for PM, tweets: "I am terribly pained to hear that the Lion is dead."
Columnist Shobha De hailed Thackeray as an 'Iron man who had a larger-than-life presence in Maharashtra politics'.
Saturday, Nov 17, 2012 17:13 IST
The BJP cancels its dinner with Prime Minister Manmohan Singh, Sushma Swaraj tweets.
Senior BJP leader, and party spokesperson, Shahnawaz Hussain, too, offered condolences, saying that Thackeray''s passing way is a great loss for Maharashtra.
Saturday, Nov 17, 2012 17:15 IST
Over 20,000 police officers are deployed across Mumbai.
Saturday, Nov 17, 2012 17:18 IST
BJP leader Prakash Javadekar says that the Sena-BJP alliance will continue.
Saturday, Nov 17, 2012 17:25 IST
I prayed for his good health. I am very sad to hear this news, says historian Babasaheb Purandare., while recalling how the Sena patriarch had contributed to the state politics.

Saturday, Nov 17, 2012 17:30 IST
Darshan for Shiv Sainiks arriving for the last glimpse of their departerd leader will be held at Shivaji Park in Dadar from 7am on Sunday.
Shivaji Park was the place where the very first rally of Shiv Sena was held, and where Thackeray held his annual Dussehra rallies year after year. This year, however, he had not been able to attend the event because of ill-health.
Saturday, Nov 17, 2012 17:33 IST
Sanjay Raut appeals for calm, saying, ''Don't crowd outside Matoshree."
Saturday, Nov 17, 2012 17:33 IST
Dealing with his grief on Thackeray's passing away Chandrakant Khaire,a Shiv Sena MP says: I am very very sad, my father has passed away, he was the one who raised me.
Saturday, Nov 17, 2012 17:38 IST
Former Shiv Sena leader Chhagan Bhujbal says: He was one of the biggest leaders, he gave us all a dream to make a sarkar (government) in Maharashtra. he singlehandedly ruled the city. The party was what it was because of him.
Saturday, Nov 17, 2012 17:39 IST
Condoling the death of Bal Thackeray, Prime Minister Manmohan Singh cancelled the UPA's dinner with opposition leaders.
The dinner was arranged ahead of the winter session of Parliament beginning November 22.
Shiv Sena spokesperson Sanjay Raut said, "The party has appealed for calm in the city of Mumbai, which Balasaheb loved so dearly. We hope the Shiv Sainiks adhere to the party appeal."
Saturday, Nov 17, 2012 17:43 IST
Adman Suhel Seth reacts to Thackeray's passing away, tweeting: One may have disagreed with Bal Thackeray's politics but you could never doubt either his nationalism or his zest for life!
However, he goes on to tweet: The Shiv Sena should remember by forcing people to shut shops and forego wages and income, they are instilling disgust and not respect!
Saturday, Nov 17, 2012 17:50 IST
The PMO's Twitter handle came to life with condolences over Thackeray's passing away: "He founded the Shiv Sena and built the party into a formidable force in the State politics with his strong leadership."
Bal Thackeray always strived to inculcate a sense of pride in people of Maharashtra, tweets PMO.

Saturday, Nov 17, 2012 17:51 IST
Actor Kabir Bedi offers condolences over Thackeray's passage, tweeting: My condolences to the entire family of #Balasaheb Thackeray. Was always a major influence in the politics of Maharashtra. RIP
Saturday, Nov 17, 2012 17:53 IST
President Pranab Mukherjee, whom Thackeray backed, conveys his condolences.

Saturday, Nov 17, 2012 17:54 IST
Saying that he lost the man who guided him, Gujarat chief minister Narendra Modi says: Full of life, Balasaheb Thackeray was an epitome of courage and valour. I am grieved to hear about his demise. May his soul rest in peace.
Saturday, Nov 17, 2012 17:58 IST
Activist-turned-politician Arvind Kejriwal, pays his respects.
"Balasaheb no more. May his soul Rest in Peace. Our heartfelt condolences to the bereaved family," he says.
Saturday, Nov 17, 2012 18:00 IST
Politician Milind Deora tweets: Ideologies & politics aside, Balasaheb was unique & his influence on Maharashtra politics is undeniable. Often imitated but never duplicated
Saturday, Nov 17, 2012 18:03 IST
Indian film director, producer and writer Kunal Kohli tweets: Balasaheb will always live on.A great orator. An astute cartoonist. A voice of the people. A lion amongst men.
Saturday, Nov 17, 2012 18:05 IST
Irrepressible film director Ram Gopal Varma tweets: We wish he could have been tagged as 'A man who cannot die'. RIP Bal Thackeray.
Saturday, Nov 17, 2012 18:07 IST
Playback singer Shaan tweets: Driving back home... A Gloomy, Lonely Evening...Mumbai.. Without her Most Loved Son... Balasaheb is Synonymous with Mumbai!! End of An Era..
Saturday, Nov 17, 2012 18:10 IST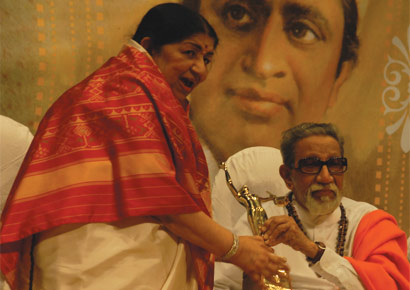 Today Maharashtra has turned orphan, says legendary playback singer Lata Mangeshkar, fondly remembering her friendship with Balasaheb. Superstar Amitabh Bachchan, who visited Matoshree late on Thursday, says: I always admired his grit.
"I sat by his bedside for hours these past few days, a prayer in my heart, watching him struggling to breathe, but fighting ..Each day he continued his struggle with a grit and purity that was baffling even for the doctors on hand .. And just a couple of hours back, as I stand next to his still, peaceful, saffron draped body, it is difficult to imagine ...that he has left us," Bachchan says on Twitter.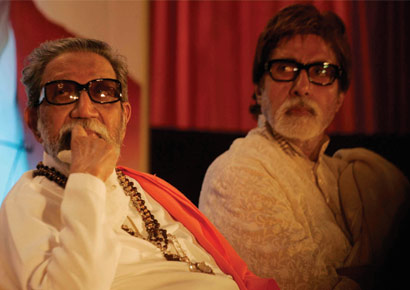 Saturday, Nov 17, 2012 18:15 IST
Mumbai police commissioner Satyapal Singh will address Mumbaikars on televison later on Saturday. Routine announcements are being made on the loudspeakers installed at Matoshree, urging Shiv Sainiks to maintain calm even as the mediapersons have been shifted to the nearby HDFC building.
Meanwhile PM Manmohan Singh has appealed for "calm in this period of loss".
Saturday, Nov 17, 2012 18:16 IST
"Uncompromising in his patriotism, he presents the rmarkable qualities of leadership and abundance of attributes of heart which made him command great respect among all those who came to know him," says the senior BJP leader LK Advani in a televised speech.
"I can only say that his demise has left a gaping void in the country's politics which will not be easy to fill," he adds.
We have lost a political giant, he says.
Saturday, Nov 17, 2012 18:24 IST
Director Mahesh Bhatt tweets: Our dead are never dead to us, until we have forgotten them.The memory of Bal Thackeray will live in the memory of we Mubaikars (sic) forever.

Saturday, Nov 17, 2012 18:32 IST
Adman Alyque Padamsee reacts on Twitter: Anyone who passes away deserves respect. I would urge the sainiks to build a hospital in his name. I strongly believe that stones are not meant for throwing, stones are meant for building. Things that will help the poor. He should be remembered for the positives that he has done.
Saturday, Nov 17, 2012 18:38 IST
The PM Manmohan Singh calls up Uddhav Thackeray to express condolences.
Saturday, Nov 17, 2012 18:45 IST
"Maharashtra has lost a veteran, experienced leader....He was a politician, cartoonist, editor, organiser as well as art-lover and orator," Maharashtra chief minister Prithviraj Chavan said.

Saturday, Nov 17, 2012 18:58 IST
Union Home Minister Sushilkumar Shinde, who knew Thackeray for over four decades and always felt he would survive the current bout of illness, said Thackeray, as cartoonist, arrived on the scene like a storm after the collapse of communists in Mumbai, and took forward the legacy of his reformist father, 'Prabodhankar' Thackeray.
Saturday, Nov 17, 2012 18:59 IST
BJP chief Nitin Gadkari, who served as a PWD minister in the saffron alliance government in the state between 1995-1999, said of Bal Thackeray, "He considered King Shivaji his idol. He worked for the people all his life. We took inspiration from him while governing in Maharashtra."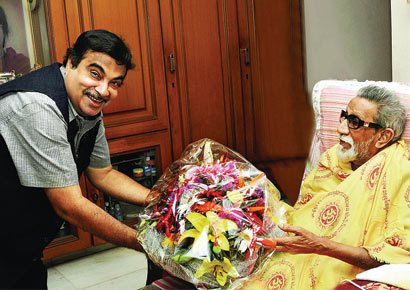 Saturday, Nov 17, 2012 19:00 IST
"We've had a couple of lunches together and he often joked with me about my eating habits and even though our political views did not tally, I enjoyed my evenings with him," said industrialist Rahul Bajaj on the demise of the Shiv Sena leader Bal Thackeray.
Saturday, Nov 17, 2012 19:05 IST
"His contribution to Maharashtra was immense. He will be sadly missed and remembered," said cricketing great Sachin Tendulkar, who had invited the ire of the Shiv Sena in 2009 with his comment that "Mumbai belongs to everyone."
"Unfortunately I am in Ahmedabad as I would have liked to pay my last respects personally. My condolences to his family. May God rest his soul in peace," Tendulkar posts on Facebook.
Saturday, Nov 17, 2012 19:11 IST
The Mumbai police have requested the citizens to not leave their houses on Sunday unless it cannot be avoided.
The traffic situation in the city is likely to be hit and chances of taxis and rickshaws plying on the road would be minimal and hence in a bid to avoid inconvenience it would favorable if people stayed indoors.
Being Sunday, all the offices, schools and colleges would be closed. From 7am to 3pm on Sunday, traffic situation in the city is likely to be hit. The traffic police would provide diversion to the motorists.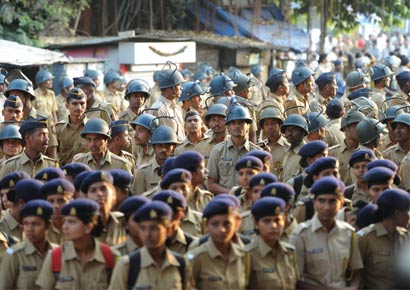 Police personal outside Matoshree in Bandra - Atul Loke, DNA
Saturday, Nov 17, 2012 21:28 IST
In a detailed write-up on his blog, veteran actor Dilip Kumar wrote, "Bal Thackeray had the virtues of a lion. We will cherish in our memories the lively evenings at his home when we smoothened out our differences over cups of strong masala tea."
"I found him extremely sensitive on occasions, especially during the days Sunil Dutt was going from pillar to post to get justice for his son Sanjay," added Dilip Kumar, who earned the ire of Bal Thackeray after he was presented Pakistan's highest civilian award.
Bal Thackeray was a lion, not a tiger: Dilip Kumar

Saturday, Nov 17, 2012 22:20 IST
Mumbai Police said that heavy arrangements have been made for the upcoming funeral procession of late Shiv Sena leader Bal Thackeray in Mumbai on Sunday.
Apart from heavy security in sensitive areas across the city, the Mumbai Police said separate arrangements have been made for the many VIPs and state and national leaders expected to arrive in Mumbai on the day.
Also, separate arrangements have been made for the media, the police added.
Saturday, Nov 17, 2012 23:10 IST